US industry over the peak, but still records strong results November 1998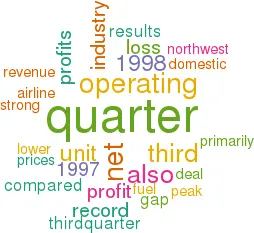 The US industry has passed its peak, following third–quarter 1998 results that were down on the same quarter of 1997. The nine main airlines recorded a combined operating profit of $2,283m and net profit of $1,323m in July–September 1998, compared with a $2,548m operating profit and $1,860m net profit in 3Q 1997.
In July–September 1998 the gap between unit revenue and unit cost (compared with the previous quarter) narrowed at all the Majors except American and United. The worst results came from Northwest, which plunged back into the red with a $276m operating loss and a $224m net loss following the 18–day pilots strike. Northwest estimates the dispute knocked at least $630m off operating profits for the period, and management is warning that the "lengthy recovery" from the strike will also result in a loss for the fourth quarter and 1998 as a whole.
Yet Northwest's performance and the passing of the cycle peak must be seen in perspective, as third quarter results were excellent at most of the other Majors — in many cases surpassing the estimates of US analysts. This was primarily due to strong domestic demand, lower fuel prices and the disputes at Northwest and — to a lesser extent — at Air Canada, which took a sizeable chunk of capacity out of the market.
America West, for example, reported record third quarter net profits as its recovery plan started to take shape. A five–year deal was signed with maintenance staff and a $1bn finance deal was arranged for A319s.
Continental posted record third–quarter operating profits. Highlights of its quarter were ratification of a labour deal with the dispatchers' union and the announcement of a tentative agreement with the mechanics union. The airline also beefed up services out of its Newark hub and announced new services to Zurich and Brussels.
At Delta there were also record third quarter net income figures. This was primarily driven by an 8% rise in domestic unit revenue, which more than compensated for an 8% decline in international unit revenue.
Southwest's third–quarter net profits were 40% up on the same three months in 1997, helped by unit costs that fell 1.4% primarily due to lower fuel prices. The airline's cash pile now stands at $452m and it also has unused bank credit of $425m.
TWA bounced back from an operating loss in the second quarter of 1998 with a $24m operating profit in the third quarter. However, there was still a net loss in the period of $5m, which was "simply not acceptable" according to Gerald Gitner, chairman and CEO. In particular lower fuel prices were cancelled out by higher aircraft rental costs, and the airline also cited the fact that high fares put off some passengers.
US Airways also posted record third–quarter net income, boosted by high load factors. The airline also repaid $324m of long–term debt in the quarter.
The stars, however, of the third quarter were again United (see page 10) and American. Between them they recorded operating profits of $1.3bn, boosted by strong domestic performances that overshadowed international sector weaknesses.
Overall industry ASKs for the quarter fell by 0.6% compared with the third quarter of 1997, but with RPKs rising by 0.9% industry load factor rose 1.1 points to 74.8%.
The gap between overall industry unit revenue and cost closed to 0.69 cents per ASK, compared with a 0.77 cent gap in the third quarter of 1997 and a record 0.86 cent gap in the second quarter of 1998.