KLM/Northwest: so much for equity cement November 1997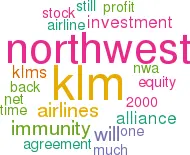 KLM and Northwest agreed terms of their divorce settlement at the end of September while maintaining joint custody of their offspring, the transatlantic code–sharing alliance. KLM will receive the following payments from Northwest: $324m in 1997, $210m in 1998, $147m in 1999 and $491m in 2000 — a total of $1.2bn. In turn, KLM's voting stock position in Northwest will decrease from about 19% today to zero by 2000.
Back in 1989 KLM was persuaded to invest some $400m into Northwest as part of the LBO effected by Al Checchi. The $1.2bn KLM stands to take back by 2000 implies that it has achieved a RoI of about 12% pa on its original investment, a respectable but hardly spectacular return, considering the risk involved.
Following the LBO, Northwest's results went in the opposite direction to that predicted in the over–optimistic prospectus. Overladen with debt, the airline teetered on the brink of Chapter 11 bankruptcy and KLM wrote the investment off in its books. By slashing capital expenditure and wringing major concessions from its unions Northwest was able to exploit the upturn in the US market after 1992 and stage a remarkable turnaround. However, its balance sheet did not show a positive net value again until 1996.
By that time KLM itself was performing surprisingly poorly, but fortunately was able to boost its bottom line by writing the stock–market value of its Northwest investment back into its P&L. In 1995/96 Northwest write–backs accounted for 47% of KLM's net profit of Dfl 547 ($323m); in 1996/97 these accounted for 187% of a net profit of Dfl 236m ($134m).
But at the same time, the boards of KLM and Northwest had become entangled in an acrimonious legal dispute, which occupied far too much of the time and effort of KLM's top management and eventually led to the departure of President Pietr Bouw. KLM claimed the right to exchange its preference shares in Northwest for common stock which would have brought its voting rights up to about 23.5% but the Northwest board had blocked this by passing a resolution limiting any one shareholder to less than 20% of the stock.
In any case, the sales agreement resolves the legal dispute and, importantly, provides KLM with a cash injection, which it is likely to use to buy out the remaining 28% Dutch government stake in the airline.
The tormented history of the KLM/ Northwest investment makes nonsense of the claims that are still made for the "cementing" role of equity in alliances between major airlines. KLM could have achieved the same return on its $400m through much lower risk financial instruments and still enjoyed the same operational benefits.
The benefits of the transatlantic alliance are put at Dfl100–150m ($50–87m) by KLM, compared to KLM's total operating profit in 1996/97 of Dfl89m (before a restructuring provision of a Dfl290m). The alliance will now be governed by an 10–year contract, with three year extensions.
According to the agreement, KLM and Northwest will pursue an aggressive growth strategy, which will include:
Adding new partners (and discarding unwanted ones like Asiana which has just had its code–share with Northwest terminated), boosting code–shared flights from the current level of 60,000 a month and widening geographic coverage;
Improving commonality for scheduling, inventory management, CRS and FFPs; and
Streamlining marketing, purchasing, ground handling, etc.
Ultimately, the only thing that can guarantee the alliance is continued antitrust immunity, allowing the two airlines to operate as one on the Atlantic. Indeed, the new agreement stipulates that the second and third tranches of the NWA payment are contingent on the US DoT re–confirming immunity in 1988.
It may be of concern to recall that in their joint application for immunity presented to the DoT in 1991 KLM and NWA, as well as presenting the US–Netherlands open skies argument, claimed that immunity was linked to the equity stake. Because the FAA Act's limits on foreign ownership in US airlines prevented airlines from structuring their relationships like companies in other industries, i.e. through mergers and takeovers, KLM and NWA were unable to fulfil their desired strategy of becoming one airline. This was seen as an anomalous position which could only be resolved by antitrust immunity.
Now, however, the two airlines, far from stating a wish to merge, are reasserting their independence yet still insisting on protection from charges of collusion on the Atlantic.