Air France-KLM:
Dysfunctional France May 2018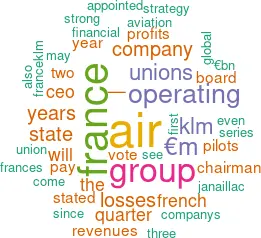 Some chief executives merely resign quietly when they have had enough of running a company. It takes a special talent to offer the company's staff the opportunity for a vote of confidence and make the decision for them. And yet this effectively what Jean-Marc Janaillac, the now former Chairman and CEO of Air France-KLM (and Chairman Air France) has done.
Unlike its peers at IAG and Lufthansa (and its sister company KLM), Air France has been unable to persaude its unions that legacy working practices and employment conditions from a regulated era have to change in a deregulated market-oriented environment. And it is thirty years since the European industry was deregulated.
The French flag carrier has been battling to come to agreements with its unions — and particularly the pilots' unions — for many years on a series of issues (ranging from working hours to scope clauses, pay, limits on expansion of Transavia, and even who should be allowed to train the pilots to upgrade to 787s).
The current problem revolves around pay: the company has had a pay freeze since 2011, and having finally achieved operating profits after five years of heavy losses following the global financial crisis the unions put in a demand for an immediate 5% pay increase; the company countered with an offer of a 7% increase spread over three years. Impasse in negotiations led to a series of strikes from February, which the company estimates has cost it €27m in the first quarter, and will have a negative impact of €300m on operating profits for the full year.
In a dramatic move Janaillac, perhaps feeling that the rank and file of the workforce were not totally in agreement with the union stance (and having seen that participation in the series of strikes had been falling) put the matter to a company-wide vote. In a press release in mid-April he stated: "Air France must emerge from this impasse. In the face of such a severe situation and because the company's future could be under threat, I have decided to launch this consultation with all staff... I will be personally accountable for the consequences of this vote."
His gamble (if such it were) failed and so, with a vote of 55% against the company's proposal, he resigned.
But the issue is not unique to Air France. More it may reflect a backlash against the attempts by President Macron to reform the uncompetitive employment conditions in France, and even maybe to transform the traditional policy of dirigisme (see Aviation Strategy June 2017). The country has been beset by protests and strike action: SNCF (state railways), air traffic control (a perennial problem), civil servants, energy workers, students and even rubbish collectors.
As an interim measure Anne-Marie Couderc (a board member, former politician, and Minister of State in the 1990s) has been appointed non-executive Chairman of the Group. Frédéric Gagey (Group CFO), Pieter Elbers (KLM CEO) and Franck Terner (Air France CEO) will jointly act as Group CEO in triumvirate while the board tries to find a suitable replacement. Any of these three would be eminently suitable, but Gagey having done a stint as Chairman and CEO of Air France may not want to; Pieter Elbers is not French; and, none of the three are alumni of the Ecole Nationale d'Administration. They just didn't go to the right university (again, see Aviation Strategy June 2017).
Meanwhile the first quarter results show the widening disparity in fortunes of the Dutch and French flags. Total group revenues in the quarter were up by 1.8% year on year to €5.8bn with total passenger numbers up by 5% and unit revenues by 1.2%. Group operating losses worsened to €(186)m from a restated €(33m) despite the early Easter. These figures have been flattered by a change in accounting policies: the group decided to adopt IFRS 16 early from the start of 2018 (accounting for leases which becomes mandatory from 2019, see Aviation Strategy April 2016). Originally published group operating losses in Q1 2017 had reached €(143)m.
KLM separately did very well: revenues were up by 7.4% to €2.4bn and operating profits doubled to €60m for the quarter — a margin of 2.5%. Air France by contrast saw revenues fall 1% to €3.6bn and operating losses triple to €(178)m from €(57)m.
As shown in the chart KLM has been able to generate operating profits in each of the last seven years since the global financial crisis while the larger Air France only managed to return to profitability at the operating level in 2015.
It is hardly surprising that the Group, in announcing the first quarter results, guided that it expected the full year operating profit to be "notably below [that of] 2017".
This crise de confiance has led to suggestions in the Netherlands that KLM would be better off outside the group; and in France that Air France could (and may be allowed to) fail.
The Dutch unions remain supportive of the partnership and the group structure and appear disappointed that Janaillac did what he did. "To disentangle the companies would be stupid" stated Leen van der List of Federatie Nederlandse Vakbeweging (FNV, the union federation). "This is a global business in which you need strong partnerships."
But they also seem annoyed at the intransigence of the Air France pilots: "Asking for a raise from the top of the barricade and waving a flag is absurd" said Robert Swankhuizen of the Nederlandse Vereniging voor Luchtvaart Technici (NVLT, the mechanics union) adding "their demands are irresponsible".
KLM and its unions have had their ups and downs but have tended to have a rational consensual approach to industrial relations. Michiel Wallaard of the Christelijk Nationaal Vakverbond (CNV) stated "KLM is basically doing better than ever, as we have struck two very sober labour agreements in recent years. We now expect the other parts of the company to follow". He went on "we want to continue with Air France and are not asking for a divorce, but... we need to think about Plan 'B'".
France's economy minister Bruno Le Maire said that the French State would not come to the rescue. "Air France will disappear", he stated, "if it does not make the necessary efforts to be competitive. We're minority shareholders... those that think that whatever happens the state will come to Air France's rescue and soak up Air France's losses are mistaken."
Indeed, the French state holds 14.3% of the equity (and up to 28% of the votes), but also has two directors on the 15-strong Group board and one further ministerially appointed representative.
The employees also have two board directors representing employee shareholders and two further representatives appointed respectively by the Comité de Groupe Français and the European Works Council.
Highlighting the contrast in attitudes, one of the pilots' unions, the Syndicat National des Pilotes de Ligne (SNPL), claimed Air France-KLM was able to deal with the losses as it was a "perfectly healthy group economically" — financial analysis is not necessarily their strong point — and in any case it was the government that was responsible for what's going on saying "we know perfectly well that the true decision-maker from the beginning of this conflict remains the state".