WestJet: Will the ULCC-within-an-LCC model work? May 2017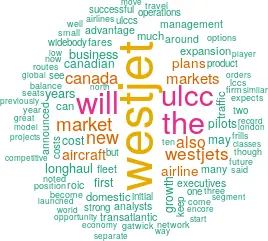 In recent weeks WestJet has announced two significant strategic moves: setting up its own ultra-low cost carrier (ULCC) for the domestic market and selecting the 787-9 as the future widebody type for global expansion.
The 787 order (10 firm plus 10 options), announced on May 2, was not much of a surprise as WestJet had been in talks with Boeing and Airbus since at least 2015. The 787 has become an aircraft of choice for many LCCs venturing into long-haul markets.
Perhaps the most interesting question regarding the fleet is whether or not WestJet will keep its 767s after the 787s arrive and operate a dual-type long-haul fleet for the foreseeable future.
But the ULCC plans, first announced on April 20 and subsequently discussed at length at WestJet's first-quarter earnings call on May 2, have left many scratching their heads. Why would an established LCC want to set up a ULCC?
The economics of a "ULCC-within-an-LCC" seem questionable. To start with, would it not add too much complexity to a business model that thrives on simplicity?
The North American financial community has not been impressed, especially since the ULCC plans come at a time when WestJet is also focusing on long-haul expansion. In mid-May, most analysts who follow WestJet had a neutral recommendation on the stock.
The headline of a May 2 note from Cowen and Company summed up well the general investor sentiment: "Too much going on to get comfortable". The Cowen analysts wrote that they could see issues with the ULCC cannibalising yields of the mainline operation. They also cautioned about possible growing pains with the 787's introduction and expansion into new markets such as China (a potential destination mentioned by WestJet's management).
WestJet suffered a setback on May 15 when it was announced that its pilots had voted to join ALPA. It was not a surprise; there had been several unionisation attempts over the years, and pilots at all of the US LCCs are now unionised. But the move certainly added uncertainty especially for the ULCC project.
Analysts from Canaccord Genuity pointed out that the unionisation meant that WestJet would have less operational flexibility with the ULCC and widebody expansion. Analysts from AltaCorp Capital noted that it would affect WestJet's ability to drive down costs at the ULCC.
That same day, Moody's revised WestJet's outlook to "negative", citing in part execution risk with the ULCC and the long-haul expansion plans. The rating agency also noted a reduced ability to deleverage the balance sheet.
WestJet is currently not achieving its ROIC targets (more on that in the last section below) and its profit margins could well be pressured when it implements the new projects. However, despite those concerns, WestJet would seem to be a good candidate for further diversification and growth.
First, WestJet has an impeccable profit record, a strong balance sheet, ample cash reserves and investment-grade credit ratings. It can easily fund growth.
Second, WestJet has an award-winning product, a strong brand and a formidable domestic market position (about 40% of traffic). In its 21 years of operations, it has built enough scale and critical mass in North America to successfully venture into more long-haul markets and experiment with new business models. It is in a much stronger position than the typical point-to-point LCCs in other countries.
Third, WestJet has a history (albeit a short one) of successful diversification. After spending its initial 15-16 years focused on being a high-quality LCC, in the past four years it has moved aggressively to capture business traffic in Canada, launched regional subsidiary WestJet Encore and entered the Canada-Hawaii and transatlantic operations. Those moves involved the introduction of two new aircraft types to supplement the 737 fleet: the Q400 and the 767-300ER.
Fourth, WestJet has proved that it can be successful in the competitive transatlantic market where it does not have much of a cost advantage. In a bold move a year ago, it launched nonstop flights to London Gatwick from six Canadian cities with ex-Qantas 767-300ERs (see Aviation Strategy, May 2016).
Fifth, as it demonstrated with the extremely cautious entry into long-haul overwater markets, WestJet likes to plan things well and grow its network at a measured pace. It tested the transatlantic market with seasonal one-stop Toronto-Dublin 737 flights, the Canada-Hawaii market with wetleased 757-200s and the transatlantic 767-300ER operation by first deploying the aircraft on the Canada-Hawaii routes.
Sixth, WestJet needs new growth areas. It does not have the opportunities that US LCCs enjoy in being able to tap the huge US market for domestic and near-international expansion. It is already a major player in Canada, in the key transborder markets and in the Canadian winter sun market to Florida/Mexico/the Caribbean.
Furthermore, many of WestJet's traditional markets out of Alberta and the Prairie provinces have seen adverse macroeconomic trends in recent years because of the slump in the energy sector. With the relative weakness of the Canadian dollar also depressing outbound international leisure travel, it makes sense for WestJet to expand in markets that can generate leisure travel to Canada, such as Europe and Asia (travellers coming from the US tend to fly on US airlines).
Finally, there is a defensive element to WestJet's ULCC plans. Despite being a tough market for new airline entrants, Canada has suddenly become a hotbed of ULCC start-up activity. At least two companies with solid credentials — Canada Jetlines and Enerjet — are gearing up to launch domestic services with fares 30-40% below those of Air Canada's and WestJet's.
The new hopefuls will benefit from an increase in the foreign ownership limit in Canadian airlines from 25% to 49%, first announced in November 2016 and confirmed by the Canadian government earlier this month. Some reports have suggested that the new rules could become effective by the end of this year.
As a result, for example, Enerjet is in talks with US private equity firm Indigo Partners about the latter providing funding and helping it to "fast-track" its development into a ULCC. Indigo has a strong track record in building successful ULCCs; it is also the owner of Frontier Airlines and Chilean start-up JetSmart, and it previously owned or held large minority stakes in Spirit, Tiger Airways, Wizz Air and Volaris.
Previously ULCC ventures in Canada faced an uphill battle to raise sufficient start-up funds. Now, with prominent global investors involved and government policy strongly in favour of competition and more low-fare options for consumers, ULCCs potentially pose a real threat to WestJet. If it does not respond, WestJet could lose significant domestic market share.
WestJet's ULCC plans
Under the plans announced in April, WestJet is setting up a separately branded ULCC that will target the most price-sensitive traveller. The intent is to move rapidly, with operations starting in late 2017 or early 2018 with an initial fleet of ten "high-density" 737-800s.
The yet-to-be-named ULCC will be flown by WestJet pilots and led by WestJet EVP Bob Cummings, but it does not look like it will have a separate full management team.
With respect to the brand and the expectations in the market, the aim is to keep it entirely separate from WestJet, while relying on the latter for expertise, assets and support services.
The new airline will have a Ryanair-style product and pricing, offering fully unbundled, rock-bottom base fares and charging extra fees for everything. It will provide a "pro-competitive, cheap and cheerful flying experience from a company with a proven track record".
Cost savings will mainly come from a higher seating density on the 737-800s. WestJet plans to increase the seat count from 174 to 189, which it claims will by itself reduce ex-fuel CASM by over 10%.
Offering a no-frills product will also save money. CEO Gregg Saretsky noted that there are "a lot of frills sitting on WestJet", including an Economy Plus cabin, Wi-Fi, free in-flight entertainment, free snacks and beverages and free carry-on bags. The ULCC will charge extra for any frills.
Using WestJet pilots will limit the potential to obtain cost savings. The new unit will not be able to get its costs down to the levels at the ULCCs that are starting from scratch. In the Q1 call many analysts said that they struggled to see the worth of creating a new airline around mainly changes to seat configuration and the way fares are presented.
But WestJet executives insisted that the planned airline would have "significantly lower costs on every line of that business". CEO Saretsky said that its CASM would "approach something closer to 6-6.5 cents from the 10 cents that we're operating today".
Another challenge will be to avoid cannibalising WestJet's own yields. According to the management, that would be accomplished for the most part by not competing head-to-head in the same markets. WestJet knows the Canadian market and all the network flows well. Its analyses and segment evaluations suggested that there is room in the Canadian domestic and southbound leisure markets for both brands and that the ULCC would be accretive to the group's earnings.
The executives indicated that they had studied the Ryanair-style ULCC business model around the world and expected it to be just as lucrative in Canada. After analysing the market and also considering the competitive landscape, the project "made complete sense to us".
In the first place, the ULCC will defend WestJet's market position against new ULCC entrants in Canada. But WestJet also sees it as a growth opportunity as ULCC-type fares can stimulate a lot of traffic. The executives noted that in the US ULCCs account for about 4-5% of system capacity and suggested that a there may be a similar opportunity in Canada.
WestJet also hopes that the ULCC will capture what it calls "cross-border leakage". Apparently some 5.5m Canadians annually cross the border to US airports such as Bellingham and Buffalo to catch flights operated by US ULCCs.
But the ULCC is not going to make much impact with just ten aircraft. WestJet executives said that it was hard to estimate how large it could grow. Canada is a small market, but stimulation from low fares can lead to dramatic growth. On balance, however, WestJet expects the ULCC to remain a small airline, serving a small segment of the market.
The one thing that could scupper the ULCC plans is any change in the stance of the newly unionised pilots. WestJet had already obtained some kind of preliminary approval from its old pilot association, but that will now have to be revisited with ALPA. The executives remain optimistic, given the 21-year history of working collaboratively with the pilots and the growth and career advancement opportunities offered by the ULCC. The latter will include first officers becoming captains and WestJet Encore pilots moving from Q400s to jets (and actually securing pay rises).
The ULCC will not lead to incremental aircraft orders in the foreseeable future. The initial ten 737-800s will all be aircraft that WestJet had previously planned to return to lessors over the next couple of years as the 737 MAXs arrive. WestJet is now in discussions with lessors about keeping those aircraft.
WestJet expects to receive its first 737 MAX 8 in the third quarter and have four of those aircraft in revenue service by the year-end. Another seven MAXs are scheduled for delivery in 2018.
787 plans
The management described the 787-9 order in early May as heralding an "exciting new chapter in WestJet's history". It will "diversify the network, de-risk dependence on the Alberta and Canadian point of sales and provide a great new plank of revenue growth".
The 10 firm orders are scheduled for delivery in 2019-2021 and the 10 options are available in 2020-2024. WestJet has selected GE's GEnx-1B engines for the type.The order was possible after WestJet's pilots formally endorsed the airline's long-haul expansion plans in December (though it is hard to see why they would not have approved of such growth).
WestJet's widebody fleet currently consists of four 767-300ERs, which this past winter operated to London Gatwick (from Toronto and Calgary), to Hawaii (from Edmonton and Calgary) and on select transcontinental routes in Canada (including Toronto-Calgary).
The transatlantic operations have been successful, even though WestJet does not have much of a cost advantage on such routes (only through the low ownership costs associated with the used 767s) and the London markets are mature and highly competitive. WestJet has seen very strong demand on the Gatwick routes as it has stimulated traffic with its unique blend of low fares and great service. The initial reliability issues with the 767s were resolved quickly.
WestJet hopes to repeat that success in new long-haul markets with the 787. Two years ago when it launched Glasgow as its first transatlantic destination, it stated that it would become a truly global carrier in the years to come.
The airline notes that the 787's 14,000+ kilometre range will enable it to serve Asia, South America and more destinations in Europe. China was mentioned as a likely good opportunity for the 787s. The Canada-China bilateral is "fairly expansive", though WestJet is not yet a designated carrier.
WestJet will benefit from Canada's great collection of traffic rights around the world, which Air Canada too only began seriously taking advantage of fairly recently. WestJet will have to apply for designation under many open skies ASAs, though no problems are anticipated on that front.
The initial 787s may be deployed to Gatwick, because the type is more suitable to that market than the 767 and could help boost ROIC right from the start.
Interestingly, WestJet expects to operate the 787 in three classes. In addition to the premium economy and economy cabins offered on the 767s, the 787s will also have an "appropriately-sized business class cabin with a few more frills that will disrupt how people think about business travel". Those frills are likely to include lie-flat seats. The management calls it "classic WestJet" or similar to the "value player" approach that has been so successful within North America and that has been tested on the 767s.
The three classes, offerings such as lie-flat seats and higher ownership costs of new aircraft would mean more questionable economics in the 787 operations, but WestJet insists that it will still have a cost advantage over primary competitors.
As with the ULCC, the long-haul cost advantage would largely come from higher seating density. The premium classes could be small. WestJet says that it would also have a "feed advantage" (the substantial domestic network, including Encore) and that it would be relying on sixth freedom traffic flows. A well-developed loyalty programme and airline partnerships around the world will also help.
One of the executives stated in the Q1 call: "We are in a good position at this particular point to go into the widebody market in a bigger way and capitalise on our franchise in Canada and our growing capabilities all the way around."
That said, WestJet also feels that it will be important to keep the size of the widebody fleet modest enough so that the aircraft can be moved around seasonal markets and utilised all year round.
WestJet expects to make the decision on whether or not to keep the 767s as the 787s start to arrive. The airline originally saw them as having a five-year useful life, so the aircraft will be fully depreciated and could leave or stay.
Financial considerations
While WestJet's operating margins have remained remarkably steady over the years (see chart), its ROIC declined to 10% in the 12 months ended March 31, which was below the targeted 13-16%. The management is committed to getting ROIC back to the targeted range by improving earnings.
On the revenue side, there are efforts to attract more business traffic and corporate contracts by improving or expanding product offerings. On the cost side, there are two separate seat reconfiguration programmes — one adding several rows of seats to the ten 737-800s destined for the planned ULCC and another adding one row of seats to WestJet's other 105 737-800s.
There has understandably been some concern from analysts that WestJet has so many projects going on that it could further negatively impact ROIC. WestJet has sought to reassure them that it has minimised execution risk by "decoupling" the biggest projects from each other. The ULCC is a 2017-2018 project and the 787 is a 2019 initiative.
While the balance sheet and liquidity remain strong, WestJet has taken action to conserve capital. As part of the 787 deal with Boeing, the airline converted 15 firm orders for the 737 MAX that were due in 2019-2021 to options available in 2022-2024. This will help keep the net debt-to-equity ratio below 2.5.
In the longer term, WestJet believes that it can maximise ROIC by having three distinct products that will address what it considers are the three segments of the airline business in Canada: ULCC, "value player" (classic WestJet) and "luxury segment" (the future product on the 787). This is similar to Delta's thinking: becoming the aviation equivalent of Amazon by catering for every kind of travel need.
WESTJET'S FLEET PLAN
Fleet
Future deliveries
Fleet
31 Mar 2017
Q2-Q4 2017
2018
2019
2020
2021-22
2023-27
Total
2027
737-600
13
13
737-700
56
56
737-800
46
2
2
48
737 MAX 7‡
2
1
1
16
20
20
737 MAX 8‡
4
4
2
3
10
23
23
737 MAX 9‡
3
4
7
7
767-300ERW
4
4
787-9†
3
3
4
10
10
Q400
36
7
2
9
45
Maximum fleet↑
155
13
9
9
6
8
26
71
226
Lease expiries
-1
-9
-8
-5
-15
-3
-41
-41
Minimum fleet↓
155
12
1
1
-7
23
30
185
Notes: ‡ There are options to purchase another 25 MAX aircraft for 2020-2027 delivery. The MAX 7 and MAX 8 orders can be substituted for one another or for the MAX 9. † Options for another ten 787s in 2021-2024.
Source: WestJet