Battle hots up for
India's international market May 2017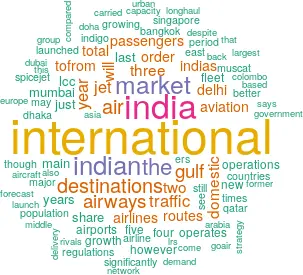 The international market to/from India has tripled over the last 12 years, and is forecast to continue growing significantly for some years to come. How are India's airlines faring in the battle for this lucrative market?
As can be seen in the graph, the international passenger market to/from India has grown significantly in recent years, more than trebling from 2004/05 to 2016/17 at an average annual growth rate of 9.7% over that 12-year period.
International travel is being driven by India's GDP growth and higher disposable incomes among the country's fast growing urban population, which numbered more than 419m people out of a total population of 1,282m in 2015. That urban percentage in India is less than 33%, compared with a figure of 40% in Africa, 56% in China, 74% in Europe and 82% in North America — so there is still lots of scope for growth in the urban proportion. Even so, in 2015 India had an incredible 58 cities with a population of more than 1m (compared with 56 in the whole of Africa and just 38 in Europe).
The manufacturers consider India to be a key area of passenger traffic growth over the next two decades; in its Current Market Outlook for 2016–2035, Boeing says that India and China are "the main engines of growth" for the Asia region, whose share of world GDP is projected to rise from 31% in 2016 to 39% by 2035. Airbus's Global Market Forecast for 2016-2035 forecasts that the Indian subcontinent-Middle East will be the sixth largest international traffic segment globally in 2035, with its traffic in 2035 increasing by 3.4 times compared with its RPK level of 2015. In fact, according to Airbus's forecasts the Indian sub-continent (ISC) will account for four of the 20 fastest growing traffic flows over the next 20 years, with ISC-China RPKs multiplying by 4.9 times its 2015 total by 2035, followed by ISC-Asia emerging countries (4.1x); ISC-Japan (3.7x) and ISC-Asia advanced countries (3.7x). Incidentally, another top 20 place is taken by the Indian domestic market, whose traffic is forecast to rise by 5.6 times over the 2015-2035 period.
Government laggards
Unfortunately, the Indian government has been sluggish in liberalising aviation regulations and funding infrastructure in order to meet this growing demand. It began to liberalise the aviation industry in 2004 (see Aviation Strategy, December 2003 and June 2007), leading to the emergence of a number of LCCs (see Aviation Strategy, May 2014), but it wasn't until June 2016 that the Indian ministry of civil aviation (MoCA) finally unveiled a much-called for new and comprehensive aviation policy.
That includes (among other measures) a planned increase in the number of commercial airports in the country from 77 to 127 by 2019, and — most crucially — a modification of the 5/20 rule. This had previously mandated a minimum five years of domestic operations and a fleet size of at least 20 aircraft before an Indian airline could launch international operations, and had been heavily criticised as a barrier to international traffic expansion for India.
The new policy eases the restrictions and enables airlines to commence international routes as long as they deploy 20 aircraft or 20% of total capacity (whichever is higher) for domestic operations.
This will now enable India's airlines to compete better in the international market — between them, India's five international airlines accounted for just 37.7% of international passengers to/from India in the latest available quarterly statistics (for October-December 2016) — see chart — as provided by the Indian Directorate General of Civil Aviation.
The Air India group (the mainline plus Air India Express) is the market leader, accounting for 16.3% of the international market in that period. Jet Airways is a close second with 14.6%, with two other Indian carriers accounting for 3.7% (IndiGo) and 3.1% (SpiceJet).
The challenge — clearly — is from the three main Gulf competitors, who racked up an 18.5% share of international passengers carried in calendar Q4 2016. Add in Air Arabia, Oman Air and Saudia, and the proportion taken by Gulf carriers rises to 27.4%. The largest international market to/from India is clearly the Gulf states, where significant amounts of Indians work (often in poor working conditions) and who commute home reasonably regularly. Indian airlines also get substantial traffic through passengers connecting via Gulf states to other destinations. However, struggling Gulf economies recently have led to — as Amit Agarwal, CFO and acting CEO of Jet Airways puts it — the "shelving or deferral of projects, which no longer need increased manpower; that is why we have seen a dip in demand for traffic in the Gulf market".
Despite that, in anticipation of better economic times and in an effort to win market share most Indian airlines (and many of their international rivals) continue to pile capacity onto Gulf routes, and thanks to this excess capacity demand must be stimulated through major fare wars — which is resulting in yields falling significantly.
The major long-haul players in India are:
Air India
The big beast of international travel is still Air India, which (frustratingly for its rivals) is still in effect being bailed out by the Indian state despite making substantial losses at the net level.
Air India's main hubs are at Delhi and Mumbai, which gives it a major advantage given that of the total 59.3m international passengers carried to/from India in 2016/17, more than 47% of them flew through just two airports — Delhi and Mumbai (see chart and map). Another 43% flew to/from eight other airports, meaning that the international market is highly concentrated.
The flag carrier currently offers services to 38 international destinations in 26 countries, based on a fleet of five 747-400s, 15 777s (12 300ERs and three 200LRs) and 23 787-8s. Currently on order are three 777-300ERs and four 787-8s — the former are due for delivery in early 2018 and the latter will arrive by the end of this year. The international network is dispersed and without focus, and covers the US (four destinations), Saudi Arabia (three), the UAE (three), UK (two) Australia (two), Japan (two), Italy (two), Bahrain, Dhaka, Paris CDG, Vienna, Kabul, Frankfurt, Hong Kong, Tel Aviv (launched this May), Shanghai, Kuwait, Yangon (Myanmar), Kathmandu, Malé (Maldives), Muscat, Moscow, Singapore, Seoul, Madrid, Colombo and Bangkok.
The destinations in the US are Chicago, New York JFK, Newark and San Francisco, and a fifth route — between Delhi and Washington Dulles — will commence in July, using 777-200LRs on the almost 16-hour non-stop service. Air India did have a fleet of eight 777-200LRs (with a range of 17,370 km) that were to be at the heart of a significant ultra long-haul network, but those ambitions were scaled back rapidly, and five aircraft were sold to Etihad Airways a few years ago.
In addition, Air India has an LCC — Cochin-based Air India Express — that was launched in 2005 to operate to destinations within a four-hour flying time from the country. It has a fleet of 23 737-800s and operates to 15 international destinations, of which all but three (Singapore, Kuala Lumpur and Dhaka) are in the Middle East, including an operational base at Dubai. However, previous ambitious plans to expand its international routes significantly — i.e. beyond the Middle East to destinations such as Russia and Iran — have, so far, come to nothing.
While the Air India group has (for the moment) a market-leading share of the international passengers to/from India, rivals argue bitterly that this is largely based on state support and the dominant slot positions it has at the two most important international airports in India.
Jet Airways
The main competitor to Air India internationally is Jet Airways, which was founded (and is still chaired today) in 1993 by Naresh Goyal, one of the richest men in India (though Etihad Airways bought a 24% stake in Jet Airways for around $380m in 2013). Today it operates to 51 domestic and 22 international destinations, comprising three in the UAE, three in Saudi Arabia, plus Bahrain, Dhaka, Toronto, Paris CDG, Hong Kong, Kuwait, Nepal, Amsterdam, Muscat, Doha, Singapore, Colombo, Bangkok and London Heathrow.
Its main hub is Mumbai, where last year it moved its operations to the new Terminal 2, enabling better connections between its domestic and international networks. The airline's fleet includes five A330s-200s, four A330-300s, four 737-900Ers and 10 777-300ERs, and on outstanding firm order are 75 737 MAX 8s and 10 787-9s, the former of which will be delivered from mid-2018, and the latter of which start arriving from the last quarter of 2017.
In March last year Jet Airways switched its European hub from Brussels to Amsterdam Schiphol, at which it codeshares with KLM on its network across Europe. Jet also codeshares with Delta and KLM to points across North America, and while it isn't a member of any global alliance it is expected to join SkyTeam at some point.
International routes accounted for 53% of total revenue in the October-December 2016 period for Jet Airways, but although international ASKs grew by 13.4% in those months, revenue increased by just 2.5% as international RASK fell by 11.2% in the quarter year-on-year — due primarily to the slowdown of the Gulf economies on the back of lower oil prices since 2015. However, Jet is bullish about its position relative to others, and Amit Agarwal say that "despite this slowdown we have grown our market share to the Gulf, shifting share from our competition".
IndiGo
The LCC launched in 2006 by Rahul Batia, owner of Indian conglomerate InterGlobe Enterprises, and Rakesh Gangwal, a former CEO of US Airways, is now the largest Indian airline by passengers carried. However, it focuses on domestic routes, with just seven of its 46 destinations being international — Kathmandu, Muscat, Singapore, Bangkok, Dubai, Sharjah and — from May this year — Doha. That new destination operates from both Delhi and Mumbai, and IndiGo wants to add further Doha routes from Calicut, Cochin, Trivandrum and Chennai as it (along with everyone else) targets the Indian working population in the Gulf.
However, the Gurgaon-based airline (with its main base at Delhi) has 20 A321neos on order (converted in September last year from an order for 250 A320neos made back in August 2015), for delivery from this year. Although Aditya Ghosh, president and executive director of IndiGo, says that the LCC has no plans to launch a long-haul offshoot — insisting that the bigger opportunity is the Indian domestic market and short-haul international destinations — he points out that the 240-seat A321neo could certainly operate to "the further ends of the Middle East or south-east Asia".
This tentative medium-haul strategy would be made redundant overnight if long-held rumours of Qatar Airways buying a major stake ever come to fruition. Qatar didn't participate in Indigo's IPO in November 2015, with Akbar Al Baker, Qatar group chief executive, whining that it couldn't invest in the IPO thanks to "government regulations" and lack of time for Qatar's sovereign fund to participate — adding that that "Qatar is unfairly treated by Indian authorities" in general.
SpiceJet
SpiceJet — the second-largest LCC in India — is based at Chennai airport and operates to just a handful of international destinations (seven out of a total of 45): Kabul, Dhaka, Male (Maldives), Muscat, Colombo, Bangkok and Dubai. A daily Kolkata-Dhaka route was launched in March this year, but the airline says it will "aggressively look" at more international routes following its firm order in January for an additional 100 737-MAXs (for delivery over 2018-2024), which brought its total order for the model to 142. SpiceJet is also talking with Boeing over the so-called 10X, the potential stretched version of the Max, which would seat up to 230 passengers and be available around 2020 or later.
GoAir
Mumbai-based LCC GoAir operates only to domestic destinations though had always complained about the India's 5/20 regulations, lobbying hard to get them altered and saying that it was very keen to launch international operations. Since these regulations were changed last year there has been no sign that GoAir will fulfil that promise, though potentially it may have run into problems securing traffic rights for the markets it might be targeting out of Mumbai and Delhi. These are likely to be in the Gulf region and neighbouring south-east Asia countries, though with so much international competition out of Mumbai and Delhi the LCC might be better off prioritising international services from second-tier Indian airports.