Alitalia: Decline
and fall May 2017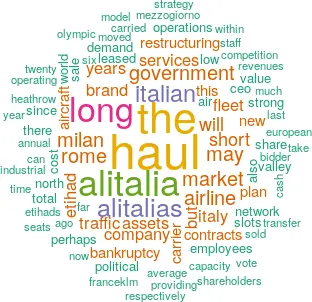 Once again Alitalia has run out of cash. Not even a decade has passed since the 2008 bankruptcy and the merger with AirOne. Only a couple of years have gone by since the rescue by Etihad and a €1.75bn recapitalisation — with a target to create sustainable profitability by 2017. The latest restructuring plan — designed as usual to bring the carrier to breakeven in two years — gained the negotiated approval of the unions, but failed a vote from the employees. The airline has thrown up its hands, once again filed for special administration (ie bankruptcy protection) and been granted a €600m government loan to cover it over the next six months as the administrators prepare it for sale. Will Italy let it fail this time?
Alitalia, in all its various guises, has been inherently unprofitable for decades. As the graph below shows, it last made an operating profit in 1998 and a net profit (accidentally) in 2003. In the last twenty years (excluding the unknown 2008) it has lost a total of €4bn at the operating level and €6bn at the net — average negative margins of 4% and 7% respectively. In 2016 it carried 22.6m passengers, some 7% fewer than the 24.5m it carried in 2007. It has a fleet of 117 aircraft (see table) — 25 widebody A330s and 777s, 72 narrowbody A320s and 20 Embraer 175/190s — and flies to 94 destinations (26 domestic, 56 short haul international and 12 long haul).
The restructuring plan approved by the company's board in March (but rejected by the employees) was drawn up on the traditional idea of shrinking, reducing costs and increasing revenues. By 2019 it aimed to reduce annual costs by €1bn, increase revenues by 30% (and thereby gain profitability). It would have seen a significant downsizing of the short haul fleet by twenty units, and moved the short haul product offering closer to the low cost competition: buy-on-board, higher density seating, higher utilisation, ancillary revenues, low one-way fares. At the same time it would expand its long haul operations "to better serve and regain market share in the Italian market".
These plans would have required another significant level of redundancies from its existing workforce of 12,500. This may be the reason why the company involved the Government in its negotiating stance — the current Alitalia is a fully privately-owned airline. But then, the Italian Government has always interfered: from the political horse-trading over the role of the Milan airports that helped break up the Alitalia-KLM virtual merger of the late 1990s; to PM Berlusconi's insistence on keeping the airline in Italian hands that killed off the potential Air France-KLM acquisition of the company in 2008 and the forcing of his friends to acquire the "good bits" out of bankruptcy; to the decision by the state-owned postal services to invest €75m in the company in 2013.
With the rejection of the plan by the employees, the three main shareholders (Etihad, Intesa Sanpaolo and UniCredit) ditched their support for a €2bn recapitalisation package almost in frustration saying it was now impossible. As Carlo Messina, CEO of Intesa Sanpaolo said "there isn't a plan 'B'".
Etihad's CEO James Hogan was patently frustrated: "We deeply regret the Alitalia staff vote outcome, which means that all parties will lose: Alitalia's employees, its customers and its shareholders, and ultimately also Italy, for which Alitalia is an ambassador all over the world." His shareholders in Abu Dhabi must have been deeply embarrassed, not only by the failure of the investment in Alitalia but also by the deepening losses at airBerlin, both highlighting the failure of Etihad's "hunter strategy". He has been replaced in his position at Etihad even while they look for another permanent CEO.
At least Rome appears to have ruled out renationalisation. The government-appointed commissioners have invited expressions of interest from individual companies (or consortia) by June 5th to buy the whole company, restructure it, or acquire assets and contracts.
Apparently at the end of February the company had debts and liabilities of €5.3bn against assets of €0.9bn. Without detailed accounts it is difficult to guess how much of those assets may be real. The company sold all its Heathrow slots to Etihad in the 2014 restructuring, and its other route rights and landing slots are unlikely to have realisable cash value. The FFP Mille Miglia might have had some value — but Alitalia sold 75% of this to Etihad. The fleet is mostly leased. As far as we can find out we believe that Alitalia owns only 39 aircraft out of its 117 strong fleet — six 777s, 30 A320s and 4 regional jets.
The likelihood of a serious bidder for the business seems slim: Lufthansa and Air France-KLM, both of whom a decade ago had been interested, have much more pressing matters on their agendas. The Italian state railway Ferrovie dello Stato denied rumours that it would come to the rescue. There may be some airline somewhere in the world with more cash than sense; but a non-European bidder would need to find a consortium partner (preferably Italian) to take 51% of the equity.
The world has moved on
In the past ten years Alitalia has allowed its "natural" position as the national flag-carrier of Italy erode so much that it has possibly totally destroyed what may have once been a national brand. Alitalia's share of seats in the Italian short/medium haul market has fallen from 31% in 2010 to 21% in the 2017 schedules. The largest carrier in this market is now Ryanair with a 28% share of the total departing seats (having grown by a compound 8.4% a year over the period). The third and fourth largest are easyJet and Vueling respectively. Capacity in the market itself is virtually the same size as it was seven years ago.
Long haul markets have been equally affected. On the 2008 restructuring Alitalia moved its long haul hub back to Rome from Milan Malpensa. Its share of long haul seats has fallen to 20% of the total, closely followed by Emirates on 19% and Qatar on 7% — each of which have increased their offerings into the market by an average annual 14% and 12% respectively since 2010. Capacity on long haul has increased by an average 5.7% a year in the period, but Alitalia's growth has been a mere 2.8% a year.
But then this may all be part of the difficulties presented by the Italian market itself. Perhaps it is just not conducive to the idea of a single country flag carrier.
Italy is really at least two disparate countries within one. The north, and particularly the Po valley, is the wealthy industrial area: a continuation of the "blue banana" distribution of European population density that runs from London through Paris, the Rhine valley to Turin. The south — the Mezzogiorno — is a relatively impoverished area with regional annual per capita incomes less than half that of the North. The industrial north is centered perhaps in Milan; the political centre is in Rome on the northern borders of the Mezzogiorno. There is strong air traffic demand domestically between Rome and Milan and Rome and Naples, weakened by the introduction of high speed rail. There is strong demand from the Mezzogiorno to the north, ideal for for low cost airline competition against road and bus transport. However, there is also strong demand from the Po valley on longer haul routes, and this (without having to go through Milan) is easily diverted to other European hubs for long haul connections (notably Frankfurt, London, Paris, Amsterdam, Zürich and Munich), or with the building of services from the superconnectors to the East via the Gulf or Istanbul.
At the same time Italy is, like the other mediterranean countries, at the bottom of a tourism well. Inbound tourist traffic is intent on reaching the leisure destinations, well away from the industrial or political centres: highly seasonal and price oriented.
Geographically also any attempts at operating a traditional transfer hub puts an Italian carrier at a disadvantage. Rome is too far south to access convenient connections on the Atlantic or to the Far East except perhaps from within Italy, while Milan, albeit important within the Po valley, is subject to intense competition. But any operator is under pressure to develop a long haul network encompassing both centres.
CEO Cramer Ball highlighted the problems in the company's suggestion of a restructuring plan. 75% of Alitalia's total traffic is currently carried on short haul operations. 50% of all its traffic transfers; and transfer traffic makes up 85% of long haul traffic. He claimed that the long haul operations were profitable. This seems unlikely (although the Atlantic operations do still form part of the ATI Joint Venture with Air France-KLM and Delta).
Hatching the phoenix
If Alitalia were to survive this bankruptcy it would of necessity be smaller yet again. It may have lost a battle to continue to be able to operate short haul services profitably. Should a new Alitalia perhaps concentrate on long haul services and invite the likes of Ryanair, easyJet or Vueling to provide the short haul services and feed that it will need into Rome, Milan (and maybe Venice) to achieve the political expediency of providing an Italian flag carrier? There may be a business model that encompasses lower capacity long haul equipment such as the 787 or A350 and concentrates on underlying O&D demand. Such a model may not involve taking on the legacy baggage.
Meanwhile, in the six months it has to the end of the government bridging loan, it is likely that the market will vote with its feet and Alitalia's finances will continue to deteriorate in administration.
The European airline industry has been eagerly pursuing consolidation since deregulation twenty years ago. Etihad's development of its "Hunter Strategy" and its investments in Alitalia and airBerlin created a new force that seemed to put a halt to the process. This strategy is now in tatters. Consolidation can take place through acquisition or attrition (and it is always remarkable how long an airline can last while losing money). Only a handful of flag-carriers have gone to the wall — Swissair, Sabena, Olympic, Malèv, Cyprus. Some no doubt are hoping that Alitalia is the next.
Clean asset sale?
One of the options being pursued is the sale of Alitalia's assets. This could be the best option for the Italian government, which appears to acting as Alitalia's owner, if it could use this mechanism to get rid of Alitalia's liabilities, including its management and union culture, while preserving the airline's flag-carrier status and core network.
The Greek government attempted a clean asset sale in 2009 in order to finally privatise Olympic. But what does it imply for Alitalia in reality? And how could it be accomplished in practice?
First, there are minimal or no fixed assets — the fleet is leased, property is leased or mortgaged, IT systems probably have no transfer value.
Slots at congested airports are valuable, but Alitalia's readily monetisable slots — those at Heathrow — have been sold to and are currently leased back from Etihad.
Is there brand equity? For a failed airline, we would suggest zilch. Pan Am's brand used to be the second most recognised in the world (after Coca-Cola) but, after the airline's demise, the brand (logo and name) was traded a couple of times, valued at tens of thousands of dollars; Alitalia's name and brand would at most raise thousands.
To what extent is the network transferable to a new entity? The short haul has in effect been taken over by LCCs. But long haul, still largely under bilateral ASAs, could have value for an investor. The analysis above has shown a marked expansion of Rome and Milan long haul services, providing an attractive smaller scale alternative to the global hubs at Frankfurt, CDG and Heathrow, but there is no visibility on how profitable or unprofitable the network is.
This franchise is salable. But the purchaser will not want to inherit Alitalia's cost structure and inefficiency (this might be an opportunity to apply the evolving Long Haul Low Cost model). In Olympic's case investors were invited to bid for the core assets (brand and key routes) but had the option on whether to take on personnel, supply contracts and aircraft. The successful bidder declined to offer contracts to Olympic's staff; instead it recruited directly on new terms and conditions, didn't touch the contracts, and decided on its own new fleet.
The Greek government then had to bear the expense of unwinding the aircraft leases, failing to sell surplus aircraft, terminating contracts and providing massive compensation for the redundant Olympic staff, especially the powerful and influential pilots. Could the Italians do something similar, or will the government choose the cheaper, simpler but politically sensitive route of bankruptcy and liquidation of Alitalia?
ALITALIA FLEET
Total
39
78
117
Aircraft in service
Owned
Leased
Total
A330
14†
14
777
6
5
11
A319
12
10
22
A320
12
26
38
A321
5
7
12
E175
2
13
15
E190
2
3
5
Notes: †including two A330s leased from Jet Airways
ITALIAN LONG HAUL CAPACITY
Total
100%
100%
5.7%
2010
2017
Seat share
Seat share
CAGR
1
Alitalia
25%
Alitalia
20%
2.8%
2
Emirates
12%
Emirates
19%
13.9%
3
Delta
10%
Qatar
7%
12.2%
4
Qatar
5%
American
7%
4.2%
5
US Airways
4%
Delta
7%
-0.5%
6
American
4%
Etihad
4%
nm
7
Meridiana
3%
United
4%
nm
8
Air China
3%
Air China
4%
7.1%
9
Cathay
3%
Meridiana
3%
nm
10
SIA
3%
Air Canada
3%
nm
Others (31)
29%
Others (19)
23%
2.1%
Note: Seats on routes over 4,000km
ITALIAN SHORT HAUL CAPACITY
Total
100%
Total
100%
0.4%
2010
2017
Seat share
Seat share
CAGR
1
Alitalia
31%
Ryanair
28%
8.4%
2
Ryanair
16%
Alitalia
21%
-5.2%
3
Meridiana
8%
easyJet
11%
5.4%
4
easyJet
8%
Vueling
4%
nm
5
Lufthansa
5%
Lufthansa
3%
-7.0%
6
Wind Jet
4%
Wizz Air
3%
nm
7
Air France
2%
Meridiana
3%
-14.8%
8
Blue Panorama
2%
Volotea
2%
nm
9
British Airways
2%
British Airways
2%
3.2%
10
Air Berlin
2%
Blue Air
2%
nm
Others (125)
19%
Others (101)
22%
2.1%
Note: Seats on routes under 4,000km
LESSOR EXPOSURE TO ALITALIA
Total
5
12
42
16
78
Aircraft type
Lessor
777
A330
A320
E175/E190
Total
Castlelake
1
16
17
Nordic Aviation Capital
11
11
AerCap
1
6
7
Avolon
2
4
6
AWAS
6
6
Air Lease Corporation
4
1
5
GECAS
4
4
ICBC
4
4
ALM
3
3
CDB
3
3
Deucalion
2
2
Intrepid Aviation
2
2
ORIX
2
2
Aergo
1
1
Aircraft Purchase Fleet
1
1
Apollo Aviation
1
1
ALITALIA: SHAREHOLDING STRUCTURE
Investment in Alitalia – Società Aerea Italiana
Owned by
Etihad Investment Holding Company LLC
49.0%
Etihad Airways PJSC
100%
Compagnia Aerea Italiana SpA
51.0%
UniCredit
33.2%
Banca Intesa Sanpaolo
31.1%
Banca Popolare di Sondrio
13.5%
Atlantia†
6.3%
Banca Monte Paschi di Siena
3.4%
Poste Italiane
3.0%
Immsi
2.6%
Pirelli
1.4%
Macca
1.4%
Air France-KLM
1.1%
Others (17)
2.9%
Source: Alitalia annual report 2014. Shareholding as at end January 2015. † owner of Aeroporti di Roma