Cebu Pacific:
Hitting growth constraints at Manila May 2016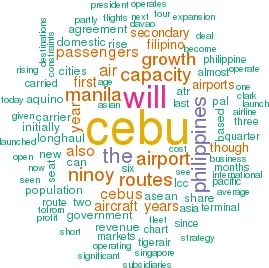 Philippine LCC Cebu Pacific Air saw profits rise fourfold in 2015, but it ambitions for growth on both short- and long-haul are facing a major problem — lack of capacity at Manila's Ninoy Aquino airport.
Cebu Pacific Air was established as a legal entity back in 1988, but didn't launch operations until 1996, a year after it was bought by JG Summit Holdings, a giant Filipino conglomerate that has interests in everything from banks and hotels to property and utilities. Its founder was John Gokongwei — of Filipino-Chinese extract and one of the wealthiest entrepreneurs in Asia — and today his only son Lance is president and CEO of Cebu.
Based at Ninoy Aquino airport in Manila, Cebu was a pioneer of the standard LCC business model in Asia, though today it has multiple aircraft models and an FFP called GetGo. It was launched initially as a domestic-only carrier before expanding onto international routes from 2001, and now operates almost 100 routes to 64 destinations, of which 34 are domestic, 24 are short-haul and six long-haul. They are flown by Cebu's 57-strong fleet that comprises seven A319s, 36 A320s, six A330s and eight ATR 72-500s — which have an average age of less than five years.
In 2015 Cebu recorded an 8.7% rise in revenue to ₱56.5bn (US$1.2bn), based on an 8.9% increase in passengers carried to 18.4m. Passenger revenue was up 6.2% to ₱42.7bn ($938m), with ancillary revenue rising 19.6% to ₱10.4bn ($228m) and cargo revenue up 10% to ₱3.5bn ($76m). In 2015 EBIT more than doubled, to ₱9.7bn ($213m), while net profit increased by 414% compared with 2014, to ₱4.4bn ($96m).
Larger aircraft
On order are two A320ceos, 30 A321neos and 16 ATR 72-600s, all of which will arrive by 2022. The six-hour flying radius of the 240-seat A321neo will allow Cebu to operate to new markets in Australia and the Indian subcontinent, although they will also replace older Airbus models. All the A319s will be sold by 2018; in May Cebu announced a deal for the sale of four of the type to Las Vegas-based Allegiant Air in 2017 and 2018. Seven A320s will also leave by 2019 as their leases expire.
All Cebu's ATR 72-500s (operated under the Cebgo brand) will depart by 2018, being replaced by the arriving 16 ATR 72-600s from the third quarter of 2016 that were ordered in June 2015 (along with options for another 10 aircraft) in a deal worth about US$200m for the firm orders at actual prices. The 72-600s will be equipped with high-density Armonia cabins — with 78 so-called "slim-line" seats and wider overhead bins — and will be used to expand Cebu's network regionally and for increased inter-island services in the Philippines.
Cebu's fleet only grew by three aircraft in 2015 (to 55 at the end of the calendar year), and future expansion will continue to be gradual, with the fleet expected to reach 69 by 2018, when it will comprise 36 A320s, 15 A321s, six A330s and 12 ATR 72s. As can be seen in the chart, in terms of ASKs Cebu has grown gradually over the last 24 months, maintaining a focus on improving its load factor, which has climbed impressively over the period and is now close to its medium-term target of 85%.
That strategy is partly of its own choosing, but partly because it has little alternative given capacity constraints at Ninoy Aquino. Ninoy is located centrally in the Metro Manila conglomeration (population around 12m), with the alternative, lower cost airport being Clark International, which is 70km from the centre. Owned by the state, Ninoy Aquino's throughput was 36.7m passengers in 2015, of which 19.5m were domestic.. The airport's growth rate has been substantial — it has more than doubled passenger numbers since 2006 (when it had a throughput of 17.7m).
Cebu operates out of Terminal 3, which opened partially in 2008 (after several years of delay) and then launched fully in August 2014, with a capacity of 13m passengers a year. Cebu was the first carrier to move into the facility, but many others have joined since, including PAL subsidiaries Air Philippines and PAL Express, as well as Delta, SIA, Cathay Pacific and KLM.
The government has plans for a fifth terminal at the airport, to be built next to Terminal 3 and to which Cebu and the other LCCs at T3 will move across to, leaving T3 exclusively for full-service carriers operating internationally. But the terminal is currently in the design stage, and inevitably it will be many years before it becomes operational. But overall the airport is almost at full capacity and expansion is desperately needed as passengers are forecast to grow to 51.4m a year by 2037.
The situation is complicated by the fact that the construction of a second airport in Manila — no further than 20km from the city's business centre — is also a possibility. Earlier this year the Philippine transport ministry said the location of a second airport would be unveiled soon, with a target for it to become operational in the next 10 to 15 years, initially with two runways but then expanding to four.
The new airport is likely to be funded by the government, with the commercial sector awarded contracts for its operation and maintenance. The government is also pondering the question as to whether this will exist separately to Ninoy, or whether it will become the sole airport for Manila, with Ninoy eventually closing down.
While Cebu waits for the government to announce its plans, all it can do is grow marginally at Ninoy by increasing the average size of its aircraft and squeezing more capacity onto existing routes (hence the switch from ATR72-500s to -600s and from A320ceos to A321neos), and build up routes connecting key Asian destinations with secondary airports in the Philippines.
Segment strength
According to Cebu's own estimates, it achieved a 60% share of the domestic Philippines market in 2015, compared with 29% for the PAL Group and 11% for Air Asia; that was Cebu's highest-ever market share. The domestic network is based on six hubs — Manila, Cebu, Clark, Kalibo, Iloilo and Davao.
On short- and medium-haul, the three most important markets for Cebu are to Hong Kong, Singapore and China, where its share of seat capacity on routes to/from the Philippines in the first quarter of 2016 was 30%, 33% and 20% respectively, according to CAPA data.
Other destinations include South Korea and Japan, and in December 2015 three new routes (all using A320s) were added — Manila to Fukuoka (Cebu's fourth destination in Japan after Osaka, Tokyo Narita and Nagoya); Cebu to Taipei; and Davao to Singapore. And in March this year Cebu launched a service between Manila and Guam (where 30% of the population are Filipino), with four A320 flights a week, so becoming the first LCC to operate on the route. Cebu would also like to launch further flights to other US territories after the FAA granted the airline a Category 1 safety rating in 2014.
Long-haul operations are based on the 400-seat (all economy) A330, the first of which was leased in 2013. Today Cebu operates to Sydney, Kuwait, Dubai, Riyadh and Doha, with the airline taking respective seat capacity shares on those routes of 39%, 76%, 31%, 19% and 15% in the first quarter of 2016.
Clearly Cebu faces more competition on some routes than others, but where it faces well-entrenched incumbents it appears to be establishing a bridgehead. For example, it has seen passengers carried on its Manila-Sydney route increase 58% from 2014 to 2015; it has now become the largest carrier operating on the route, with seat share rising from 14.2% to almost 40% in 12 months against the incumbents of Qantas and PAL (and with Qantas taking seats out of the route).
Cebu's long-haul strategy is almost entirely based on the VFR and business markets between the Philippines and countries with significant Filipino communities. The Philippines itself has a young population of 104m in total (35% of which are under the age of 15 years), but a significant international disapora and some 2.3m (or around 4% of the population of working age) employed overseas and remitting funds home (see chart).
In July Cebu will add a third weekly A330 service between Manila and Doha, where it's the only Philippine carrier serving the two cities non-stop. Qatar has the third-largest Filipino population in the Middle East after Saudi Arabia and the UAE.
Though the airline has analysed the potential of A350-900 XWB, large orders are not imminent. If added, new capacity is likely to come from one or two extra A330s.
The future
In the first quarter of 2016 Cebu reported a 13.4% rise in revenue to ₱16.1bn ($341m), with operating profit rising 49% to ₱4.2bn ($89m) and net profit up 81.4% to ₱4.0bn ($85m).
Given the constraints at Ninoy, growth will come largely from routes to/from secondary cities, though larger aircraft over the next few years will provide some capacity growth out of Manila. Cebu executives can do nothing about the airport situation in the capital, but it must be a source of frustration to them that they can't fully exploit the significant growth in the Philippine economy over the last few years, where annual GDP growth has averaged more than 6% since 2010. Cebu hopes that economic growth in the Philippines as a whole will translate into demand for air travel to/from secondary cities, which it can more easily exploit.
The airport capacity constraint will also limit the benefits to Cebu of the open skies agreement of the Association of Southeast Asian Nations (ASEAN), which took effect across the region in December 2015. Frustratingly the Philippines was the only one of the 10 members of ASEAN that had not ratified the open skies agreement at that date.
Though the Civil Aeronautics Board wanted to ratify the agreement that allows designated airlines to operate unlimited flights between Asean capital airports, the government — under the leadership of President Aquino — was reluctant, partly due to pressure from flag carrier PAL. It agreed initially only to open up secondary airports to ASEAN carriers, including Clark, Cebu and Davao, but in February the agreement was finally ratified by President Aquino. As a result, Cebu expects to add more services to key cities in ASEAN, though initially only from secondary Filipino airports.
Cebu expects to see some growth thanks to a strategic partnership signed with Tiger Airways last year, which extended the existing interline agreement between the two through closer coordination on schedules, sales and other areas.
The deal also included the renaming of Tigerair Philippines as Cebgo. Tigerair Philippines was previously known as SEAir until 2013, but Cebu initially bought a 40% stake in the turboprop operator and then full control in 2014 as Tiger sold its stake as part of its strategy to exit from loss-making subsidiaries.
In May Cebu also announced the launch of an Asian LCC association called "the Value Alliance" (the other members are Jeju Air, Nok Air, NokScoot, Scoot, Tigerair Singapore, Tigerair Australia and Vanilla Air), which will essentially offer interline benefits to passengers.
For the moment Cebu has ruled out the possibility of launching subsidiaries elsewhere in Asia, and is instead concentrating on building up routes to secondary cities in the Philippines, increasing average capacity out of Ninoy through new aircraft, and keeping a lid on costs. The LCC gives relatively few details on the cost breakdown between short- and long-haul, but as can be seen in the chart, unit cost excluding fuel had been trending downwards for some time — although it has started to rise again in the last 12 months.
Altogether Cebu is targeting more than 20m passengers carried this year, thanks largely to expansion of domestic and regional routes out of Filipino airports other than Ninoy, and in the first three months of 2016 Cebu saw 13% rise in passengers carried year-on-year, to 4.8m.
Cebu came to the markets through an IPO on the Manila stock exchange in October 2010, when it floated 30.4% of equity. After a substantial decline though to the beginning of 2014, the share price has steadily recovered since (see chart). Shareholders (and JG Summit still controls a majority of the shares) will probably remain patient given the current profitability, but are as frustrated as Cebu is that growth opportunities are being missed.
CEBU PACIFIC FLEET PLAN
Total
57
(48)
56
61
69
at year end
In service
Orders
2016
2017
2018
A319
7
4
3
A320
36
(2)
36
38
36
A321neo
(30)
3
15
A330
6
6
6
6
ATR72
8
(16)
10
11
12