Copa: The new SIA for global airline investors? May 2012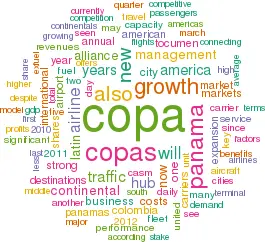 With virtually all the world's major airlines posting either losses or meagre profits for the high fuel-cost impacted March quarter, Panama's Copa is in a category of its own with its stunning 20.5% and 17.6% operating and net margins in the latest period. Unlike its peers, Copa is also very much in the growth mode: its capacity is slated to increase by 23% in 2012, following similar growth last year.
Of course, Copa has been profitable at this level for almost a decade. Its annual operating margins have been in the 17-21% range since 2003. In the past five years, its earnings per share have increased at an 18% CAGR, despite 14% annual growth for ASMs. The airline has long been creating buzz with its hugely successful "Hub of the Americas" strategy, which channels traffic between North, South and Central America via the Panama City hub. Ever since Copa made its debut on the NYSE in December 2005, many investors have seen it as a safe and attractive way to participate in the rapidly growing Latin American airline industry.
What has now changed is that the other former high-flyers in the airline industry have stumbled, while Copa's performance has only continued to improve. Most notably, Singapore Airlines, the leader in the global airline profit league until the late 2000s and a carrier that also relies on sixth freedom traffic, has just reported its first quarterly loss in more than two years. SIA has been hit by higher fuel costs, weaker demand from Europe and intensifying competition from Middle Eastern carriers. Among the former Latin American high-flyers, Brazil's Gol and TAM also reported poor results for the first quarter, amid higher fuel costs and a weakening GDP and air travel demand growth in Brazil.
"With Singapore Air's surprise loss, buy Copa instead?" read a headline from Seeking Alpha in early May. Noting that even "Middle Eastern behemoth" Emirates has seen its profits fall sharply because of fuel, the stock
In recent months Copa has performed some amazing feats. In particular, analysts were impressed by the carrier's yield performance in the March quarter: the yield rose by 7% despite capacity being up by 23% and the average length of haul increasing by 16%.
Such yield performance was possible because of an exceptionally strong demand environment, resulting from continued robust GDP growth in most of Copa's markets. It meant strong growth in business travel and an overall healthy pricing environment, allowing the airline to more than offset a significant hike in fuel prices. Copa's operating income rose by 12% to US$111.6m in the March quarter, despite a 19.5% increase in the effective price of fuel.
Copa stands out from its peers also because of its promising outlook. Panama is now the fastest-growing economy in Latin America, with 10% GDP growth seen in 2011 and at least 7-8% expected in 2012. The Latin America region as a whole is projected to see 4% GDP growth this year. Copa has not detected any softening in Brazil-originating demand.
So, Copa is poised for another year of industry-leading results. Yield, RASM and load factors are all expected to improve, despite a 23% capacity addition. The management is projecting an 18-20% operating margin in 2012, which some analysts feel is a conservative estimate.
Copa's ROIC exceeded 15% in 2011 and is expected to rise to 17-20% in the next couple of years. Its balance sheet has strengthened significantly over the past five years. Its leverage ratios are now similar to Southwest's, and its cash reserves amount to a very healthy 33% of lagging 12-month revenues. So Copa is well positioned to fund its fleet plans, which include firm orders for 45 737-800s plus 16 options,
Copa's annual investor day in March and its 1Q earnings call in early May also provided reminders of one important advantage enjoyed by the carrier: lack of infrastructure constraints at its Panama hub. Tocumen International Airport is expanding to accommodate Copa's growth. The current quarter will see the opening of a new North Terminal, which will increase the total gates from 22 to 34. And in the coming months the Panamanian government will be inviting bids for a new South Terminal, which will provide 20-30 additional gates in two to three years' time.
In the longer term, the question remains whether Copa's excessive reliance on connecting traffic will crimp its growth prospects. However, right now it seems that the airline is benefiting from a stronger confluence of positive factors than at any point in its history. Copa is well positioned for the market share battles that may result from the current industry consolidation phase, which will essentially lead to five carriers (LAN/TAM, AviancaTaca, Aeromexico, Gol and Copa) competing for intra-Latin America traffic.
Interesting questions include: Where will Copa put all that significant additional capacity? Could there be units similar to Copa Colombia in more Latin American countries? How will Copa tackle the Brazilian market?
Copa's background
Copa's background and growth path have been unusual. Established in 1947 as a joint venture between Pan Am and local Panamanian investors, the airline led a very quiet existence until new owners and management arrived in the late 1980s. CIASA, which is controlled by the Motta, Heilbron and Arias families and is a major economic force in Panama with interests in banking, insurance and other sectors, purchased 99% of Copa in 1986, which led to a growth phase in the 1990s.
A new management team, led by the current CEO Pedro Heilbron, took over in 1988 and guided the airline through several important strategies. First and most significantly, the new management saw an opportunity to develop connecting traffic via Tocumen, and Copa began a hub operation there in 1992.
Second, the management took Copa into international alliances. After initially teaming up with TACA and American, in 1998 Copa forged a comprehensive alliance with Continental, which also involved the Houston-based carrier acquiring a 49% stake in Copa. Since Panama had signed an open skies ASA with the US in 1997, the alliance secured early antitrust immunity in the US. The Continental alliance developed into a deep and long-lasting partnership, one that has been highly beneficial for Copa.
Third, in 1999 the management initiated a vital part of Copa's transformation into a successful modern airline: complete fleet renewal. The process, which was completed in 2005, replaced the carrier's 737-200 fleet with new 737-700/800s and E190s.
Copa got an opportunity to go public in December 2005 simply because Continental needed cash. The Houston-based airline and CIASA both sold shares in the IPO, collecting about $172m each in proceeds, which for Continental represented a nice gain on the $53m it paid for the 49% stake in 1998 (of course, Continental also collected significant amounts in profits and dividends from Copa). Continental further reduced its stake from 27.3% to 10% in a follow-on offering in June 2006, before selling its remaining shares in the public market in May 2008.
The IPO gave Copa a listing on the NYSE. CIASA has remained in control through its ownership of 100% of Copa's Class B shares, which carry voting rights and the right to designate 6-7 directors (there are also three independent directors and one designated by United Continental). The class B shares represent about 25% of Copa's capital stock; the rest is held publicly in the form of Class A shares. Copa's board directors and executive officers as a group hold about 1% of the A shares. Major institutional investors include FMR and Ameriprise Financial.
The Copa-Continental partnership has been so strong that Copa left the SkyTeam alliance concurrently with its partner in October 2009. All of the service and alliance agreements with Continental were extended to the new United and are currently in force until 2015.
In April 2005 Copa acquired an initial 85.6% stake for $23.4m in AeroRepublica, now Copa Colombia, which at that time was Colombia's second largest carrier. The ownership interest has since then been increased to 99.9%. It was a strategic move to gain a foothold in Latin America's third largest market in terms of population (45.5m in 2010). The country shares a border with Panama and represents a significant market for many Panamanian businesses (for historic, cultural and business reasons). But Copa also faced the challenging task of replacing the smaller carrier's old fleet and turning it around financially, while fending off growing competition.
The Panama hub advantage
The Panama hub has grown to become Copa's most valuable asset, now offering connections between 2,900-plus city pairs. First of all, it is geographically well located, allowing 737NGs to fly nonstop to practically anywhere in the Americas. The airport benefits from a sea-level location – the two key competing airports in the region are at hot and high locations – and favourable weather, which has given Copa excellent on-time performance and completion factors.
Because of its manageable size and Panama's policies accommodating transfer passengers, the airport offers easy transfers and short connecting times.
Tocumen is the only airport in Central America with two operational runways. It is not gate-constrained and has ample room to grow. Two expansion phases since 2004 have increased the airport's total gates from 14 to 34 and have provided new taxiways and ramp and support areas, facilitating Copa's planned growth for the next 3-5 years. The next expansion phase, which will kick off this year, will see a new terminal built to the south, along with expanded customs, immigration, security and baggage handling facilities .
Tocumen also has competitive user fees. Copa, which accounts for around 80% of the airport's traffic, previously estimated that the airport was in the lowest third in terms of costs in Latin America and probably in the world. Tocumen is operated by a government-owned entity that is by law required to use a significant portion of its revenues for airport expansion and improvements.
Copa benefits from Panama's stable, dollar-based economy, free-trade zone and growing tourism. According to IMF, between 1999 and 2010 Panama's real GDP grew at an average annual rate of 5.7%, while inflation averaged 2.4% annually. Copa faces much less currency risks than many other Latin American carriers (also because of its diversified network), and the low tax environment meant that it had only a 10.3% effective income tax rate in 2011.
Panama has been enjoying an economic boom in recent years because of the expansion of the Panama Canal, a $5.25bn project that kicked off in late 2007 and which will double the canal's capacity by 2014 or 2015. In 2010 Fitch, S&P and Moody's all upgraded Panama's sovereign ratings to investment grade, citing the strong growth supported by the canal expansion and improvements in the country's fiscal and debt positions.
As a result, Panama has attracted significant new foreign investment and strengthened its role as a major financial, trade, shipping and international business centre. Having long been home to many regional offices of multinational corporations, Panama has now seen this activity accelerate sharply. Last year 68 new regional headquarters were established there by multinationals, compared to 46 in 2010, 39 in 2009, 18 in 2008 and seven in 2007. As a result, having long generated international business traffic way beyond the size of the population (about 3.5m in 2010, the majority living in Panama City), business travel to and from Panama is booming.
Panama is also a growing tourist destination, following in Costa Rica's footsteps. Recent years have seen a construction boom, fuelled by tourism and retirees from the US, Canada and Spain buying second and third homes in Panama (a trend that may have accelerated because of the drug-related violence in Mexico).
Copa noted in its latest annual report that Panama's stable, service-oriented economy and steady population growth have also boosted locally generated traffic. Panama still has extensive poverty but, like other Latin American countries, is seeing the emergence of middle classes.
These trends have meant that Panama O&D traffic has grown to account for 48% of Copa's total traffic at Tocumen; the remaining 52% is in-transit traffic. Strong local traffic will make Copa's business model more sustainable in the longer term.
All of this has enabled Copa to significantly strengthen the Tocumen hub. According to the investor day presentation, Copa now offers nonstop service to 60 destinations from Panama (including cities to be added in June), which is far more than key competitors at their hubs (Avianca serves 24 cities from Bogotá, Taca 17 from Costa Rica, Taca 20 from Lima and LAN 20 from Lima). Copa also leads in terms of frequencies offered: nine destinations with at least four daily flights (Avianca has one such destination from Bogotá and LAN one from Lima). Copa has at least daily flights to 34 destinations from Panama — more than twice as many as the other airlines from their key hubs.
Last year Copa switched from a four-bank to a six-bank hub operation at Tocumen by adding new early morning and afternoon banks of flights. This has had a number of benefits: facilitating growth without affecting on-time performance, more efficient use of airport facilities and other fixed assets, improved schedules in many markets, more time of day choices for passengers and improved passenger convenience through a greater use of jetways. The average connecting time for transfer passengers has remained unchanged (one hour 13 minutes), while the daily hub capacity has almost doubled from 124 to 240 departures.
Copa has a nicely diversified revenue base within the Americas. In 2011 its revenues were generated as follows (based on point of sale): Panama 12%, North America 17%, Central America and the Caribbean 13%, Colombia 15%, Brazil 13%, Venezuela 10% and other South America 21%. Copa and Copa Colombia currently operate a 65-point network covering 29 counties. Over 130 other destinations are served through codesharing with United. Copa also has some codeshares with KLM, Gol and Aeromexico.
Copa does not currently operate domestic service. Travel within Panama is mostly by ground transport, as distances are short. The main local airline is Air Panama, which operates turboprops of mostly less than 50 seats and also offers limited international flights. The local airlines operate to a domestic terminal in Panama City that is a 30-minute drive from Tocumen.
Business model and strategy
Along with the Panama hub advantage, Copa's key strength is that it focuses on underserved thin markets. More than 70% of its O&D city pairs have fewer than 20 passengers per day in each direction, and another 10% have only 21-50 passengers per day. The airline consolidates traffic from numerous points via the hub to achieve a satisfactory load factor to every destination city. These markets really need a hub. They would not be profitable as point-to-point operations.
This makes Copa's business model highly defensible. It is not easy for LCCs or any other competitors to profitably bypass the hub in most markets. It means that Copa enjoys benign competitive conditions – something that gives it added pricing power. According to the management, in about 50% of its O&D markets it has at least a 70-75% market share. In markets that make up half of its revenues, it has a 60%-plus market share. Competition for Copa is mainly from other hubs, hence the efforts to make sure that Panama offers the fastest and most convenient transfers.
Another factor that distinguishes Copa is that it enjoys the very unusual combination of premium unit revenues and low unit costs. Its RASM is strong because of its high business traffic content (about 50%) and the lack of competition. According to a comparison by Morgan Stanley Research, Copa had the highest length-of-haul adjusted PRASM in 2011 among a group of carriers that included Delta, United and LAN (see chart, left).
The Morgan Stanley analysis found that Copa has LCC-level unit costs. Its stage-length adjusted ex-fuel CASM in 2011 was a little higher than Southwest's, the same as Gol's and lower than JetBlue's (see chart, left).
The cost structure is amazing for a hub-and-spoke carrier that operates in a healthy economic and revenue environment. Copa attributes it to its modern fleet, efficient operations and Panama's low labour costs. Copa's aircraft utilisation is relatively high (11 hours daily) because of its high average stage length.
In the mid-2000s Copa was in the middle of the pack in terms of CASM – lower than the US legacies but higher than the LCCs. But since then Copa's ex-fuel CASM has declined, partly due to ASM growth but also because of a reduction in distribution costs and efficiency improvements through technology and automation. Between 2007 and 2011, Copa reduced its ex-fuel CASM by 7%, which almost offset the 21% hike in fuel unit costs, meaning that total CASM remained virtually unchanged in the four-year period. Thanks to continued rapid ASM growth and further anticipated distribution cost savings, Copa expects to keep its ex-fuel CASM flat in 2012.
Copa benefits from excellent labour relations. However, given the strong profits and the fact that the airline is 58% unionised, some analysts are concerned about potential labour cost pressure.
Copa is also notable for its world-class product and strong brand. In that area it has benefited greatly from the unusually comprehensive alliance with Continental. From the start, Copa's brand was closely associated with Continental's. Its logo, livery and aircraft interiors are similar (the new United uses the former Continental livery and logo). Copa also adopted Continental's OnePass FFP (now MileagePlus) and participates in the airport lounge programme. Copa's latest annual report notes that the co-branding "helped leverage the brand recognition that Continental already enjoyed across Latin America" and has enabled Copa to compete more effectively against AviancaTaca, American and others.
Copa has also benefited enormously from Continental's technology, know-how and economies of scale. Among other things, it shares Continental's Sceptre inventory management system, which allows it to pool spare parts with the larger carrier. The partnership has also enabled it to negotiate more competitive rates for spare parts and third-party maintenance work.
JP Morgan analyst Jamie Baker said some years ago that Copa had one of the highest quality management teams he had come across. One of their accomplishments has been to create a Southwest/Gol-style employee culture "based on teamwork and focused on continuous improvement". The highly motivated workforce benefits from the best training practices, performance bonuses, profit sharing, etc.
At the investor day Copa's executives summarised the company's strategic focus as follows: further strengthening of intra-Latin America network and regional growth opportunities, continuous improvement of passenger experience, keeping costs competitive and maintaining company culture.
Growth plans
Copa's 2012 plan calls for another year of heady 20%-plus ASM growth, though most of it will be the result of last year's expansion (when nine new destinations were added) and new frequencies. So far Copa has announced five new cities for 2012, four of them starting in June: Las Vegas, Recife (Brazil), Liberia (Costa Rica), Curacao and Iquitos (Peru).
The management made the point that the opportunities to grow via additional frequencies are particularly good, because more than 40% of Copa's current destinations have been served for less than five years. Including the June additions, 18 cities have less than daily service and another 15 cities have only daily flights.
This year's growth will be facilitated by the net addition of 10 aircraft – 13 new 737-800 deliveries and the return to lessors of three 737-700s. At the end of March, the consolidated fleet consisted of 77 aircraft, including 31 737-800s, 20 737-700s and 26 E190s. By the end of 2014, Copa expects to operate 94 aircraft – 50 737-800s, 18 737-700s and 26 E190s.
Capitalising on opportunities at Copa Colombia is a key element of Copa's growth strategy. The venture has been a demanding project but is finally yielding positive results. It has contracted sharply domestically and is focusing its efforts on international expansion. This means that Copa Colombia should not be greatly impacted by VivaColombia, the Medellin-based LCC start-up that is planning to start flying at the end of May.
Almost all of Copa's Panama-Colombia service is now provided by Copa Colombia. The venture, which currently operates 14 E190s and three 737NGs, has launched six international destinations (Guayaquil, San Jose, Guatemala City, Mexico City, Havana and Cancun) and is authorised to fly to a handful of others. A new Colombia-US open skies ASA, due to take effect in January 2013, will provide added opportunities.
Copa is due to officially join the Star alliance in the coming weeks, after a slight delay from the originally scheduled April entry. The management considers FFP reciprocity with the 26-27 members as the main benefit; after all, the key alliance, with United, is already in place and working extremely well, with extensive codesharing and other forms of cooperation. There seems to be some unease about entering the same alliance with AviancaTaca. Copa's latest annual report mentioned it under the "risk factors": "We cannot predict the extent to which participating in the same alliance as one of our direct competitors may impact on our revenues, our ability for future growth" and so on.
While Copa's business model is clearly very "defensible", the airline is wise to diversify with ventures such as Copa Colombia, because in the future some of its larger (and most lucrative) markets are likely to attract point-to-point operators. As air travel demand increases in Latin America, more city pairs will become candidates for nonstop service, particularly by LCCs.