Transaero Airlines: Aeroflot's international challenger May 2011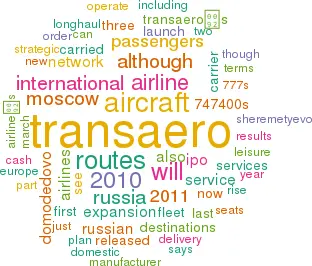 Transaero Airlines is a relatively new carrier, launching services in 1991 as the first privately–owned carrier in Russia after the demise of the Soviet Union. It was founded by Alexander Pleshakov and Grigory Gurtovoy and pioneered many key airline products and services in Russia, from the introduction of the first Boeing aircraft in 1993; the first FFP, in 1995; the launch of e–ticketing in Russia, in 2007; to today being the only airline in Russia, CIS and eastern Europe to operate both 747s and 777s.
Though based legally in St. Petersburg, Transaero's headquarters is in Moscow, where approximately 7,000 employees operate a fleet of 58 aircraft to more than 100 destinations in Russia, Europe, Africa, the Americas and the Asia/Pacific region.
Its domestic network is centred on 24 routes out of Moscow and eight out of St. Petersburg, while its international network includes 15 CIS cities and more than 40 other destinations, including the UK, Germany, Spain and Portugal in Europe; the US, Mexico, Canada and Cuba in the Americas; Egypt in Africa and China, Thailand Vietnam, Thailand, India and Indonesia in the Asia/Pacific region. Transaero also has a substantial amount of charter operations, with 25 leisure destinations served across the Mediterranean, including Greece, Spain, Italy, Portugal, Turkey and Egypt.
As can be seen in the pie chart (right), Transaero is now the second largest airline in terms of passengers carried to/from Russia, and is clearly a growing challenge to the might of Aeroflot. Approximately 80% of all Transaero passengers are carried on long–haul widebody aircraft, and expansion of the long–haul network is the airline's top strategic priority.
The domestic network provides feed into the international routes, although during 2010 domestic expansion was mostly on routes to Russia's far east, which in any case are subsidised by the Russian state. The strategic focus is on international expansion. 18 routes were added over the 2010/11 winter season, including to Varadero in Cuba, Rio de Janeiro, Mauritius and Salzburg. But the most important launch was routes from Moscow Domodedovo to New York in October, which now operates four times each week with 747–400s, while in the same month a service to Miami was started, with a twice weekly service using 777s.
The routes mark a return to the US market after Transaero closed down a previous service between Moscow and Los Angeles.
Building up the network to the US is now a top priority, and in March Transaero applied for permission to restart the service from Moscow to Los Angeles from July. The US moves were accompanied by the launch in March of a website in English (specifically for the American market), as well as a version in German (while further sites will be released for each of the UK, Ukrainian and Kazakhstani markets though 2011).
Another key long–haul route is the Beijing service, which started in June 2010 and uses 747–400s. The route attracts both business and leisure passengers, which is atypical feature of many of Transaero's international routes. Longer–term Transaero is considering more routes to the US west coast and to Australia, where Sydney and Cairns are being analysed as possible destinations.
Most of the international routes operate out of Moscow. Transaero was originally based out of Sheremetyevo airport but transferred its Moscow base to Domodedovo in 2001, although it still retained some services at the former.
However, through 2010 some Domodedovo services were transferred to Sheremetyevo as part of plan to increase passengers carried through Sheremetyevo to 3.5m in 2015, compared with just 0.3m in 2009. That plan may now be accelerated given the serious disruption to airline operations experienced at Domodedovo in the period just after Christmas last year, which prompted Transaero to criticise fiercely the airport's management and for it to also consider the launch of its own ground handling operation at Domodedovo.
The pace of Transaero's international expansion was underlined by a 40% rise in its workforce through 2011, when it added 2,000 employees. The airline has achieved substantial jumps in productivity in the last two years and when full 2010 results are released analysts will be keen to see if that momentum can be maintained, as well as whether load factor can remain above the 80% mark (see chart, right).
In terms of its fleet, Transaero owns or leases 58 aircraft (see table, below). It plans to add 12 aircraft to its fleet during 2011 — comprising three 737s, six 747–400s, two 777s and a 767 — and all of which will be leased or bought second–hand.
In December last year Transaero received the first of 12 747–400s that are/will be configured with ultra high density seating, with capacity for 521 passengers – of which 509 seats will be economy and just 12 business class seats. The aircraft will be used on high density leisure routes instead of older model 747s, and all of the aircraft will be delivered by the end of 2012 or early 2013 at the latest. Also in the fleet acquisition plan are four 777–300s, each with 373 seats, all which will also be delivered this year.
The only new aircraft formally on order direct from a manufacturer are seven twin–jet Tu–214s, but the delivery of these is in serious doubt after its manufacturer — KAPO — stopped construction, citing a lack of cash, after delivery of three aircraft to Transaero from an order of 10 placed back in 2004 (although one of these three aircraft is already in storage). Ilyushin Finance has stepped in to help the Kazan–based manufacturer but it's uncertain as to Transaero will ever receive the seven outstanding aircraft, and reports out of Russia suggest the airline may be offered the modernised Tu- 204SM variant (built by Aviastar) instead of the Tu–214.
However, Transaero is a potential customer for the Sukhoi Superjet 100, although Olga Pleshakova, Transaero's general director (and who owns an 8.1% stake in the carrier), says that this would only happen if an order could be guaranteed for delivery by 2015–2016.
In terms of alliances, with oneworld and SkyTeam already having Russian partners the only option for Transaero is Star, although management appears to be in no rush to join and executives have stated that an alliance is not an essential part of the airline's strategy. Transaero only has a handful of code–shares deals, although two of these are with Star members bmi and Austrian Airlines.
The alliance question would have to be resolved prior to any IPO by Transaero. In late March 2011 Transaero listed its shares on Micex, the Moscow–based interbank currency exchange, in a move that some analysts see as a precursor to an IPO later in 2011. Transaero says the listing was solely to allow shares in the company to be traded on an exchange, although CFO Evgeniy Temyakov says that the move is part of the airline's strategic development and "doesn't contradict plans to hold an IPO later". Initial share trades implicitly valued the airline at $950m, and the close–to-$1bn valuation received much publicity in the Russian press.
The yes/no decision on an IPO in 2011 will be influenced on IFRS financial results for 2010, which are yet to be released. After three years of losses at the net level, all the airline has said so far about 2010 is that last year's results "significantly exceeded expectations", with – under Russian accounting standards – revenue up 60% (which would total $1.8bn in 2010 if the 60% rise is applied to the 2009 IFRS figure), thanks to a 32% rise in passengers carried to 6.6m. RPKs rose by more than 40% in 2010, to 26.2bn. The only other figure yet released is that cash and cash equivalents were Rb2bn (US$66m) as at the end of 2010.
If it happens, an IPO would not only give the original investors a return for their investment but would also provide funds for expansion.
In April, when denying a rumour that it wanted to buy Russian carrier Orenburg Airlines, Transaero confirmed it is interested in acquiring stakes in foreign airlines, though that seems unlikely until it has much deeper financial resources at its disposal.
TRANSAERO'S FLEET
TRANSAERO'S FLEET
Model
In Fleet
On Order
2
-
737-300
5
-
737-400
13
-
737-500
737-800
2
-
747-200B
5
-
747-300
4
-
747-400
5
-
3
-
767-200ER
9
-
767-300ER
1
-
777-200
7
-
777-200ER
2
7
Tu-214
Total
58
7