S7 Airlines: Aeroflot's domestic challenger May 2011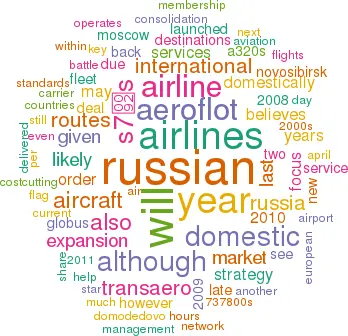 In the second of a series of articles on Russian airlines, Aviation Strategy takes a look at the two main challengers to Aeroflot: S7 Airlines, the second–largest domestic airline, and Transaero, the major Russian competitor to the flag carrier on international routes.
Based in Moscow, S7 Airlines originated back in the 1950s and was previously known as Sibir Airlines before changing its branding to S7 in 2005. After acquiring and absorbing Vnukovo Airlines in early 2001 the airline doubled in size, and today S7 has a larger domestic network than even Aeroflot, with 37 destinations served in Russia and another 14 in Commonwealth Independent States (CIS), countries. Routes are also operated to 14 destinations outside Russian and the CIS, within Europe, the Middle East and Asia, with foreign destinations that include Frankfurt, Antalya, Beijing, Seoul and Bangkok. In addition S7 owns Globus Airlines, which operates both scheduled services and international charter flights, and altogether the S7 group offers more than 150 services a day.
It is the domestic network, however, that is S7's main strength. S7 carried 5.9m passengers in 2010, of which 4.5m were transported domestically, and in 2009 (the last year for which comprehensive statistics are available) S7 had a 17.4% share of passengers carried in Russia, just three percentage points behind Aeroflot – see pie chart, opposite. That domestic operation is centred at Moscow's Domodedovo airport, with significant other hubs at Irkutsk and Tolmachevo airport in Novosibirsk.
Although S7's focus will continue to be on domestic routes, it would like to grow the handful of international services it operates, although many of Russia's bilaterals with European countries in effect crowd out S7. In most of the bigger European markets the existing bilaterals limit Russian airlines to Aeroflot and Transaero, which is a continuing source of frustration to S7 executives, who complain they have relatively little political pull with the Russian authorities compared with their rivals.
However, the current strategic focus for S7 is on consolidating, cost–cutting and improving its operations rather than expansion of even the domestic market, and that's partly because S7's management believes there is significant overcapacity in the Russian market, both domestically and internationally.
The airline openly criticises Aeroflot's ambitious expansion targets (see Aviation Strategy, April 2011) and also says that Transaero will have problems filling the second–hand 747–400s and 777s that it will be receiving shortly. S7 believes Aeroflot and Transaero will be in fierce competition with each other over the next few years on international routes – and that's a battle that S7 wants to steer clear of.
S7's consolidation strategy was clearly signalled back in 2009 when the airline cancelled an order for 25 787s, which would have replaced Russian aircraft and made S7 the first airline in the country to operate the type. S7 openly admits the cancellation was due to financial reasons, thanks to 2008 results where although revenues rose by 35%, the rise in fuel prices resulted in the airline barely making a net profit (see charts, opposite). But 2009 was also a tough year for S7, with the winter at the start of that year being called a "disaster" by the airline thanks to overcapacity in the market. S7 reacted by cutting its flights back domestically, and ASKs were again trimmed in 2010.
The reduction in capacity, however, helped yield to improve in 2010, and net profits are expected to be reported for the full year. The other problem for the airline in the late 2000s was debt; the debt level reached RB13bn ($0.4bn) in 2008, but this was managed down to RB8bn by 2009 and was believed to be lower still by the end of 2010, although figures have not yet been released. For the next few years growth domestically and to some European countries will be in single percentage figures, which is a cautious expansion rate in a market where Aeroflot and Transaero are expanding much faster.
Among new routes being launched this year are from Moscow to Stavropol and from Berlin Tegel to Tolmachevo, while there will be selected international expansion to Siberia, which S7 believes is still under–served.
A Novosibirsk to Vienna route, via Moscow, was launched last summer using A319s, joining a Novosibirsk to Prague route launched earlier that year that had experienced very high demand.
But for the next few years the prime focus will be on consolidation and cost–cutting. The workforce has been trimmed back to 2,600 over the last few years. Unit costs have already been reduced to under 7 US Cents per ASK, and the airline is targeting to push them down to under 6 Cents – although anything below that will impossible, it believes, as the conditions for low–cost operations simply don't exist in Russia, with long average sector lengths (Russia is the largest country in the world by landmass) and an absence of cheap secondary airports.
Another priority is utilisation. Although utilisation rates are relatively high for its A320s (between 11–13 hours per day) and its 737–800s (13–15 hours), its other aircraft are not exceeding 10 hours per day at present, which S7 is trying to improve.
Distribution is also getting attention. Last year 15% of revenue came from internet sales and this is a proportion that S7 is keen to drive upwards; in May this year S7 signed a distribution deal with US–based Travelocity, which added the Russian airlines' inventory to its series of websites. In 2008 S7 switched to e–tickets and in February this year it launched a mobile boarding pass service, initially at Domodedovo airport only, although the service will be rolled out across other airports through the year.
S7's "consolidation phase" is likely to last until 2013 or 2014, after which S7 may then embark on much more substantial expansion, though of course that will depends on market conditions – as well as merger opportunities and the price of new aircraft — at that time.
S7's fleet (including Globus) currently numbers 42, with 20 A319s, nine A320s, two A310s, two 767–300s, four 737–400s and five 737–800s.The 767s are used mostly on longhaul services within Russia, and if S7 did ever undergo major international expansion it would need to buy suitable aircraft, given the current narrowbody focus.
The current fleet has an average age of just eight years, which is very young by typical Russian fleet standards, and this will reduce further as new orders are delivered and replace older models.The first of 10 737–800s on order was delivered in April this year and was put into service by the Globus Airlines subsidiary in May on routes to Novosibirsk, Yakutsk, Ulan–Ude, Chita, Norilsk, Krasnodar and Sochi. One more aircraft from this order will be delivered later this year.
Also on order are 23 A320s and four Tu–204s, while late last year S7 indicated it may order up to eight more medium–haul aircraft in 2011, likely to be two 737–800s for Globus and six A320s for S7.
S7 does own Russian aircraft but they are in storage, and S7 is keen to use this as a point of differentiation with its rivals – although that may create political problems for the airline given prime minister Vladimir Putin's continuing attempt to force Russian airlines to buy new Russian aircraft models. The Russian state still owns a 25% stake in S7, held through an entity called Russian Federal Property. This body attempted to sell its stake 2007, but failed due to lack of interest. It's highly likely though that the government will make another attempt to sell its share in the not too- distant future.
Once that is done it's likely that S7's battle with Aeroflot domestically will get even more intense, particularly given that S7 will face a renewed challenge from the flag carrier once it completes its integration with six Russian airlines (see Aviation Strategy, April 2011).
This has led to much speculation by press and analysts that S7 will acquire other domestic airlines in a counter–attack on Aeroflot. The various airlines that S7 has or is being linked to are too speculative to list, but sources at S7 indicate that there is no imminent deal under consideration, given its immediate focus on consolidation and cost–cutting.
Interestingly, in the late 2000s Aeroflot expressed an interest in taking a large share in S7, although that was a deal the Russian authorities indicated they would not allow due to monopoly fears, and any such possibility has long gone.
S7 formally joined oneworld in December 2010, which S7 expects will help its premium traffic rise by around 10% this year. An immediate benefit has been a code–sharing deal with British Airways that kicked off in February this year, both on BA's Domodedovo–Heathrow flights and on selected domestic S7 services.
The incorporation of S7 was also a key move for oneworld, given that Aeroflot is a member of SkyTeam and that S7 was long–touted as likely to join the Star alliance, building on S7's ties with Lufthansa that range from an interline agreement to technical consulting. However, Star's dalliance with Air Union — an alliance of Russian carriers — in the late 2000s encouraged S7 to open negotiations with oneworld, with the result that Star is now left as the odd one out of the three global alliances in terms of a Russian partner, with Air Union disbanding in 2008 once its key partners — Kras Air and Domodedovo Airlines – went bankrupt due to rising fuel prices. Although Transaero is the most likely membership candidate for Star in Russia, Transaero simply doesn't have a domestic network to match that of either S7 or Aeroflot. The S7/oneworld link has tripled the number of destinations served by oneworld in Russia and eastern Europe to more than 80 cities, while seven oneworld airlines serve Moscow.
Membership of oneworld is also key in what S7's management calls the "westernising" of the airline, particularly given the onerous standards required by oneworld before membership is granted. S7 overtly states it is trying to be "more international than Aeroflot" it its outlook, and although of course it operates far less routes internationally than the flag carrier, this internationalism is more about raising Russian standards of service and management expertise to that of western airlines.
This internationalism is expressed most clearly in S7's fleet strategy, but western consultancies and expertise (from Lufthansa Technik to Airbus and Boeing) have also been brought in to help with many other areas of operation within S7, and S7 Group Chief Executive Vladislav Filev believes this approach will help differentiate the airline against Aeroflot in its battle for the Russian domestic market.
S7's FLEET
S7's FLEET
Model
In fleet
On order
A310-200
1
-
A310-300
1
-
A319-100
19
-
A319LR
1
-
A320-200
9
23
737-400
4
-
737-800
5
9
767-300ER
2
-
Tu-204-100
-
4
Total
42
36
Note: Fleet includes Globus
Source: ACAS