The United/Continental deal May 2010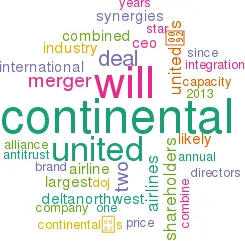 The announcement on May 3rd was big news indeed: United and Continental, the third and fourth largest US carriers, had agreed to merge in a $3.2bn all–stock transaction that would create the world's largest airline, overtaking the Delta/Northwest combine.
Two things are clear. One, this is potentially a great merger – as good as they come in terms of compatibility, lack of antitrust issues, synergies and profit potential. Two, the industry implications are likely to be relatively minor, meaning that the deal will not be a panacea to the overcapacity problems. It is hard to picture follow–up mergers in the near–term. From a broader US industry perspective, currently the most important developments are that economic recovery is gathering pace, international and business travel bookings are picking up, oil prices are behaving (mostly) and capacity growth continues to be minimal. As a result, the legacy sector is poised to return to profitability in 2010.
The merger was a surprise in light of the Continental management's long–stated preference for independence and the fact that United and Continental were already poised to reap major benefits from domestic code–sharing and planned international JVs within the Star alliance. But the two had been in merger talks in the spring of 2008; at that time Continental walked away due to concerns about the economy and United's balance sheet, though soon after it forged an alliance with United and switched from SkyTeam to Star.
Since then a lot of things have changed. Continental is now under a different CEO – Jeff Smisek, who is seen as more bold and decisive than his predecessor. United and Continental have become closer through Star cooperation. They have been able to observe the smooth integration at Delta/Northwest. The economy is on the upswing and the capital markets are open. And United is now in better financial shape, having downsized, cut costs and strengthened its balance sheet. UAL achieved an operating profit in the March quarter for the first time since 2000.
It was United's merger talks with US Airways that prompted Continental to enter into discussions with United. With much of the ground work having been done in 2008, the deal (continued on page 2) took only three weeks to negotiate. Under the agreement, Continental shareholders will get 1.05 shares of UAL common stock for each Continental share they own. United shareholders will get 55% and Continental shareholders 45% of the combined company.
There had been a lot of disagreement about the calculation of the stock–swap price, but the issue was eventually resolved in part because of a decline in UAL's share price. Nevertheless, many Continental shareholders are unhappy and have hired law firms in various states to investigate possible breaches of fiduciary duty and other violations related to the approval of the deal by Continental's board of directors.
Continental's management team has long been regarded as the best in the industry. It is therefore promising that Smisek (who has been CEO only since January but was involved in top level decision–making at Continental for 15 years before that) will be the CEO of the combined company. He will also become chairman when United's chief Glenn Tilton retires after about two years. The combine will draw management in roughly equal numbers from each airline. The 16–member board will include six independent directors from each airline, plus two union directors (as required by United's charter).
The corporate and operational headquarters of what will be known as United Continental Holdings, Inc. will be in Chicago, though the company will maintain a significant presence and its largest hub in Houston. The CEO will maintain offices in both Chicago and Houston.
One of the most controversial aspects of the plans announced so far is that Continental will essentially be giving up its brand. The combine will be named United (arguably a snappier name) but will have Continental's logo and livery. This is odd because Continental has a stronger brand and is much better liked by the travelling public.
Aside from the brand concerns, the deal makes great strategic sense. In terms of networks, the two airlines are a natural fit, with United being particularly strong on the Pacific and Continental in transatlantic and Latin American markets. The airlines say they overlap on only 14 domestic and no international routes.
It would add up to a powerful global network with 10 hubs, including hubs in the four largest cities in the US. The combined carrier would be in a strong position to attract larger business traffic shares – and perhaps even more importantly, more corporate contracts.
The combined airline would have annual revenues of around $29bn (pro forma, based on 2009 results) and unrestricted cash of $7.4bn (as of March 31st, including United's recent financings).
The merger is projected to produce net annual synergies of $1–1.2bn by 2013. This would include $800–900m in incremental annual revenues, in large part from expanded customer options and new international services. These synergies would be in addition to the significant benefits from alliances and future JVs.
As with Delta/Northwest, cost synergies are likely to be very modest, amounting to $200- 300m annually on a run–rate basis by 2013. Onetime costs are estimated at $1.2bn, spread over three years.
Currently, no hub closures are planned, but the situation could change in the future; analysts see Cleveland as the most likely target. The airlines have not yet estimated their likely capacity cuts, but analysts have suggested 8–10% as a ballpark figure. That would be up to 2% of industry capacity and therefore potentially helpful in maintaining a rational pricing environment.
The existing alliance partnership bodes well for a smooth integration process. United and Continental would also seem to have a reasonable chance of clearing labour and antitrust hurdles.
ALPA, which represents pilots at both airlines, has indicated tentative support for the deal. However, the challenge will be to attain the support at a reasonable price. The lesson learned from Delta/Northwest is that the single pilot contract must be obtained before the closing of the merger.
DOJ approval will be the big wild card. On the one hand, there would appear to be no material antitrust issues. On the other hand, the Obama administration's DOJ has been surprisingly strict (most recently in the Delta/US Airways slot swap ruling). Given the proposed combination's size, at least a lengthy and thorough review can be expected.
Of course, United and Continental have a long and difficult path ahead anyway. If the deal is cleared by the DOJ and shareholders, the airlines hope to complete it in the 4th quarter, but complete integration would take at least until 2013.