Backlog hits record May 2007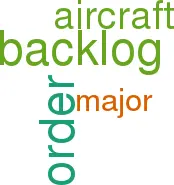 There are no signs of orders slowing and the backlog has reached record levels — 5,740 commercial jets on firm order as of mid–May, about 29% of the global fleet, with another 1,900 or so on option.
The last time the backlog got close to this level, in proportionate terms, was in 1990 when the lessors, particularly GPA, were attempting to dominate the production schedules. That all ended with a serious airline recession and the collapse of GPA and other lessors.
This time around there are differences. The airline industry no longer seems to be in thrall to the global GDP cycle, partly because in a low–inflation world the cycle seems to have smoothed out, unless we are deluding ourselves. Also, India and China are now major generators of aircraft demand, with 15% of aircraft on order. By contrast, US carriers currently only account for 10% of the backlog.
Narrowbodies account for two thirds of the aircraft on order, which is of course largely a reflection of the LCC phenomenon, and this is the major difference between now and the early 1990s — a structural change in the industry with a more efficient operating model replacing an outmoded version in the short/medium haul markets.
The demand for new narrowbodies is such that at current production rates the backlogs equate to about six and half years of deliveries for A320s and five and half years for 737–800s. There is a major incentive for airlines to maximise order volumes as far as the finance will stretch — in order to achieve the lowest possible unit price and to leverage negotiations on delivery slots. It can all go wrong, however, if the market that these aircraft are delivered into turns out to be too small or too competitive to absorb them.
There would appear to be potential for rationalisation within the backlog, with weaker customers forced to surrender their slots to stronger competitors. Or there is the possibility that some of the airlines with substantial orders might evolve into leasing companies.