EasyJet's expansion plans: aberration or innovation May 2002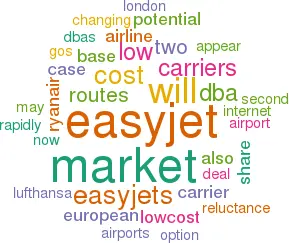 EasyJet's expansion plans have been met with a mixture of surprise and apprehension in the investment community. This is understandable as easyJet seems to be veering away from the classic model of low–cost airline growth by contemplating a fleet split between 737NGs and A320s and by moving to acquire its low cost rival Go and the intra–German carrier Deutsche BA.
Southwest, the low cost paragon, itself diverged from a strategy of pure organic growth when it bought Morris Air in 1991, and it now operates four types of 737 (-200, -300, -500, -700) which do not have a great deal of communality among them. Nevertheless, easyJet's announcements indicate that it has made the decision that at this point in the European aviation cycle, things will be done differently than in the US.
The timing issue is important. At present, European low–cost carriers have a major opportunity to rapidly expand their market share, partly because their AEA competitors are in disarray. Post September 11, the flag–carriers have been forced into serious capacity reductions, aircraft parking and widespread job–cutting. This has resulted in routes and slots becoming available (at Gatwick and Paris for easyJet) at the same time as aircraft prices have slumped and the supply of pilots and other airline personnel has increased. The travelling public is clearly attracted by the low cost product, not only by the prices but also by the simplicity of being able to compare fares and book online.
In short, a possibly unique opportunity exists for easyJet to grow rapidly by buying market share rather than by growing the market as it has done in the past. And already there are signs that market conditions are changing — for example lease rates are edging up and some of the Euro–Majors, notably BA, are putting together coherent strategies for the intra–European market.
To state the obvious: the European internal market has many differences from the US. It is not homogenous, and national flag carriers are still able to exercise control by various mechanisms. It is difficult for a UK–based carrier to move smoothly into continental European bases and build frequencies rapidly. Taking over Go and DBA may allow easyJet to shortcut these barriers.
The risks are equally obvious: easyJet may end up buying an incompatible partner. However, easyJet appears to have no illusions about the merger process: the Go and DBA brands and cultures will be completely subsumed if the offers are successful.
Also, easyJet's management does have experience of the practical difficulties of absorbing an acquired company. The purchase of TEA Switzerland in 1998 was a relatively small transaction, but it has revealed the full spectrum of integration problems.
Just Go
Easyjet's official line on the Go deal is that " Exclusive negotiations are at an advanced stage…further announcement to be made in due course …acquisition must be in the interests of shareholders, customers and staff". At the highest level, the easyJet/Go combination does appear to make sense. Their business models are similar, based on point–to–point, high utilisation, no frills, low cost, building frequency, internet distribution and serving primary airports. Go's fleet is compatible — 737–300s configured to 148 seats. Go, although it has achieved success since its escape from BA, does not have as clearly defined a role as Ryanair, the cheapest carrier in the business, nor easyJet, the web's favourite airline and lately the budget businessman's airline.
There are a number of complementary issues regarding the two carriers' networks. First, there would appear to be a major potential for rationalising the UK trunk routes from London Stansted (in Go's case) and London Luton (in easyJet's case) to Belfast, Glasgow and Edinburgh. Here one option would be to combine the routes at one of the two airports (and in the process play the two airport owners off against each other) while at the same time expanding service from Gatwick to these points. This would give easyJet dominance north and south of London.
It will be interesting to see if the deal is investigated for anticompetitive implications. Presumably not, as bmi and BA (for the moment) provide competing services from Heathrow.
Second, Go would provide easyJet with its first link into Germany. Go flies to Munich which is the DBA's base (see below).
Third, easyJet would take over Go's Italian service, bringing it into a new country.
(easyJet's previous reluctance to serve Italy is believed to be connected to a legal case following a fatal accident at Genoa in which a tanker, owned by Stelios Haji–Iannou's Stelmar company, exploded; this case has now been resolved in Stelmar's favour.)
The UK–Italy market has proved very profitable for Ryanair which has gained a 30% market share flying to secondary airports (Treviso, Bergamo, Ancona, etc but also now Rome Ciampino). Go has the network to five primary points (Milan, Venice, Bologna, Rome and Naples) but has not yet developed frequencies, and is estimated to have a market share of about 6%. Alitalia, having just announced net losses of €1bn for 2001, should be getting even more worried.
Fourth, there should be potential for synergies in the Spanish market where the two carriers serve some of the same destinations (Barcelona, Palma, Malaga) albeit from different UK regions. Ryanair remains excluded from the Iberian market because the airport authorities refuse as yet to sign the type of airport deals that are central to its operations.
Fifth, the acquisition of Go will remove potential competition between the two carriers on routes to Nice, allowing easyJet to concentrate on building its base at Paris Orly from where it will launch four routes in the second half of this year.
DBA
The agreement easyJet has signed with BA regarding DBA is very different from the Go proposal. easyJet has an option to buy 100% of DBA at any point over the next 12 months for a price between €30m and €40m. The cost of the option is €5m plus €600,000 per month.
easyJet will second three managers to DBA with the purpose of converting the carrier to the low cost model. Some of the conversion issues are relatively clear–cut: DBA's 16 737–300s will be reconfigured from 136 seats to 149, and web–based sales will be accelerated.
The unknown factor is whether union agreements can be sufficiently adapted to replicate a low–cost operation (BA decided that the union agreements would prevent it from radically changing DBA's cost base). Changing the corporate culture from its current form, a mini–version of BA/Lufthansa, reinforced by German labour regulations, is the main challenge. Nevertheless, this may be a low risk way for easyJet to assess and enter the German market.
The domestic market alone is about 22m passengers a year, and is dominated by Lufthansa and its affiliates (Eurowings, for example). DBA currently operates from its Munich base to five key cities, as well as charter flights and a holiday route to Malaga starting in June. The intra–Europe international market is at least equally important — this is a still largely traditional bilateral regime, only recently disturbed by the high–profile arrival of Ryanair at Frankfurt Hahn.
There does appear to be unexploited potential for Internet sales in Germany — there are apparently 29m Internet users — but there is also a certain reluctance to make credit card transactions over the phone.
Lufthansa's reaction to easyJet/DBA will of course be critical. There does seem to be a certain reluctance to countenance the possibility that Lufthansa will be faced with the same degree of competition in a few years as BA experienced a couple of years ago. The chairman- designate of Lufthansa, Wolfgang Mayrhuber, has been quoted, perhaps too cryptically, as completely dismissing the threat from the low–cost carriers.
| | | | |
| --- | --- | --- | --- |
| | EasyJet | Go | DBA |
| Bases | London Luton | London Stansted | Munich |
| | London Gatwick | East Midlands | |
| | Liverpool | Bristol | |
| | Geneva | | |
| | Amsterdam | | |
| Points served | Belfast | Belfast | Berlin |
| | Glasgow | Glasgow | Hamburg |
| | Edinburgh | Edinburgh | Dusseldorf |
| | Aberdeen | Newcastle | Bonn/Colgne |
| | Inverness | Nice | Stuttgart |
| | Paris Orly* | Barcelona | Malaga |
| | ParisCDG | Bilbao | |
| | Nice | Palma | |
| | Zurich | Ibiza | |
| | Athens | Alicante | |
| | Barcelona | Malaga | |
| | Palma | Faro | |
| | Madrid | Milan | |
| | Malaga | Bologna | |
| | | Venice | |