Midwest Express: successful formula under stress May 2001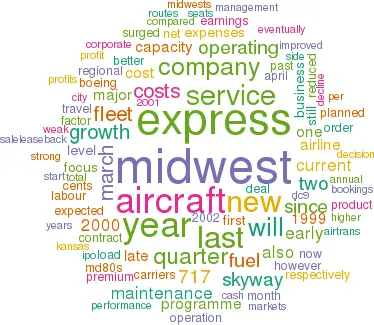 Last month Midwest Express, a Milwaukeebased premium service airline, and its regional subsidiary Skyway Airlines placed $1.15bn worth of orders for the Boeing 717- 200 and the Embraer EMB–140 regional jet, taking care of their fleet renewal and longer–term growth requirements.
The Boeing deal was significant in that it provided a much–needed boost to the 717 programme. Launch customer AirTran Airways was jubilant over the news (which followed American's confirmation of the TWA 717 order), because it has been somewhat handicapped by a lack of simulators, a weak 717 financing marketplace and the earlier speculation that the programme might be scrapped.
However, over the past year or so Midwest Express has been going through a rough patch financially. It reported only a marginal profit for 2000 and has posted losses for the past two quarters. It is now doing aircraft sale–leaseback transactions to boost cash reserves, as near–term prospects are weak. There are cost issues to be resolved, while the deepening slump in domestic business travel is also a point of concern.
All of this suggests that, while Midwest Express is expected to recover eventually, there is plenty of work to be done before the 717 deliveries commence in early 2003.
The current troubles are disappointing in light of Midwest's 14–year unbroken profit record. The company remained profitable through the early 1990s recession and subsequently posted steady double–digit annual revenue and earnings growth. Operating and net margins were around 14% and 9% respectively in the late 1990s.
The airline evolved from Kimberly–Clark Corporation's internal air shuttle in the early 1980s and was spun off in an IPO in 1995, which gave it a listing on the NYSE. In conjunction with the IPO, Midwest Express received the stock of Skyway Airlines, a regional carrier previously operated by Mesa. The following year Kimberley sold its remaining 20% stake in a secondary public offering, and Midwest Express Holdings was formed as a holding company for Midwest Express and Astral Aviation (operating as Skyway).
Operations now extend throughout the US from three hubs — the original Milwaukee home base, Omaha in Nebraska (since 1994) and Kansas City (since September 2000). Midwest Express is the largest carrier at Milwaukee, with a 34.3% passenger share in 2000, and provides the only nonstop service in 60% of its core jet routes there.
The current focus is very much on the Kansas City operation, which is being developed in a code–share alliance with Air Midwest (Mesa). The latest cities added include San Francisco (facilitating a one–stop coast–to coast service from Washington Reagan via Kansas City), as well as Atlanta and New Orleans.
The corporate aviation roots gave Midwest Express a natural focus on the business travel segment — something that has differentiated it from two generations of new entrants. The airline offers an all–first class service, with two–across leather seats, full amenities and extras like "baked–on board chocolate chip cookies". The product has won numerous awards, including a string of "best domestic airline" ratings by Zagat's airline survey.
The premium product is offered at "competitive prices" (generally the same range of fares that the major carriers offer), making it a winning combination in the marketplace. Except for a small dip last year, annual load factor has been steadily in the mid–60s, while the yield has hovered at 18–19 cents over the past decade.
Unit costs have been surprisingly low, at 11–12 cents per ASM up to and including 1999, given the premium service operation (the average stage length last year was 960 miles). To start with, Midwest Express' aircraft have typically 20% fewer seats than what the major carriers have in the same aircraft type.
The airline's top management team, led by chairman/CEO Timothy Hoeksema, is highly respected on Wall Street. Hoeksema has headed the operation since its inception at Kimberly–Clark and is credited for identifying the unique niche, insisting on conservative growth and making sure that product and service quality is maintained.
The balance sheet remains healthy, with long–term debt of just $2.9m, total assets of $306m and shareholders' equity of $129.3m at the end of last year. Cash reserves have never been strong ($16m at the end of both 1999 and 2000 and $19.3m on March 31), but that did not matter when strong profits were consistently generated. Since the 1995 IPO, Midwest Express has repurchased $17m of its common stock and has $13m remaining under the current programme.
The current problems
Midwest Express' financial performance has deteriorated progressively since early last year. The company posted only marginal operating and net profits of $6.9m and $514,000 respectively for 2000, in contrast with profits of $60.8m and $38.8m in 1999. The first quarter of 2001 saw sharply higher operating and net losses of $10.2m and $6.6m respectively.
Much of the deterioration was blamed on various exceptional factors that led to reduced aircraft utilisation and lower–than expected capacity growth (10–11% in both the December and March quarters, as opposed to 15% planned). More seriously, however, operating costs surged by 22% last year and by 18% in the March quarter due to substantial hikes in fuel, labour and aircraft maintenance expenses.
The exceptional factors last year included a shortage of trained pilots, new stricter FAAmandated crew rest/reserve rules, maintenance issues and substantial weather–related cancellations in December. The airline was able to operate only 1.9% more flights in 2000 even though it had two additional aircraft in service.
In the March quarter, in turn, aircraft utilisation fell because Midwest Express discontinued its loss–making Indianapolis service in early January but did not re–deploy the two aircraft until April. Also, the company's dedicated charter aircraft was damaged by a fuel truck in November and was out of service until February, causing a $700,000 negative operating income impact.
Midwest Express has been particularly hard hit by the fuel price hike because two–thirds of its fleet is made up of DC–9s and because it has not had any fuel hedges in place since the first quarter of last year.
Labour costs have surged primarily because of bonuses and wage increases granted by the pilots' first–ever contract in early 2000. Agreement on a five–year deal was reached under a strike threat, as the union had been released into a 30–day cooling off period following 18 months of unsuccessful talks. The cost increases were partially offset by reduced profit sharing and management incentive payments.
Maintenance costs surged by 31% in the March quarter because of Midwest's conversion to a new maintenance programme, the outsourcing of one C–check, higher engine repair costs, increased use of contract labour and higher de–icing expenses.
Depreciation, interest and aircraft rental expenses have also surged because of the addition of more MD–80s at Midwest Express, the introduction of regional jets at Skyway and a DC–9 hush–kitting programme. Last year aircraft rentals went up by 22.5%, as Skyway leased five new RJs and Midwest Express completed a sale–leaseback on an MD–80 in late 1999. In the March quarter, in turn, interest expenses multiplied as two RJs were purchased rather than leased.
The only positive on the cost side was that, in line with the industry trend, commission expenses fell by 16.7% last year. However, the bad news is that the trend is now levelling off as no further commission cuts are anticipated. The company has already achieved its 2001 target of 11% of bookings on its own web site (the Internet total is estimated at 35–38%).
Last year's three–point decline in load factor was blamed on the poor performance of the Indianapolis operation, loss of bookings due to the pilot strike threat in the first quarter and increased competition on some routes. The 1.7–point decline in the March quarter was attributed to competition, unproductive new capacity and "some undeterminable decrease in business travel".
Despite its premium service focus, Midwest Express has so far avoided the steep decline in business travel reported by the major carriers. Operating revenues rose by a healthy 11.4% in the March quarter and the yield improved by 2.6% (in part because it is still influenced by a fuel surcharge implemented last year). Unit revenues have been flat because of the load factor deterioration.
While advance bookings looked strong in late April, the company said that it was concerned about the potential effects of a softening economy. Analysts believe that, at the very least, load factors will continue to weaken in the current quarter.
Planned remedies
When announcing the poor first quarter results in late April, Midwest Express' top management said that the company is "taking aggressive steps to better align our cost structure with our planned capacity and improve our productivity without impacting our product and service levels".
The immediate focus is to reduce costs by "a minimum of $1.5m per month". This will be done by eliminating about 250 positions, or 7% of the total, across the company within 90 days through improved scheduling, attrition and select reductions of the workforce. Also, planned non–aircraft related capital spending would be cut by $5m this year.
This year's capacity growth has again been reduced, to 10% for Midwest Express (it will place one fewer aircraft in service than previously planned) and 34% for Skyway. Midwest had hoped to return to its historical level of 15–20% annual growth, but the new level is still better than last year's 5.8% and, by the management's admission, "probably more in line with the current economic conditions".
Midwest Express is also looking to do sale–leaseback transactions on a couple of MD–80s over the next few months, in order to boost cash reserves to a level that it feels more comfortable with in the current economic climate. The company still owns nine of its 12 MD–80s.
One major handicap on the revenue side has been lack of corporate contracts — a strategy that is helping the major carriers retain business traffic. To rectify that and find new ways to enhance revenues, Midwest Express retained a new top marketing executive in late April. Some new corporate contracts have already been secured and a few more are on the horizon.
The company hopes to complete the transition to a new maintenance programme by early in the third quarter, as a result of which its extremely high maintenance costs will start to come down gradually. However, only the eventual fleet replacement will provide a proper solution.
Midwest's fuel prices are currently running at about the year–earlier level. But its labour costs are on a steep upward trend because of the pilot deal and the need to secure an initial contract with the flight attendants, who joined AFA in 1999 and are now in mediated negotiations.
Earnings prospects are weak for this year and 2002 because of the reduced capacity growth, cost pressures and a slowing economy. The consensus of five analysts' estimates is very marginal net earnings of 70 cents and $1.33 per share in 2001 and 2002 respectively, compared to 24 cents last year. James Parker, analyst with Raymond James & Associates, points out that the earnings are not expected to recover to 1999's level of $2.71 until the benefits of the new fleet begin to be felt in 2003.
But Midwest Express looks on the positive side of it. "Deferring delivery of the first 717 will allow us to focus on stabilising our operational performance — an issue we have struggled with over the past year — and better position our company for future growth."
The fleet renewal plans
The new Boeing order (or MoU) is for 20 717–200s, valued at $750m, plus 30 purchase rights. Deliveries will begin in February 2003 and continue at a rate of one aircraft every other month through 2006. The aircraft was chosen over the Airbus A318 because of commonality benefits with the existing DC- 9/MD–80 fleet.
The 717 will provide for growth and eventually replace the 24–strong DC–9 fleet. The aircraft is an excellent fit for Midwest Express' typical short haul, high–frequency markets, just like it is for AirTran's. It will seat 88 passengers (compared to AirTran's 117), a useful increase over the DC–9's 60–84 seats.
Most significantly, the 717 offers a major reduction in maintenance and fuel costs and improved operational reliability. AirTran's 717s have achieved a 24% better fuel burn over the DC–9, compared to 18% guaranteed by Boeing.
Midwest Express still expects to place into service four MD–80s purchased from SAS in a late 1999 deal — two this year and two in 2002, after the aircraft have been refurbished and modified. They will be used to increase capacity on high–density routes and expand service in new markets.
The new Embraer order is initially for 20 44–seat ERJ–140s, valued at $400m, plus 20 options, though the purchase may eventually include also the 37–seat ERJ–135s and 50- seat ERJ–145s. Having all three models would enhance Skyway's flexibility to serve different sized markets. Deliveries will start in March 2002 and continue at a rate of one aircraft every other month through 2005.
The ERJ's "excellent reputation among travellers" and attractive price and economics were cited as reasons for the decision. The aircraft will provide for growth and over time replace some of Skyway's 15 Beech 1900D turboprops.
The company is still evaluating the future of the 328JET, of which there are seven in the fleet, with one more scheduled for delivery in June. Skyway was the launch customer for the aircraft, but the ability to also acquire the larger 428JET was a key factor in the original decision. But Fairchild Dornier cancelled the 428JET programme last year, and Skyway has since filed a demand for arbitration, alleging a breach of contract, and is seeking damages.
Since operating small numbers of two entirely different RJs has an adverse cost impact, the company is evaluating the possibility of disposing of the 328JET fleet in favour of the ERJ. A decision on the 328JETs is expected later this year.
MIDWEST EXPRESS HOLDINGS' FLEET
MIDWEST EXPRESS HOLDINGS' FLEET
No. operated
On order
(as at mid-
(purchase rights
Delivery
April 2001)
or options)
schedule
Midwest Express Airlines
DC-9-10
8
-
DC-9-30
16
-
MD-80
12*
4
2001-02
717-200
0
20 (30)
Feb 03-06
Total
36
24 (30)
Skyway Airlines
Beech 1900D
15
-
328JET
7
1
May 01
EMB-140/135/145
0
20 (20)
Mar 02-05
Total
22
21 (20)