Internet prospects even brighter May 2000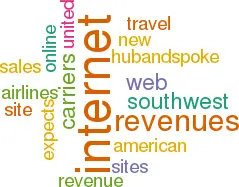 Internet revenues in the US have typically tripled or even quadrupled over the past year, as the carriers have redesigned and improved their own web sites, announced new web–based ventures and forged alliances.
The industry leader is Southwest, which earned more than 25% of its revenues from bookings through its own web site in the March quarter (up 100%) and expects to exceed $1bn in revenues in 2000. Merrill Lynch suggests that the site, which Southwest only spent $5m to develop, is one of the most profitable airline B2C Internet sites.
For the hub–and–spoke carriers, Internet sales currently average 5–7% of revenues, with the airlines' own web sites accounting for 40–60% of the Internet total. Delta and Northwest led the pack in the first quarter with 10% Internet sales, followed by Alaska and US Airways with over 9%, Continental and American 5% and United 4%.
These percentages will continue to rise rapidly this year. For example, Continental expects to double its Internet sales to more than 10% of revenues by year–end as it can guarantee the lowest fares on its web site (something that is not yet possible for technical reasons). United expects its online bookings to rise to 20% by 2003. Delta has announced plans to save around $50m over the next 12 months through the use of lower–cost distribution channels (mainly the Internet).
Excluding development costs, the Internet has offered immediate substantial cost savings, but so far at least many have suspected that the revenue dilution impact may be offsetting the cost savings particularly for the major hub–and–spoke carriers. There is little empirical evidence to support arguments either way. But what seems clear is that low–fare domestic operators, including Southwest, have benefited the most.
However, a new study on airlines and the Internet by Salomons, based on an airline survey and follow–up interviews, suggests that the impact is just about to shift from a net revenue negative to a "net positive". Large airlines are expected to gain because of their promising third–party or industry–initiated ventures (such as Priceline and T2 respectively), the leveraging of their FFPs and increased focus on corporate travel products.
In one of the most notable recent initiatives, American has linked its FFP with AOL through a three–year exclusive alliance. Salomons believes that the deal could generate $300-$400m in annual incremental revenue to American in three years' time. The move is likely to be copied by others such as United, which has decided to split out its FFP as a separate division.
Online corporate travel products will be important as business travel represents 70–80% of a typical hub–and–spoke carrier's revenues. Southwest is on the verge of launching such a product, but Alaska appears to have stolen the show with a new online tool, "EasyBiz", aimed at small to mid–sized companies.