How to structure a strategic alliance agreement May 1999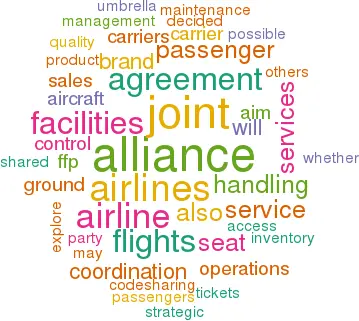 Strategic alliances are usually discussed in general terms — synergy, network overlap, economies of scope — but what are the items that actually have to be covered in an agreement? In this article Aviation Strategy reviews the issues an alliance agreement between more or less equal partners should cover, from schedule coordination and FFP reciprocity to code–sharing and shared ground handling/maintenance.
Schedule co-ordination
The key element of a strategic airline alliance is schedule co–ordination. The basic aim is to co–ordinate schedules in order to minimise passenger waiting time for connections, while maximising passenger convenience across the combined networks. Each airline would still have the unilateral right to modify schedules, routes and flights, but notice, of say 30 days, would have to given of all changes involving code–sharing flights, in order to allow assessment of the impact on both networks.
Inventory control
Inventory management also needs to be included in an agreement. Each party retains ultimate control over management of seat inventories on its own flights, but both parties would have automated procedures to access seat inventory on code–shared flights (passenger bookings, cancellations, seat maps, seat assignments etc).
In the case of a block space agreement it has to be decided whether it is "hard" (the airline purchases seats whether or not they are filled) or "soft" (whereby the price paid depends partly on loads). The two airlines may also decide to set up a trading zone whereby one carrier could buy slots from the other if bookings are stronger than expected.
Ultimately, the two carriers' access to seat inventory information could lead to a joint yield management system. However, there may be antitrust concerns here.
Passenger service
The idea is to provide passengers with seamless service. This involves: harmonised boarding passes, documentation checks, baggage tags and frequent flier credits. The agreement should also emphasise seamless transfer, with co–operation in communicating efficiently to passengers via ticket wallet inserts, terminal and gate signage, and flight information displays. These measures help achieve the shortest possible connecting times between flights. In–flight product co–ordination includes announcements (making sure both airline codes are projected), in–flight videos, magazines and seat pocket inserts. The overall aim is to provide equal levels of service on code–share flights with, for example, access to each other's airport lounges.
Quality control
Quality control is an important issue. The airlines could establish a joint quality group that can define standards and goals in areas such as fight operations, passenger handling and baggage handling. The joint quality group can also monitor performance in comparison to defined standards, benchmark against the competition and goals, and act as a supervisor.
Exclusivity
At an early stage it has to be decided whether alliance members will be allowed to enter into code–sharing agreements with other carriers, or under what circumstances an airline is allowed to explore links with others. Criteria for the suitability of new partners have to be established.
Fares, ticketing and revenues
Fares normally have to be independently established by each party but both airlines must be able to issue tickets for code–shared flights. Therefore, co–ordination of revenue accounting between the airlines becomes important. If tickets are issued by and flown by same carrier, then that carrier retains the entire fare; if tickets are sold for travel on the other party's services and on connecting services, then the carriers have to agree terms for apportioning revenues. This will normally be done through a special prorate agreement.
Marketing and distribution
One of the most difficult areas to define is marketing strategy. The service benefits of the alliance should be stressed, but it is often essential to preserve separate brand identities because of customer recognition in diverse markets.
Usually, the alliance will have to develop and market an "umbrella" brand. It has to be decided how to link the individual airline brands with the umbrella brand. There will also be circumstances when the umbrella brand alone should be promoted.
A joint advertising and sales programme should be agreed. This may involve the sharing of sales and reservations facilities; joint employee training; joint travel agent incentive commission programmes; the establishment of mutual general sales agency relationships; and joint product development.
Frequent flier programmes
From the business traveller's perspective a joint FFP is the most tangible benefit of an alliance. So it is essential for the airlines entering an alliance agreement to participate in each other's FFP, which will probably involve simplifying and standardising the FFPs. Miles should be redeemable on both carriers' flights, at a mutually agreed redemption rate. The overall aim of the FFP clauses should be for each airline to promote the other as its "preferred partner" worldwide.
Airport facilities, ground handling and maintenance
The aim is to avoid duplication of operations and to save costs. Where possible, facilities and services should be shared at airports. This would include items such as joint passenger handling, line maintenance, freight warehousing, crew transportation facilities and flight operations.
Signs at shared facilities should display functional and accurate signage identifying each carrier and the service it provides, including its brand identity.
Provisions for aircraft ground handling services should explore possibilities for each airline to perform aircraft ground handling services for the other airline, including de–icing, fuelling and aircraft maintenance, and overhaul at appropriate locations. The airlines should make efforts to arrange for terminal facilities at gateway airports to meet the objective of providing the passenger with service levels equivalent to on–line connections.
Bulk purchasing of kerosene is a possible way of achieving cost savings. Also, the airlines should examine ways of making savings through joint purchasing of third party services such as, for example, aircraft cleaning.
Cargo
Cargo should be an integral part of the alliance agreement, not an afterthought. As with passengers the airlines have to negotiate preferential prorates. The airlines could pool their cargo expertise to explore a joint product for express package shipments; to share trucking operations worldwide and to evaluate opportunities to link facilities and sales offices. Again, sharing and rationalising airport facilities should be part of the alliance agreement.
Joint alliance committee
To oversee the operation of the whole alliance, there should be a high level executive committee. Its responsibilities should be to:
Review planning and implementation of the co–operation between the alliance parties;
Make final decisions on marketing harmonisation and joint system development;
Co–ordinate between department heads in the partner airlines; and
Attempt to resolve any disputes that arise.