Philippine Airlines: the struggle continues May 1999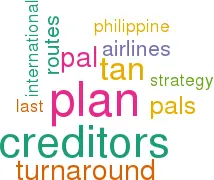 The fate of Philippine Airlines — in receivership since June 1998 with debts of around $2.2bn — is still unresolved. Since the last time Aviation Strategy covered the troubled airline (October 1998) much has changed — although from the creditors' point of view, PAL appears to have gone full circle in that chairman and majority–owner Lucio Tan returned in an executive role as CEO last month (April).
That's not a popular choice with creditors, many of whom blame Tan for the airline's collapse last year. Creditor unease about Tan's role could scupper PAL's latest turnaround plan, which was filed with the Philippines' Securities and Exchange Commission (SEC) on March 15. (The entire plan, including complete listings of creditors and detailed financial projections can be downloaded via the Internet on www. philippineair.com/html/rehab.html — it makes an interesting read!)
This plan was approved by creditors in late–March, providing new equity was made available (as promised in the plan) and that the then management team — which didn't include Tan — remained unchanged. Tan says his return will be accompanied by a much–needed injection of $200m in capital (increasing his stake from 70% to 90%), but this does not appear to satisfy the creditors, who between them "own" 19 of the 22 aircraft that are essential to PAL's turnaround plan.
In particular the creditors are concerned that Tan may terminate the contracts of Regent Star Services — a consultancy consisting of five ex–Cathay executives that has assisted PAL in drawing up its current turnaround plan.
The plan is one that the creditors believe has a chance of success, leading to a forecast improvement in financial results as shown in the charts, right. By 2003/04 PAL is forecast to pull in revenue of more than $900m and a net profit of $151m.
The projected turnaround, which includes the sale of non–core assets, would allow for gradual repayment of the $2.2bn owed to creditors (which include the US Export–Import Bank, various European export credit agencies, Credit Agricole Indosuez, the Japanese trading house Marubeni and several Philippine banks). No matter how much cash Tan brings to the table at PAL, the continuing support of these creditors is vital. (They had already rejected an earlier turnaround plan filed in December 1998.)
A credible plan?
Ignoring for the moment the rows between Tan and the creditors, does PAL's current turnaround plan make sense? The plan, as shown on the Internet site, is very specific (and ambitious?) in its revenue and profit projections.
Essentially, PAL's strategy is based on:
Deep cost–cutting, ranging from a smaller fleet and route network to reduced staffing and the sale of all non–core assets, and
A refocussing on core customer segments/ markets — i.e. domestic jet routes (turboprop services will not be offered) and key international business routes (Japan, China, Singapore, Taipei, the Middle East and the US).
The revamped PAL would use a 22–strong fleet to serve 12 international and 17 domestic routes and would be based at a new second terminal at the Ninoy Aquino International Airport in Manila. Codesharing would be a key part of PAL's strategy — on April 7 PAL applied for a one–year renewal of an unused authority to code–share with American Airlines on routes between Manila and Chicago, Dallas/Fort Worth, Miami and Washington DC.
PAL TURNAROUND FLEET PLAN
PAL TURNAROUND FLEET PLAN

| | | | |
| --- | --- | --- | --- |
| | Fleet at | Fleet at | Planned |
| | June 98 | March 99 | fleet |
| 737-300 | 8 | 8 | 7* |
| 747-200 | 3 | 0 | 0 |
| 747-400 | 4 | 4 | 4 |
| A300B4 | 8 | 0 | 0 |
| A320-200 | 3 | 3 | 3 |
| A330-300 | 8 | 8 | 8 |
| A340-200 | 4 | 0 | 0 |
| A340-300 | 4 | 4 | 0 |
| F-50 | 10 | 3 | 0 |
| Shorts 360 | 2 | 0 | 0 |
| TOTAL | 54 | 30 | 22 |
Source: PAL turnaround plan, March 15.
Note: *Although one 737-300 is to be disposed of, two 737-300s (or possibly A320-200s) will be leased short-term for 2000-2001.