Preconditions for Euro fare wars? May 1998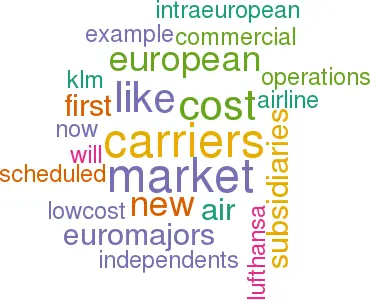 A key characteristic of the intra–European scheduled market is that none of the incumbents seems to be able to make any money. Whether fast–growing like KLM or nearly stagnant like Air France, whether operating in a fragmented market like British Airways or in a near monopoly like Lufthansa, the AEA carriers all claim that their intra–European/domestic operations are loss–making or at best break even.
This was not seen as too much of a problem for those carriers that operated profitable longhaul networks, as the key role of the European routes was feed. For those carriers with unprofitable long–hauls, the ultimate solution was state aid. Now, finding a solution to intra–European losses has become a priority as low–cost carriers inexorably expand in Europe.
The Euro–majors have evolved a wide range of strategies aimed at improving the efficiency of their European operations; examples of the main strategies are summarised in the table opposite.
BA and Lufthansa operate traditional lower cost domestically–based subsidiaries, although BA has been the innovator in transborder investment (through DBA and TAT/Air Liberté) which, it has to be said, has yet to pay off.
BA was also the first airline to utilise franchised airlines like CityFlyer that take BA's brand into niches too small for the parent airline. Examples of transborder code–sharers include Lufthansa/Air Littoral and Air France/Eurowings.
Go is the first of specifically designed low–cost subsidiaries but there are other variations on this strategy — the charter/scheduled hybrid Transavia, for example, or Alitalia's innovative Team concept. Team is a subsidiary that looks identical to the parent but whose employees operate under more commercial wage structures and work rules; the idea is to reverse all Alitalia employees into the subsidiary by the year 2000.
Finally, Euro–Majors have been seeking cost savings and economies of scale through rationalisation of mainline operations. This takes the form of alliances — between, for example, Lufthansa/ KLM — or integration; for example Air France's absorption of Air Inter.
The overall European trend is that the internal market is becoming more diversified at the same time as the long–haul market is becoming more concentrated. The pie charts provide a snapshot of the current structure of the market — we have categorised the scheduled operators of 120–180 seaters in western Europe into commercial Euromajors, airlines that have received state aid, the lower cost independents (including the likes of British Midland as well as the new entrants) and the Euro–majors' subsidiaries (DBA, KLM uk, etc).
At the most basic level, the 35% of capacity operated by the commercial inadequates must be the prime target for the low–cost carriers, both independents and subsidiaries. The independents represent a larger proportion of the orderbook, 20% as against 11% for the existing fleet, but ironically almost half the orderbook is accounted for by recent commitments from Alitalia, Iberia and Sabena. BA's flexi–order for up to 100 aircraft has yet to be awarded.
The leading new entrants, like Ryanair and easyJet, are now moving into a new expansion phase as they start to receive brand–new 737s into their fleets. Because their cost structure will inevitably increase, they will be attempting to accelerate their advances into higher cost, more protected segments of the European market. Hardly any of the 33 non–London routes that the UK CAA identified in its 1995 benchmark report ("The single European aviation market: Progress so far") as being suitable for third airline competition have seen new entrant carriers. EasyJet's plan for an operation at Geneva is an indicator of future trends.
Last year it looked as if the expansion of low cost carriers would be restrained by lack of suitable equipment. But now they have access to a new source of supply — aircraft displaced from the Asian fleets. Go's first two 737s came from PAL via GECAS, and the availability of narrowbodies will increase — in the process reversing the upward pressure on prices and rentals.
If there was also to be a downturn, or even a significant slowdown in the rate of intra–European traffic growth, all the conditions would be there for Europe's first full–scale scheduled fare war.
EUROPEAN MAJORS' MAIN INTRA-EUROPEAN STRATEGIES
EUROPEAN MAJORS' MAIN INTRA-EUROPEAN STRATEGIES
Domestic subsidiary
Transborder subsidiary
Domestic franchise/ codeshare
Transborder codeshare
Low cost subsidiary
European alliance
European consolidation
British Airways
BA Regional
DBA, TAT
CityFlyer
-
Go
-
-
Lufthansa
Cityline
-
-
Air Littoral
-
SAS
-
KLM
-
KLM uk
-
-
Transavia
Alitalia
-
Air France
-
-
Brit-Air
Eurowings
-
-
Air Inter
Alitalia
-
-
Minerva
-
Team
KLM
Avianova