Chinese expansion:
the next disruption? March 2018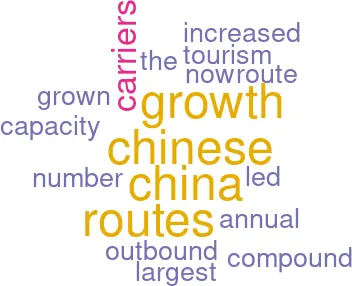 Peter Bellew — erstwhile CEO for a short time of Malaysia Airlines, and now back at Ryanair — commented at the AAPA annual meeting eighteen months ago that the development on tourism outbound from China reminded him of the excitement of the explosion in European tourism to the Mediterranean in the 1970s: lack of infrastructure meant building and operating hotels; poor local controls led to hastily constructed facilities and the delights of such as the Costa del Sol; but the growth led to huge opportunities.
The following chart and table are the results of detailed analysis that arose from a recent project we at Aviation Strategy produced looking at the markets in Asia. Various other commentators have noted the way that the Chinese carriers have increased the number of destinations they serve outside the country as outbound tourism has been developing. In this analysis we have looked at the growth in the number of seats.
The growth has been astounding. The largest outbound route in 2010 was to Hong Kong. In part this was a surrogate for transition to other parts of Greater China — notably Taiwan. Since then the Chinese state has relaxed restrictions on cross-straits travel and the Hong Kong-China route has only seen growth of a compound 4% — most of it left to Cathay to feed its hub — while routes from mainland China to Taiwan have grown by an annual compound 9% in the intervening years.
Now the two largest routes are to South Korea and Japan. In each case the market has grown by a reasonable 8% a year — but Chinese carriers have increased operations by a compound 10% a year.
More extraordinary has been the growth in services between China and Thailand. Between 2010 and 2017 the total number of seats scheduled has grown by an annual average rate of 27%. Within this the Chinese carriers have increased capacity by an average 33% and this route is now the third largest by total seat capacity.
What is a bit strange is that, despite this huge growth on International routes, how few routes are dominated or led by the Chinese carriers; China Eastern has a 22% share on the routes to Japan, 38% to Myanmar and 31% to India. China Southern has a lead position on routes to Australia with 34% of the capacity, 29% to Cambodia and 35% to New Zealand.
As they continue to grow this will change.
CHINA INTERNATIONAL CAPACITY FLOWS: TOP 30 COUNTRY PAIRS
CAGR 2010-2017
Top Players 2017
Rank 2017
Between China and
Seats 2017 (m)
Total Market

Chinese

#1
share
growth
#2
share
growth
#3
share
growth
1 (2)
S Korea
22.2
8%
10%
Korean
22%
5%
Asiana
21%
3%
China Eastern
15%
9%
2 (3)
Japan
19.7
7%
10%

China Eastern

22%
7%
All Nippon
18%
5%
Air China
16%
3%
3 (6)
Thailand
19.3
27%
33%
Thai AirAsia
11%
39%
Thai Airways
11%
7%

China Southern

10%
25%
4 (1)
Hong Kong
18.7
4%
-1%

Cathay Dragonair

46%
4%
Hong Kong AL
18%
23%
China Eastern
10%
-2%
5 (4)
Taiwan
12.8
9%
12%
China Airlines
18%
9%
EVA
15%
9%
China Eastern
12%
11%
6 (7)
USA
10.1
18%
25%
United
20%
10%
Air China
19%
18%
China Eastern
16%
21%
7 (5)
Singapore
8.3
10%
8%
SIA
26%
2%
Scoot
14%
∞
China Eastern
11%
3%
8 (8)
Malaysia
6.8
12%
18%
AirAsia
30%
14%
AirAsia X
27%
15%
Malaysia AL
12%
-2%
9 (15)
Vietnam
4.6
22%
20%
Vietnam AL
39%
21%

China Southern

28%
19%
China Eastern
8%
∞
10 (14)
Australia
3.9
19%
20%

China Southern

34%
20%
China Eastern
24%
18%
Air China
16%
10%
11 (11)
Russia
3.3
10%
6%
Aeroflot
44%
17%
S7 Airlines
12%
15%

China Southern

11%
14%
12 (12)
Macau
3.2
12%
15%
Air Macau
62%
11%
Xiamen AL
13%
22%
China Eastern
8%
47%
13 (16)
Canada
3.2
17%
25%
Air Canada
41%
10%
China Eastern
19%
20%
Air China
14%
10%
14 (10)
UAE
3.1
7%
6%
Emirates
56%
5%
Etihad
19%
26%

China Southern

11%
4%
15 (9)
Germany
2.9
6%
7%
Lufthansa
49%
4%
Air China
38%
7%
China Eastern
6%
0%
16 (20)
Indonesia
2.7
24%
27%
Garuda
36%
18%
Xiamen AL
15%
∞
Lion
15%
∞
17 (18)
Philippines
2.5
17%
26%
Philippine AL
27%
9%
Xiamen AL
20%
133%

China Southern

14%
6%
18 (13)
France
2.4
9%
13%
Air France
48%
5%
Air China
23%
16%
China Eastern
19%
12%
19 (24)
Cambodia
2.0
29%
23%

China Southern

29%
18%
China Eastern
18%
36%
Angkor Air
16%
∞
20 (19)
UK
1.7
11%
22%
BA
26%
5%
Air China
24%
12%

China Southern

14%
∞
21 (17)
Netherlands
1.3
5%
13%
KLM
61%
2%

China Southern

26%
7%
China Eastern
7%
∞
22 (22)
Qatar
1.2
14%
∞
Qatar
100%
14%
23 (32)
New Zealand
1.1
32%
∞

China Southern

35%
∞
ANZ
21%
6%
China Eastern
15%
∞
24 (29)
Myanmar
1.0
26%
25%
China Eastern
38%
23%
Air China
16%
12%
Hebei AL
12%
∞
25 (25)
Italy
1.0
18%
16%
Air China
52%
7%
China Eastern
17%
∞
Hainan
13%
∞
26 (21)
India
1.0
9%
14%
China Eastern
31%
10%

China Southern

25%
16%
Air China
24%
13%
27 (--)
Ethiopia
0.9
na
na
Ethiopian
100%
∞
28 (26)
Turkey
0.8
14%
∞
THY
97%
14%

China Southern

2%
∞
29 (23)
Finland
0.6
7%
∞
Finnair
100%
7%
30 (27)
Kazakhstan
0.6
10%
6%
Air Astana
63%
12%

China Southern

23%
2%
Hainan
6%
19%