China's Big Three:
Update on their expansion story March 2018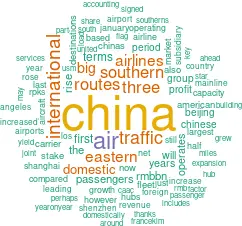 While the Big Three continue to dominate the Chinese aviation industry, their focus increasingly looks abroad — both to international routes and, now, to realising the benefits of investment from foreign carriers.
Domestically, traffic at Air China, China Southern and China Eastern has risen by a third in three years, and — so far — the steady growth in disposable income and the increasing propensity to travel overall within the country is more than enough to withstand the rising competition airlines face from High Speed Railways. China has almost 13,000 miles of HSR, and 1.5bn passengers travelled on trains in the country in 2016. The Civil Aviation Administration of China (CAAC) observes that HSR has halved the number of air passengers on routes under 500km, but China measures 3,250 miles east to west and 3,400 miles north to south, and aviation holds the advantages on longer internal routes.
On international routes; traffic has grown by 70% in three years, but against a backdrop of much stronger competition from rivals, whether domestic (eg Hainan Airlines) or foreign airlines, The Chinese carriers are also increasingly competing for sixth freedom traffic, connecting Europe-Australasia passengers over their hubs.
The airlines do not give any indication of geographical segment profitability, but a survey of the yields tentatively suggests the domestic market, where the CAAC regulates fares, may be the main profit generator. For example, China Southern's average yield per RPK in the first half of 2017 was RMB0.53 (US¢8.5) domestically, which compares with 8.2¢ for the US domestic market. On what it terms "regional routes" — to Hong Kong, Macau and Taiwan — yield looks lucrative at RMB0.79 (14.2¢). Its international yield was RMB0.37 (5.9¢), which compares to US Majors' 6.4¢ on the Pacific.
The CAAC is gradually deregulating fares on China's main domestic routes. Perhaps surprisingly, there is an expectation that this will increase yields as it will allow for the implementation of peak pricing.
The Big Three might be nervous about AirAsia's announcement in May 2017 that it is planning to launch a Chinese subsidiary in Zhengzhou in a joint venture with Everbright, a Chinese financial services conglomerate. Tony Fernandes, AirAsia Group CEO, says this is the first step in a plan to expand through China that will take five to ten years to complete.
Zhengzhou (in the east of the country) is just outside the top 10 Chinese airports in terms of domestic passengers, although it is the fifth largest in terms of LCC capacity already thanks to the presence of China United Airlines, a subsidiary of China Eastern, and others such as Lucky Air and West Air. But the leading airline at the airport is China Southern, with a 22% seat share, and how it reacts to AirAsia will be an interesting test of the Big Three's tolerance to what will be a dangerous rival.
As ever, perhaps the most significant external impact on the Big Three comes from state policy. In January this year the government said it would ease rules restricting foreign ownership of airlines — although it made clear this would not apply to the Big Three, which will still have to be controlled by state-owned shareholders. Nevertheless, the three biggest airlines in China have now all pulled in minority investments from foreign airlines, and these are likely to be just the first step to greater links with non-Chinese carriers over the coming years — both in terms of equity and operational partnerships.
Air China
Based in Beijing, China's flag carrier operates to 193 destinations (more than 100 of which are domestic) in 35 countries. The group fleet — which also includes Air China Cargo, Shenzhen Airlines, Shandong Airlines and Air Macau — continues to grow, and today stands at 718 aircraft, with the mainline operating 402 of those,
As well as its continued dominance at Beijing — perhaps the key benefit of being the nation's flag carrier — Air China also operates hubs at Chengdu, Shanghai and, now, Shenzhen. Shenzhen's Bao'an International airport is seen by the group as vital for building up traffic from the south of the country and is the home of subsidiary Shenzhen Airlines. That carrier operates a fleet of 180 aircraft on more than 220 domestic and international routes, and to encourage regional feed parent Air China launched a non-stop 787-9 route between Shenzhen and Los Angeles in December 2017.
In the January to September period of 2017, revenue at the Air China Group rose an impressive 8.8% to RMB93.0bn (US$13.7bn), thanks in part to a 4.2% rise in passengers carried at the mainline to 46.2m. At the operating level, profit rose by 27.7% in the period, to RMB12.3bn ($1.8bn), while net profit increased by 18.6% to RMB9.6bn ($1.4bn). In the first three-quarters of 2017 the Air China group recorded total RPK growth of 5.6%, ahead of a 5.2% rise in ASKs and resulting in a 0.3% rise in passenger load factor, to 81.2%.
Internationally, capacity grew by 7.0% in January to September 2017 and traffic was up by 7.3%, but there was huge variation by region. The fastest growing market was routes to Europe, where traffic grew by 10.6%, and which accounted for 36.8% of all international traffic at Air China in the period. But traffic on routes to Korea and Japan fell by 12.1%, in a market that now represents just 8.7% of Air China's international RPKs.
Air China is still the largest of the Big Three in terms of international traffic, both absolutely and relatively — see chart. International RPKs accounted for 35.3% of all its traffic in 2017, compared with 33.5% at China Eastern and 29.2% at China Southern. Air China has been prioritising international traffic for decades, and over the last three years its proportion of international traffic has risen 4.3 percentage points. However, the others are catching up steadily — China Eastern's international proportion rose 6.1% in three years, and China Southern by 8.3%. Or put another way, Air China's share of all international traffic at the Big Three is now just 35.6%, compared with 40.8% in 2014 — and if this trend continues Air China will be overtaken by China Southern in terms of international traffic in the next few years.
Air China is working hard to prevent that. It was the first of the Big Three to forge close links with a non-mainland airline, and now has a 29.9% stake in Cathay Pacific Airways (while Cathay has a 20.1% stake in Air China). That strategic partnership continues to deepen — the two operate a joint venture cargo operation Air China Cargo using Cathay's extensive expertise in the area. However Air China is also a member of the Star Alliance (while Cathay is in oneworld) and in 2016 signed a joint venture agreement with Lufthansa. In December 2017 Air China and Star signed a deal to transfer all the alliance's flights and operations into the same terminal at Beijing airport, to enable it to become a key hub for Star.
China Southern
China Southern is based in Guangzhou and operates to more than 200 destinations in 40 countries, of which around 130 are domestic. It has the largest fleet of the Big Three, with 761 aircraft at the group level (which includes a 163-strong fleet at Xiamen Airlines) and 550 at the mainline. As well as Guangzhou, China Southern operates hubs at Beijing, Shanghai, Chongqing (in the south-west of China) and Urumqi (in the north-east).
In the first three-quarters of 2017 China Southern's revenue increased by 10.9% to RMB96.1bn ($14.1bn), based on a 9.6% rise in passengers carried to 93.9m. An 11.5% rise in RPKs over the January-September 2017 period comfortably beat a 9.5% increase in ASKs, resulting in a 1.7% rise in passenger load factor, to 82.2%. Operating profit rose 33.0% in the January-September 2017 period to RMB9,251m ($1.4bn), while net profit increased by 9.0% to RMB8,210m ($1.2bn).
China Southern is still the largest of the Big Three in terms of fleet and overall traffic. Crucially, China Southern remains far and away the country's leading domestic airline, accounting for 40.1% of domestic traffic among the Big Three (in terms of RPKs) in 2017 — a share that has remained constant over the last few years. Almost 70% of its RPKs in 2017 came from domestic routes (compared with 63.9% at China Eastern and 61.1% at Air China).
China Southern has also been growing rapidly internationally, though its strategy through 2018 is to rein in international route expansion somewhat, instead prioritising increased frequencies to the most profitable routes on its existing network.
As can be seen in the chart, the reduction in Air China's lead over China Southern in terms of international traffic is helping the latter catch up with the flag carrier in terms of net profits. In 2010 the net profit lead of Air China over China Southern was a substantial US$846m; by 2015 this was down to $428m and in 2016 it fell to $280m.
Key to closing the gap permanently is China Southern's external strategy, and in August 2017 American Airlines bought a 2.8% stake in China Southern for US$200m.
For American, the move was a riposte to Delta's acquisition of a 3.6% stake in China Eastern in 2015 for $450m, but for China Southern this opens a critical partnership given that outbound traffic from China to the US doubled over the 2010-2015 period. American operates from Chicago, Dallas-Fort Worth and Los Angeles to Beijing and Shanghai, while China Southern has routes to Los Angeles, San Francisco and New York.
Following that equity deal, China Southern signed a codeshare deal with American in January this year, giving American passengers access to all the destinations served in China by the carrier, and — crucially — providing Chinese passengers access to around 80 destinations from Los Angeles, San Francisco and New York.
Further cooperation in other areas is expected to follow through 2018 and beyond, but the contradiction of China Southern being part of SkyTeam while American is part of oneworld can't last forever, and there is speculation the Chinese airline may flip between the two alliances sooner rather than later.
China Eastern
Based at Shanghai (at both Hongqiao and Pudong airports) and secondary hubs at Beijing, Kunming, Xi'an and Qingdao, China Eastern operates to more than 215 destinations. The China Eastern group (which includes Shanghai Airlines and China United) has a 618-strong fleet, and the mainline has 489 aircraft.
In the first half of last year China Eastern saw revenue rise 8.3% to RMB53.2bn ($7.7bn), with passengers carried in the period rising 9.2% to 53.3m. In January to June 2017 traffic growth of 10.1% was just ahead of capacity growth of 9.6%%, leading to a 0.4% increase in passenger load factor, to 80.9%. However, in H1 2017 China Eastern experienced an 11.3% rise in operating costs, ahead of revenue growth and leading to an 11.6% fall in operating profit year-on-year, to RMB6.3bn ($0.9bn). This was due primarily to a 45% rise in fuel costs year-on-year — a hefty RMB3.8bn ($0.6bn) increase. However, at a net level China Eastern recorded a 34.4% improvement in profits, to RMB4.3bn, thanks partly to a RMB2bn exchange rate gain compared with the first half of 2016.
China Eastern is still the smallest of the Big Three but is eager to develop its secondary hub operation at Beijing, better to challenge Air China. In particular, it threatens Air China through its investment in LCC subsidiary China United, the only commercial carrier based at Beijing's Nanyuan airport. It operates eight 737-700s and 31 737-800s to around 20 domestic destinations, but it is due to start international services imminently.
Domestically China Eastern's expansion is constrained by a lack of slots at its hub airports, which forces the airline into increasing routes out of second- and third-tier airports, plus putting widebody aircraft onto trunk routes such as Shanghai-Beijing.
The priority for its major hubs is international services, and in the first half of 2017 the airline's capacity on routes to North America (its largest market, accounting for 29% of all international capacity) grew by 14.6% year-on-year, and on routes to Europe (accounting for 16.3% of international ASKs) by 34.1%. However, these longer routes are lower yielding compared with shorter international routes to markets such Japan and South Korea, both of which suffered reductions in traffic in the first half of 2017.
Its other international lever is the SkyTeam alliance, and China Eastern talks about building a "golden triangle" network that connects China, America and Europe after it bought a 10% stake in Air France-KLM for US$439m in July 2017 (while Delta has a 3.6% stake in China Eastern and 10% in Air France-KLM).
In July last year China Eastern also launched an upgraded marketing partnership with Air France-KLM, building on the existing codesharing between the two airlines, but this "golden triangle" will need to be developed if China Eastern is to catch up with its Big Three rivals.
AIR CHINA GROUP FLEET
In service
On order
Air China
Shandong
Shenzhen
Air Macau
Others†
Total
747-400
3
3
747-8i
7
7
777
30
30
787
11
11
4
A330
30
1
31
3
A350
29
29
10
737NG
138
112
85
13
348
2
737 Max 8
8
A320 family
139
88
17
244
2
C919
5
ARJ21
10
747-400F‡
3
3
757-200F‡
4
4
777-200F‡
8
8
Total fleet
402
112
174
17
13
718
44
Note: † includes Dalian Air and Air China Inner Mongolia. ‡ Air China Cargo
CHINA EASTERN GROUP FLEET
In service
On order
China Eastern
Shanghai
China United
Total
767
5
5
777
20
20
787
15
A330
51
6
57
9
A350
20
737NG
123
81
37
241
15‡
A320 family
286
286
1
C919
5
ARJ21
5
747-400F†
3
3
777F†
6
6
Total Fleet
489
92
37
618
70
Note: † China Cargo Airlines. ‡ includes 7 737 Max 8s.
CHINA SOUTHERN AIR HOLDING: GROUP FLEET
In service
On order
China Southern
Xiamen
Heibei
Chongqing
Others†
Total
777
12
12
787
10
10
20
22
A330
43
43
7
A350
20
A380
5
5
737NG
175
143
16
8
342
64‡
757
6
4
10
A320ceo
255
17
272
21§
C919
5
E190
20
6
26
1
ARJ21
50
747-400F
2
2
777-200F
12
12
Total
540
157
22
17
8
744
190
Notes: † Includes Jiangxi Airlines and Henan Airlines. ‡ including 50 737 Max 8. § including 8 A321neo