JAL: "Aim" to be Most Preferred and Valued airline group March 2017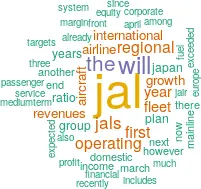 JAL is just coming to the end of its first post-bankruptcy "medium-term management plan", which was for the years 2012/13 to 2016/17. The (very) broad aim was "to become the world's most preferred and valued airline group".
JAL has achieved the financial targets in the plan, namely a 10% or higher operating margin for five consecutive years and a 50%-plus equity ratio in 2016/17. Both targets were exceeded a year early in FY2015. But, in its assessment, it has not achieved targets related to customer satisfaction, especially on regional domestic routes. However, JAL is getting much praise internationally, and in 2015 it won a prestigious "best economy class airline seat" award from Skytrax.
In the nine months ended December 31, JAL's operating income declined by 19.2% and net income by 24.7%. Operating revenues were down by 4.7%. However, the nine-month operating margin of 14.1% still exceeded the 10% target.
The weaker results reflected a host of factors: lower domestic passenger revenues caused in part by price competition; lower international revenues resulting from currency effects and elimination of fuel surcharges; a stronger yen; and higher maintenance and labour costs, which almost offset the decline in fuel prices.
Labour costs rose because of a hike in basic wages following a review. JAL has been under pressure on that front since the cuts implemented in bankruptcy. The airline nicely described the wage increases as "priority investments in human resources to strengthen the foundation for growth".
For the full fiscal year ending March 31, JAL is projecting revenues of ¥1,280bn ($11.5bn, down by 4.3%), operating income of ¥170bn (down 19%), an operating margin of 13.3% (down 2.4 points) and a net profit of ¥161bn (down 7.5%).
JAL's balance sheet is in good shape, with total assets of ¥1,625.3bn ($14.6bn), an equity ratio of 56.8%, interest-bearing debt of ¥96.2bn and a debt-equity ratio of 0.1% projected for March 31.
While JAL will not be releasing its next medium-term plan till late April, much is known about the management's general thinking and plans for the year to end March 2018 have already been announced.
The main thrust of the next plan will be to respond to the expected slot increase at Tokyo airports in the lead up to the 2020 Olympics. However, JAL's top executives have indicated in recent interviews that there would be "no sudden shift" when the bailout restrictions end and that future growth will be disciplined (in single digits). In April-December 2016 JAL's system ASKs declined by 0.4%.
It will be international growth, focusing on the US and the Asia-Pacific. To start with, in April JAL will add a Haneda-New York JFK route using a Haneda daytime slot freed by another service. It will also boost Narita-JFK capacity by switching from 787-8s to the larger 777-300ERs and will add more seasonal service to Moscow and Honolulu.
JAL's international network is nicely balanced, with America accounting for 26%, Europe 16%, Asia/Oceania 33%, China 10% and Hawaii/Guam 15% of its international passenger revenues in April-December 2016.
Post-bankruptcy, JAL has been pursuing a "high quality, full service" strategy on international routes. This has included introducing aircraft configured with the "Sky Suite" business class, available on the 777s, 767s and 787s. JAL first offered it to Europe and the US and is now taking it to Asian markets.
Because of its drastic earlier downsizing, JAL has benefited enormously from alliances. Among other things, the JV with American enabled JAL to return to DFW after a 14-year absence in late 2015 and offer its customers same-day connections to Latin America on American.
JAL has also expanded its JV operations with BA and Finnair, which started in 2014. In an interesting twist, JAL's Narita-Frankfurt flights were recently added to its cooperation with Finnair. Last year Iberia joined the JAL/BA/Finnair JV, so JAL now benefits from three partner hubs in Europe.
Domestically, there will realistically not be much growth for the full-service carriers, but JAL is trying to hold onto market share by improving its product. It recently completed the conversion of all of its mainline domestic fleet to the "Sky Next" configuration, which offers perks like internet access and free videos.
JAL's regional units are keen participants in the Abe administration's regional revitalisation efforts, playing a role in flying foreign tourists to various parts of Japan. There is growing competition in that market, though, in the form of LCCs that operate international flights directly to Japan's regional airports.
Fleet
In bankruptcy JAL shed more than 100 aircraft, switched to smaller and more fuel-efficient types and rationalised the mainline fleet from seven to four types. At year-end 2016 the 172-strong mainline fleet comprised 40 777s, 31 787s (of which six were 787-9s), 38 767-300/300ERs, 11 737-400s and 52 737-800s. The regional fleet consisted of 56 aircraft (see table). There is now some overlap, with one regional subsidiary operating 737-800s.
The orderbook includes, notably, firm orders for 31 A350s — an historic deal signed in October 2013 that gave Airbus a new customer and the A350 its first buyer in Japan. Many had expected JAL to stick to an all-Boeing mainline fleet, but JAL has said that the A350 offered better economics even after taking into account the inefficiencies of operating two different manufacturers' aircraft. The order includes both A350-900s (18) and the longer-fuselage A350-1000s (13), which will gradually replace older aircraft from 2019. JAL also has another 14 787-9s on firm order (plus 25 options).
On the regional front, JAL ordered 32 MRJs in January 2015, with deliveries from 2021. It will be the first passenger aircraft built in Japan since the 1960s. The type will be operated by JAL's 100%-owned subsidiary J-Air.
Another theme domestically is continued replacement of turboprops with RJs. There have been repeat E-jet orders. Last year J-Air added its first E190s. On the turboprop front, Japan Air Commuter (JAC) will deploy its first ATR42-600 in April to develop tourism to a hitherto little-visited archipelago (Amami and Ryukyu Islands). The group has ordered nine ATR42s and holds purchase rights for another 14.
The JAL Group's fleet investment plans are not yet available, but the past three fiscal years' spending provides a rough guide: ¥161-191bn ($1.4-1.7bn) annually.
The next medium-term plan will see continuation of a number of corporate and financial themes. First, with the emphasis now being on profitability rather than growth, JAL wants to construct a system that can withstand external risks such sharp exchange rate and fuel price fluctuations.
A key to achieving that is having a corporate structure that facilitates flexible responses. Among other things, JAL is implementing as a multi-year project the so-called amoeba management system, under which "every employee strives to contribute to increasing profits by maintaining a steady focus on maximising revenues and minimising expenses" (a type of enhanced profit centre approach).
Second, JAL continues to improve corporate governance. In the past year it has strengthened its board with the appointment of three independent directors and established appropriate committees.
Third, JAL wants to further enhance financial stability. Having exceeded the earlier 50% equity ratio goal, JAL is committed to raising the target to 60%.
Fourth, JAL is seeking to improve its credit ratings so that it can diversify its financing sources. It has already secured A- ratings from two Japan-based rating agencies — a level that is quite high by global airline standards. In November JAL was able to complete a ¥20bn ($178m) bond issuance, its first in 12 years.
Fifth, JAL is looking to distribute more profits to shareholders. It has already raised its dividend payout ratio from 15% to 25% of annual pretax income and expects to complete a ¥30bn ($267m) share buyback by the end of March. That will be in addition to ¥43.5bn ($387m) paid in dividends in June 2016 — all quite generous in light of FY2016/17's projected free cash flow of only ¥24bn.
JAL's partly-owned LCC JV with Qantas, Jetstar Japan, which is not consolidated in the JAL Group results, has expanded aggressively since its launch in 2012. It has the largest domestic network among the LCCs but required additional cash injections in 2015 and has continued to incur losses. But Qantas said recently that it expected the venture to report a profit for FY 2016.
The JAL Group currently includes five airline subsidiaries in addition to JAL: J-Air, JTA, JAC, RAC and HAC. All are regional carriers except JTA, which is an Okinawa-based 737 operator. However, there are in total 87 consolidated subsidiaries and 59 affiliated companies.
Despite some speculation, JAL may take its time to move deeper into LCC operations. There are probably other priorities. In its latest annual report in July 2016, JAL talked about 10-15 years being the time horizon in which it will "design a business portfolio that is ideal in terms of both growth potential and risk tolerance".
JAL GROUP'S FLEET
Total
195
33
228
89
57
In service
Owned
Leased
Total
Orders
Options
737 NG
34
29
63
767-300
6
6
767-300ER
30
2
32
7
777-2/300
16
16
777-2/300ER
24
24
787
31
31
14
25
A350
31
25
E170/190
22
22
CRJ200
7
7
MRJ90
35
Dash-8
13
2
15
ATR42
9
Saab 340
12
12