ANA: Vision of customer satisfaction and value creation March 2017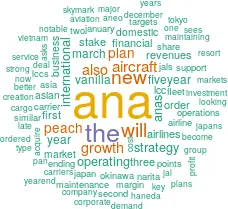 Since JAL's restructuring ANA has moved aggressively to strengthen its market position. It has roughly doubled its international ASKs in the past five years, embarked on a "multi-brand strategy", acquired minority stakes in other carriers, diversified into new growth areas and placed large aircraft orders.
However, ANA has also accomplished impressive cost cutting, which has helped it remain competitive with JAL and consistently post annual operating margins in the mid-to-high single digits.
In the nine months ended December 31, ANA's financial trends were better than JAL's, reflecting successful cost controls but also slightly better revenue performance. Its operating income rose by 11.5%. The 9.8% operating margin was only 4.3 percentage points behind JAL's, indicating that ANA may be gradually closing the margin gap, even as it continues double-digit international capacity growth.
For the full fiscal year ending March 31, ANA is projecting revenues of ¥1,740bn ($15.7bn, down by 2.9%), operating income of ¥145bn (up 6.3%), an operating margin of 8.3% (up 0.7 points) and a net profit of ¥80bn (up 2.3%).
ANA has a strong balance sheet, with more in assets than JAL but around seven times as much debt (as it has not benefited from a restructuring). At year-end 2016, ANA had total assets of ¥2,261bn ($20.4bn), an equity ratio of 40.6%, interest-bearing debt of ¥726.7bn and a debt-equity ratio of 0.8%. ANA's corporate credit ratings are the same as JAL's (A-).
ANA is one year into its five-year "corporate strategy" plan for FY2016-2020, which was released in January 2016. The plan set out lofty new growth and financial targets in line with a vision of being the "world's leading airline group in customer satisfaction and value creation".
The key components of the plan are, first, to grow international revenues (both passenger and cargo) by 40% and international ASKs by 50% in the five-year period, while maintaining domestic mainline revenues and ASKs at current levels.
Second, ANA is looking to increase revenues from its "LCC division" by at least three times and establish Vanilla Air as the number one LCC in the Tokyo metropolitan area.
Third, ANA signalled its desire to remain strong in the so-called resort market by announcing an order for three A380s (a new fleet type) for the Tokyo-Honolulu route.
Fourth, ANA is looking to create new non-airline businesses and accelerate the growth of existing ones, to meet demand for aviation-related services in Asia or capture spending by foreign visitors.
Fifth, ANA is targeting an operating profit of ¥200bn, operating margin of 9.3%, ROE of 9.8% and ROA of 7.6% in the financial year ending March 2021.
The financial targets seem modest, but perhaps they are realistic in light of the ambitious growth plans and increasing competition. The aim is to maintain high enough profitability and ROE to support the growth plans while maintaining a stable dividend.
Those forecasts will, of course, be updated at some point. ANA said in January that it was looking to enhance shareholder returns and would also evaluate share buybacks. (It paid out ¥17.5bn/$156m in dividends or ¥5 per share in June 2016 for the previous financial year.)
Notably, in the plan ANA signals a desire to be a major player in both business and leisure markets. Always known for its high-quality full-service offering, ANA now also sees LCCs as a core future "profitability foundation".
In other words, ANA could become the aviation equivalent of Amazon, catering for every kind of travel need, which is similar to Delta's thinking (see Aviation Strategy, Jan/Feb 2017). Of course, ANA is also similar to Delta in terms of its interest in acquiring minority stakes in multiple airlines and investing in non-airline activities.
ANA has bolstered its US and European networks in recent years, adding cities such as Seattle, San Jose, Vancouver, Houston, Brussels and Düsseldorf with the help of the 787. Late last year ANA finally linked Haneda with New York and Chicago (777-300ERs), using newly awarded daytime slots.
Another notable new addition was Narita-Mexico City in mid-February. The route uses 787-8s, targets business travellers in Japan (particularly automakers) and competes with Aeromexico's service.
But the Asia/Pacific region continues to be ANA's main focus. For example, this summer season ANA is adding Narita-Wuhan (its 11th city in China) and Narita-Phnom Penh in Cambodia (a country that is enjoying explosive growth).
In April-December 2016, Asia/Oceania's share of ANA's international passenger revenues rose by 2.3 points to 30.6%. North America's, Europe's and China's shares all declined (to 31.6%, 19% and 13.9%, respectively). The "resort" category accounted for the remaining 5% (up 0.5 points).
The five-year plan mentioned new services to "white spots in Asia and Central and South America". Also, ANA is further strengthening its dual-hub strategy in Tokyo with the creation of three daily banks: morning and late night (Haneda) and evening (Narita). Under the dual-hub strategy, Narita caters for North America-Asia transfers and Haneda international-domestic connections.
Domestically, ANA aims for "solid improvements in efficiency while maintaining market share". The A321ceo, introduced in November, and later the A321neo will pay key roles in those efforts.
Cargo is an important business segment for ANA, which aims to become "one of the world's top-five carriers in terms of freight handled" by the financial year ending March 2021. The focus is on developing an integrated logistics service across Asia and further developing the Okinawa cargo hub.
There are no notable new developments on the alliance front. The five-year plan sees more integration for existing JVs (with United and Lufthansa/Swiss/Austrian).
ANA has a steady stream of new aircraft coming in to support growth and to modernise the fleet. The five-year plan, which does not include Peach, targets a group fleet of 300 aircraft at the end of March 2021, of which ANA and its regional units will operate 275 and Vanilla 25. The year-end 2016 fleet was 268 (ANA 257 and Vanilla 11).
ANA has placed two major orders, both split between Boeing and Airbus: a $15bn, 70-aircraft order in March 2014 (its largest ever) and a $2.3bn, 15-aircraft order in January 2015.
Highlights have included, first, selection of the 777-9X as a successor to the 777-300ER (20 on order with deliveries from FY2021).
Second, ANA has ordered more 787-9s and its first three 787-10s. It has now ordered 83 787s in total, of which 57 had been delivered at year-end 2016.
Third, there was the January 2016 order for three A380s, which will be used to upgrade Tokyo-Honolulu operations from 2019.
Fourth, ANA has ordered seven A320neos and 26 A321neos, which will replace its 737-500s and A320ceos in domestic and Asian operations. The first A320neo arrived in December, and the A321neo deliveries will begin in the year ending March 2018.
ANA will also deploy the MRJ, which it launched with a 25-aircraft order in 2008. The type is currently expected to enter service in 2020, six years behind the original schedule.
The multi-brand strategy kicked off in 2012 with the launch of the two joint-venture LCCs, Peach Aviation and AirAsia Japan. When the relationship with AirAsia soured, ANA bought its partner's 49% stake for ¥2.45bn ($22m) in 2013 and rebranded the carrier as Vanilla Air.
Narita-based Vanilla began growing in early 2016. ANA says that it is creating new demand domestically and capturing inbound tourism demand, especially from China and to Okinawa. ANA also sees it entering new resort destinations. The five-year plan hinted at quite an extensive Asian network by 2020 and mentioned cost reductions and new "high-performance aircraft".
In a notable development in February, ANA announced that it would acquire 28.3% of Peach shares from its two JV partners (First Eastern and INCJ), to raise its stake to 67%. The transaction, expected to close on April 10, will make Peach ANA's second consolidated LCC subsidiary.
Kansai-based Peach, which also has hubs at Narita, Okinawa and Sendai, is the most successful of the new crop of LCCs. It operates 18 A320s on 13 international and 14 domestic routes, has a strong brand and became profitable in 2013. In FY2015/16 Peach achieved an operating profit of ¥6.1bn on revenues of ¥47.9bn.
Peach is now entering the ANA fold because the three shareholders decided that it would be the best way to accelerate its growth in its next phase of development, which will see more Asian expansion and possibly a longer-range aircraft type. The owners talked about "leveraging Peach's corporate culture and brand with ANA's proven track record of airline expansion".
It seems like a logical move. Peach and Vanilla have different hubs and operate from different terminals at Narita, so ANA will be able to cover more LCC markets more quickly. However, since the two will play similar roles in the group and target similar markets, the dual-LCC strategy may not work indefinitely; but if so, ANA will have the option to merge Vanilla and Peach.
ANA switched to a holding company structure in 2013, which will make it easier to run multiple autonomous airline brands and, it hopes, will minimise revenue dilution at the full-service carrier.
Like JAL, ANA has a bewildering number of consolidated subsidiaries (63) and equity-method affiliates (17), but most of those provide the typical airline support functions (catering, hotels, etc). ANA laid the foundations for the strategy of diversifying into new growth businesses in 2013 by establishing an investment company in Singapore.
The key diversification moves have included venturing into the global pilot training business and moving to become a major player in aircraft maintenance in Asia.
In 2013 ANA acquired Miami-based Pan Am Holdings and its subsidiary Pan Am International Flight Academy for around $138m. In 2014 it set up a Pan Am unit in Thailand. In the five-year plan, ANA said that it was working to strengthen ties between its Miami, Bangkok and Tokyo based pilot training activities.
In 2015 ANA established an aircraft maintenance company, MRO Japan, in Okinawa as part of a consortium, with ANA holding a 45% stake. The venture began operations at Osaka's Itami airport but will transfer to new facilities at Okinawa's Naha airport in the second half of FY2017. MRO Japan provides base and heavy maintenance for many aircraft types and has great prospects for attracting new business from Asian carriers, including LCCs.
Among the more unusual investments, in December ANA bought a 7% stake in PD Aerospace, Japan's only developer of manned spacecraft. It was only a ¥20.4m ($182,000) investment, so there were probably not too many complaints from investors and analysts.
ANA's 2013 plans to acquire a 49% stake in Myanmar carrier Asian Wings fell through. ANA pulled out of the deal in July 2014, citing inability to come to an agreement following changed external circumstances (intensified competition in Myanmar).
But a later deal to acquire an 8.8% stake in Vietnam Airlines for $109m was completed successfully in July 2016. Vietnam Airlines was already better established, with Star membership and sizeable international and Japanese operations, but it will still benefit from ANA's know-how. The airlines launched codesharing in late 2016 and ANA has nominated a director to sit on Vietnam Airlines' board.
On the domestic front, ANA "sponsored" Skymark Airlines, Japan's first LCC, out of bankruptcy in a court-led deal that was approved in August 2015. ANA owns 16.5%, codeshares with and provides maintenance support for the Haneda-based carrier, which officially emerged from bankruptcy in March 2016. Skymark remains independent and hopes to relist on the stock market. The main benefit of the investment to ANA was probably defensive: preventing Delta, which had also sought to sponsor Skymark, from gaining a foothold in Japan's domestic market.
ANA HOLDINGS: FLEET
Total
206
62
268
97
In service
Owned
Leased
Total
Orders
737 Classic
18
18
737 NG
31
12
43
767-300
12
12
767-300ER
13
12
25
767-300F
8
4
12
777-200/300
19
2
21
777-200/300ER
22
12
34
777-9X
20
787
52
5
57
26
A320ceo
10
14
24
A320neo
1
1
33
A380
3
Dash 8
20
1
21
MRJ90
15