Japanese Majors: Balancing growth, rewarding shareholders March 2017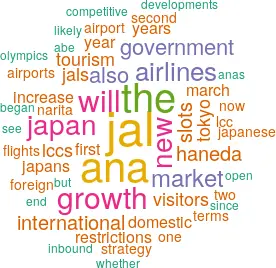 After many turbulent years, Japan Airlines (JAL) and All Nippon Airways (ANA) face yet more watershed events: the imminent ending of the post-bailout restrictions on JAL's growth at the end of March and a likely significant increase in Haneda airport slots in the run-up to the 2020 Tokyo Olympics. What will it all mean in terms of network growth, subsidiary-building, competitive dynamics and profitability?
It has been an eventful decade for Japan's two leading carriers. First, JAL ended up in bankruptcy in January 2010. The 14-month restructuring and ¥350bn ($3.1bn) government bailout transformed JAL into a much smaller carrier with an impeccable balance sheet and abnormally high profits.
But the government went overboard helping JAL. Since Japan has only two large airlines, JAL's bailout and the Chapter 11-type process created a profoundly uneven playing field. Before JAL's stock market relisting in September 2012, the government sought to redress the inequalities by imposing restrictions on JAL's ability to make investments and launch new routes. The government began favouring ANA over JAL in route and slot allocations. Since then ANA has received most of the valuable new slots that have become available to Japanese carriers at Tokyo Haneda.
As a result, ANA had a major growth spurt and in the year to end March 2016 overtook JAL as Japan's largest carrier in terms of international passengers (see chart).
ANA had already overtaken JAL in terms of system revenues in 2011.
JAL, in turn, began outperforming ANA financially. Post-bankruptcy, JAL has been achieving annual operating margins in the 13-17% range, compared to ANA's 5-8% margins.
These developments coincided with Japan entering a new competitive era for airline operations, thanks to a massive increase in airport capacity in the Tokyo metropolitan area in 2010-2013, new open skies ASAs that liberalised access to Tokyo and new facilities provided by airports for LCCs.
Haneda's maximum ATMs rose by 43% in 2010, when the airport was also opened to scheduled international flights. Narita saw a 40% increase in total slots in 2013. At least three airports — Osaka's Kansai, Okinawa's Naha and Tokyo's Narita — have opened LCC terminals (LCCTs).
For JAL and ANA, those developments brought both growth opportunities and escalated competition from foreign airlines, including many Asian LCCs.
Characteristically, JAL and ANA moved in tandem in their responses. First, the airlines, which were the world's first two operators of the 787, undertook new long haul expansion with that aircraft type beginning in 2012. Even JAL, despite its growth restrictions, has been able to add to its network new US cities such as Boston, San Diego and Dallas.
Second, the airlines forged immunised joint ventures first in the US-Japan/Asia market in 2011 (JAL with American and ANA with United) and in the Europe-Japan market in 2012-2013 (JAL with BA and ANA with Lufthansa). The JVs have been developed to include more markets and more airlines.
Third, JAL and ANA launched their own Japan-based joint venture LCCs.
These airlines have enabled JAL and ANA to retain leisure market share but have had a negative impact on the domestic pricing environment. The jury is still out on whether they will offer their owners a satisfactory return on investment.
The LCCs appear to have modestly stimulated Japan's domestic market, which is large but has long stagnated in terms of full fare/business travel (declining population, competition from bullet trains, etc). But their penetration has been slower than expected — only around 10% of the domestic market in 2015, compared to the initial projections of 17-20% by 2013.
But LCCs are making steady inroads. The sector now includes companies that are partly owned by foreign airlines and have no JAL or ANA involvement. The first of that crop is Spring Airlines Japan, which launched in 2014. The second one will be AirAsia Japan, a Nagoya-based LCC that the Malaysia-based AirAsia group expects to launch by mid-2017 as its second attempt to build an LCC in Japan.
Prospects in the domestic market are hampered by Japan's continued economic stagnation. The IMF is projecting only 0.8% and 0.5% real GDP growth for the country in 2017 and 2018, respectively, after 1% growth in 2016. Encouragingly, though, Japan's outbound air travel market showed a surprising 5.6% uptick in 2016, after shrinking three years in a row mainly because of a weaker yen. The uptick is likely to have been a result of LCC stimulation.
Inbound tourism boom
One bright spot has been a surge in inbound tourism to Japan since 2012, mainly because of a weaker yen but also aided by government policies such as a relaxation of visa requirements. It has helped boost JAL's and ANA's profits in recent years.
The multi-year surge has been all the more heartening because it began the year after the devastating March 2011 earthquake, tsunami and nuclear accident in north-eastern Japan, which caused visitor numbers to plummet by 28% in that year.
Foreign visitors to Japan have almost tripled in the past four years, from 8.4m in 2012 to an estimated 24m in 2016. In 2015 the inbound segment exceeded the outbound segment (see chart; the figures include visitors from cruise ships).
Having exceeded its goal of 20m foreign visitors annually by the 2020 Tokyo Olympics four years ahead of schedule, the Japanese government last year doubled the 2020 target to 40m and set a target of 60m for 2030. The government also set lofty goals for tourist spending, repeat visitors and visitors to regional destinations. Prime minister Shinzo Abe reportedly stated: "Tourism is an important pillar of our country's growth strategy and a trump card for regional revitalisation. It is also an engine to boost growth to achieve the ¥600 trillion GDP goal."
Tourism is a rare success story for the Abe administration and the political will now seems to be there to make things happen. The government has outlined numerous measures to aid the tourism industry, including easing regulations on private accommodation and revamping the immigration process at airports.
There have been new promotional efforts to attract more tourists from Europe, the US and Australia. According to JNTO (Japan National Tourism Organization), 41% of the record spending by overseas tourists in Japan in 2015 was by Chinese visitors, who are such big shoppers that the Japanese have a word for it: bakugai, or explosive buying. Although that market is now slowing, it will remain important because of its sheer size (see Aviation Strategy, Jan/Feb 2017).
Importantly, a further significant increase in Haneda airport slots now seems highly likely. Haneda suffers from airspace restrictions because of its position between a military air base and Narita. The government's proposals to establish new approach routes over central Tokyo have apparently received no specific objections from municipalities or community groups. The new arrival corridors would facilitate the bulk of the planned increase in Haneda slots of up to 39,000 (from the current 447,000 slots annually) by the 2020 Olympics.
Additional measures, such as the construction of more taxiways and a new international boarding area in ANA's domestic terminal, will also enable Haneda to handle more flights and passengers. Work is scheduled to begin later this year on large-scale renovations that will allow international flights to use the revamped Terminal 2 from March 2020.
All of the additional 39,000 slots at Haneda would be allocated to international service, boosting the airport's daytime international operations by 50%. This will obviously benefit not just JAL and ANA but also European and US airlines.
Infrastructure projects at Narita and elsewhere will add capacity and improve facilities also for LCCs. There are at least two more LCCTs in the pipeline: a second one at Kansai (for international flights, due to open this spring) and one at Nagoya's Chubu Centrair, expected to open by 2018 or 2019.
The transport ministry announced in January that it would discontinue the restrictions on JAL's growth at the end of March because a "sound competitive environment has been ensured" (something that ANA has said it disagrees with).
The interesting question is whether JAL will ramp up growth significantly. Rewarding shareholders is also a fashionable strategy in the Abe era.
For ANA, the question is whether there will be more acquisitions and where the next moves might be. Or will ANA prioritise shareholder returns and closing the margin gap with JAL?
In the following sections Aviation Strategy discusses the recent developments at ANA and JAL in turn.