HNA Group: creating a mysterious global conglomerate March 2016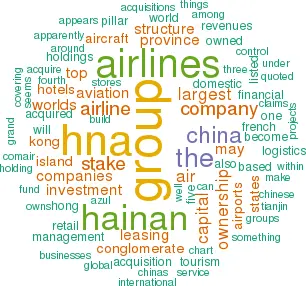 There are few conglomerates in the world of aviation born out of the establishment of an airline, and none seemingly with such overwhelming ambition as the HNA Group. Chairman and founder, Chen Feng, has stated that "by 2020 we can become one of the world's top 100 companies and by 2030 we want to become one of the top 50". And yet it is privately owned; its ownership, financial data and structure obscure and opaque.
HNA Group grew out of Hainan Airlines, now China's fourth largest airline. The airline, based in the historically piratical tropical island of Hainan, was formed by Chen Feng in 1993 in an unusual public/private partnership with the regional government of Hainan Province, later in 1995 helped by a small initial $25m investment from George Soros' Quantum Fund apparently creating the first sino-foreign "joint venture" airline. The group itself was established in 2000 — at the same time as as the CNAC's domestic industry reforms that created and promoted the top three holding companies of Air China, China Southern and China Eastern. Grand China Airlines was established as a parent company for the listed Hainan Airlines and the group acquired control of a handful of smaller carriers: Chang'an, Xinhua and Shanxi Airlines.
Now HNA Group is multinational, a sprawling conglomerate with fingers in many pies primarily relating to transport and tourism, boasting revenues of RMB190bn ($30bn) in 2015, assets of over RMB600bn and major or controlling stakes in 11 listed companies.
It lays claim to a fleet of over 820 aircraft, carrying over 77m passengers on 700 routes involving 210 domestic and international destinations (how it justifies this claim is unclear); ownership of at least 8 airports, 330 retail stores, 440 hotels, a fleet of 40 ships of various types, a shipbuilding yard, the world's largest container leasing operation, and the world's fourth largest aircraft leasing business.
The group structure seems to be set out under five main "pillars":
HNA Aviation
The aviation segment is the core of the scheduled airline business based around Hainan Airlines and its domestic Chinese subsidiaries. As shown in the ownership chart of Hainan Airlines (extracted from a recent capital issuance filing) HNA Group only has a direct shareholding of less than 5% in the capital of Hainan Airlines, and indirect interest of around 8% before eliminating cross-shareholdings but maintains management control.
It states that it operates and manages Hainan Airlines, Tianjin Airlines, Deer Jet, Lucky Air, Beijing Capital Airlines, West Air, Fuzhou Airlines, Urumqi Air, Beibu Gulf Airlines, Yangtze River Airlines, Guilin Airlines, MyCargo (Turkey), Africa World Airlines (based in Ghana), and French based Aigle Azur (48% owned). It also has a 45% stake each in Hong Kong Airlines and HK Express. In addition it has recently acquired a small 6% stake in the South African regional carrier (and British Airways franchise partner) Comair, plus a 24% stake in Azul in Brazil, a David Neeleman airline, which in turn is in the process of buying 40% of TAP Air Portugal.
HNA Holdings
The "Holdings" pillar appears to incorporate the group's investments in airports, retail and real estate.
Under HNA Airports it claims ownership and operation of eight airports in China, with maybe five others under "cooperation projects", dealing in total with 35mppa. These encompass Haikou Meilan, Sanya Phoenix, Qionghai Bo'ao, (all three on Hainan Island), Yichang Sanxia (Hubei Province), Weifang Nanyuan (Shandong Province), Manzhouli Xijiao (Inner Mongolia), Anqing Tianzhushan (dual military/civil in Anhui Province), Tangshan Sannühe (dual military/civil in Heibei Province) and Songyuan Chaganhu Airport (new build, Jilin Province, due to open 2016). Haikou Meilan and Sanya Phoenix are the two largest airports on Hainan with passenger throughput of over 16mppa each, while Qionghai Bo'ao is a new build on Hainan island that opened in March.
The group is looking for investment further afield and had been short-listed for a bid to acquire London City airport with a £2bn price-tag. (They apparently narrowly missed out to Ontario Teachers).
As of the end of 2015 the company states that HNA Real Estate held investments in over 40 cities, with 41 projects covering around 6 million m2 under construction. It holds 20 property projects including office buildings, businesses, hotels, and apartments, with an area of 867,000m2 and is currently developing 10,000m2 Hainan's CBD and a 49,000m2 Pearl River man-made island.
HNA Retail claims ownership of brands like (quoted) Xi'an Minsheng department stores, Hunan Joindoor supermarkets, Baoji Retailing, Shanghai Jiadeli supermarkets, Hainan Seaview International Plaza, and nearly 330 outlets with operational areas of over 1.2 million m2.
HNA Capital
HNA Capital is the Group's financial sector arm. There is not a lot of information. The group states that "its main businesses are leasing, insurance and trust etc. It has traditional and innovative financial services such as securities, banking, futures, fund, investment banking, insurance and wealth management etc, and has obtained licenses covering all financial industries."
In this core segment lies its investment in quoted Bohai Leasing in partnership with which, following the acquisitions of SEACO and Cronos from GE, it has become the world's largest container leasing company.
In 2010 the group acquired Australian Allco, transferred its base of operations to Hong Kong as an aircraft lessor and changed its name to Hong Kong Aviation Capital (later partly reversing it into Bohai).
Following the acquisition of Avolon in 2015 the group has emerged as the world's fourth largest aircraft leasing company. It obviously has further ambitions and was reputed at the and of 2015 to have been in talks to acquire AWAS from Terra Firma for something over $2bn.
HNA Tourism
Under HNA Tourism the group owns tourist agency Caissa Touristic, which it claims to be China's top outbound tour operator, with more than 200 retail stores. It also owns TransForex — China's first non-financial institution that is qualified to provide individual domestic and foreign currency exchange service and has 52 service outlets covering 23 cities.
Under this pillar it also includes "HNA Hospitality Group" which it states owns and manages over 450 hotels "at home and abroad" (including brands such as Tangla Hotels and Resorts and NHA Hotels and Resorts). In addition, perhaps within this sector is included the group's 29% shareholding in Spanish hotel group NH Hoteles.
In 2015 the Tourism group signed a strategic alliance with Pierre & Vacance-Center Parcs involving HNA Group taking a 10% stake in the French listed company and a promise of a $1bn investment in Center-Parcs developments within China.
HNA Logistics
The "logistics" pillar includes shipbuilding (through Jinhai Heavy with an annual build capacity of 6m dwt), marine transport (with 50 ships "of different kinds"), along with cold-storage solutions and logistics payment exhanges. Through subsidiary Tianjin Tanhai (formerly Tianjin Marine Shipping) the group acquired in early 2016 Californian-based IT supply chain management company Ingram Micro for $6bn.
HNA Ecological Technology
HNA appears to have created a sixth "pillar" to be positioned as the holding group for hi-tech businesses. We have no idea what this will entail except that it may have something to do with "big data".
Acquisition trail
HNA Group was proud last year to be able to announce that it had got into the Fortune Global 500 list of the world's largest companies at number 464 (with $26bn of revenues but only $206m of profits — a margin of 0.8%). Among aviation companies, it is not far behind IAG in the rankings, and nominally shows revenues only 40% below those of American Airlines — the highest ranked airline in the Global 500 list at number 257 (see chart).
To live up to the wish to become one of the top 100 by 2020 and in the top 50 by 2030, it will probably need to generate average annual growth in revenues of over 25% a year in the next five years (asssuming the rest of the world stands still). It is very unlikely to be able to do this organically.
As a result it has been on an accelerating acquisition trail in the past five years (see table); and in 2015 itself seems to have spent something over $12bn buying among other things Swissport and Avolon, and stakes in Comair and Azul. It kicked off 2016 by acquiring Ingram Micro for HNA Logistics for yet another $6bn and apparently injecting another $1bn into Avalon/Hong Kong Aviation Capital.
It has been rumoured to be in other discussions — among other things to acquire a major stake in Spanish tourist group Globalia, or to buy aircraft lessor AWAS. It may even be interested in joining the bidding war for Virgin America, currently subject to approaches separately from JetBlue and Alaskan.
Some of the acquisitions seem to have little commercial logic — although to be fair it may just be a different logic.
The acquisition of a 48% stake in Aigle Azur in 2012 was said at the time to be to allow it to develop routes from Europe into China using French traffic rights whereas it, through Hainan Airlines, was restricted by the PRC policy of one Chinese airline per international route.
It might have been thought possible to lease an A330 to the French operator to access eg Paris-Beijing. In April 2015 the two companies announced a code share on Hainan Airlines' three times a week Paris-Xi'an-Hangzhou service.
Equally it seems difficult to understand how beneficial it can really be to hold a 6% stake in Comair (when Hainan does not fly to South Africa), or a 24% stake in Azul (when it does not fly to Brazil). We can only assume that there is some very long term view of strategy that we are missing.
Opacity
Analysing a privately owned conglomerate is not an easy task — the company is under no obligation to make public any information it does not want to, or justify any public statements it does make.
In April 2015 the group issued $350m 5.5% two-year bonds in Hong Kong (listed in Singapore) through Grand China Air (HK) — a wholly owned subsidiary of Grand China Air — and guaranteed by them and quoted Hainan Airlines. In the offering circular they showed the ownership relationships between the group and Hainan Airlines. We show a simplified form of the organisational holdings in the chart. This representation of the structure perhaps raises more questions from what is missing than it answers from what it shows.
The internal ownership structure looks as if it might be designed to confuse — and may be reminiscent of the structure of, for example, the Korean Chaebol, in that management control in "subsidiaries" is maintained within a family of investors with minimal direct equity investment and convoluted indirect shareholdings. We assume that many of the other parts of HNA Group by extension will be organised in a similar fashion.
The difficulty with this structure is that the ultimate holding company has no right to consolidate the finances of its holdings (particularly the cash and cash flow). This also raises the question of where the money is coming from to fund the acquisitions. While things are going well this may not be a problem.
The group states that "HNAers [its employees] will always bear in mind the vision of 'constructing a world-class conglomerate with China Dream', carry forward the entrepreneurship of 'brave to explore, persist in change, continue to innovation, strive for excellence', and make greater contribution to the society and mankind, and establish a world-class conglomerate. It is a due responsibility of 180,000 HNAers to fight for the rejuvenation of Chinese nation and contribute to realisation of the China Dream".
HNA Group appears particularly well connected politically — in its home base of Hainan Island and the PRC. It may well achieve its plans. The rest of the world (and investors) beware.
HNA GROUP SELECT RECENT ACQUISITIONS
| | | | | | |
| --- | --- | --- | --- | --- | --- |
| Target | Stake | Year | Sector | Country | Est Value (US$m) |
| Australian Allco Rental† | | 2010 | Aircraft leasing | Australia | 150 |
| SEACO | | 2011 | Container leasing | US | 1,050 |
| Ghanaian AWA | 49%‡ | 2012 | Aviation | Ghana | na |
| Aigle Azur | 48% | 2012 | Aviation | France | 40 |
| TIP Trailer Leasing | | 2013 | Trailer leasing | Netherlands | 400 |
| NH Hoteles | 29% | 2014 | Hotels | Spain | 900 |
| Cronos | | 2014 | Container leasing | Caribbean | 600 |
| Swissport | | 2015 | Aviation | Switzerland | 2,800 |
| Avalon | | 2015 | Aircraft leasing | Ireland | 7,600 |
| PVSA | 10% | 2015 | Tourism | France | na |
| Reuters HQ Office | | 2015 | Real estate | London, Canary Wharf | 280 |
| Comair | 6% | 2015 | Aviation | South Africa | 13 |
| Azul | 24% | 2015 | Aviation | Brazil | 450 |
| Ingram Micro | | 2016 | Logistics | US | 6,000 |
Notes: † seat transferred to Hong Kong, renamed as Hong Kong Aviation Capital. Later part reversed into Bohai Leasing. ‡ Regional start-up. Estimated maximum foreign ownership.
HNA GROUP AIRLINES' FLEETS
| | | | | | | | | | | | | | | |
| --- | --- | --- | --- | --- | --- | --- | --- | --- | --- | --- | --- | --- | --- | --- |
| Aircraft Type | Capital Airlines | Chang An Airlines | Fuzhou Airlines | Grand China Air | Hainan Airlines | Hong Kong Airlines | HK Express | Lucky Air | Tianjin Airlines | Urumqi Airlines | West Air | Yangtze River Express | MyCargo | Total |
| 190 | | | | | | | | | 41 | | | | | 41 |
| 195 | | | | | | | | | 2 | | | | | 2 |
| ERJ-145 | | | | | | | | | 22 | | | | | 22 |
| 737 Classic | | | | | | | | | | | | 19 | | 19 |
| 737 NG | | 4 | 7 | 3 | 116 | | | 22 | | 6 | | 2 | | 160 |
| A320 | 54 | | | | | 9 | 13 | 7 | 22 | | 20 | | | 125 |
| 767 | | | | | 3 | | | | | | | | | 3 |
| 787 | | | | | 10 | | | | | | | | | 10 |
| A330 | 2 | | | | 22 | 18 | | | | | | | | 42 |
| 747 | | | | | | | | | | | | 3 | 4 | 7 |
| Total | 56 | 4 | 7 | 3 | 151 | 27 | 13 | 29 | 87 | 6 | 20 | 24 | 4 | 431 |