The beginning of the end for Europe's charter airlines. March 2015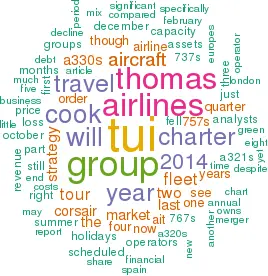 2014 was yet another year of structural decline for the All Inclusive Tour (AIT) market, and 2015 will be no different, despite the attempts of Europe's "Big Two" tour operators — TUI Group and Thomas Cook Group — to differentiate their products and shore up margins. But while the AIT market may survive for a while longer, it looks like the beginning of the end for the remaining charter airlines.
Aviation Strategy has been tracking the decline of the AIT market since 2002 (see the April 2013 issue for our last article), and the diminishing importance of the charter sector continues year-after-year. As seen in the chart (right), UK charter passengers fell yet again in 2014 (for the 13th year in a row), by some 2.2m passengers in just 12 months, and the current annual total of 17.1m is a mere 50% of the level it was in 2002. In terms of the split of scheduled versus non-scheduled capacity offered by UK airlines (see chart, bottom right), non-scheduled ASKs fell to 14% in 2014, its lowest ever proportion.
This erosion of the market comes despite improvements in outbound economies through Europe. In its latest quarterly report (released in February), the European Travel Commission says that visitor nights outbound from Germany to Spain grew by almost 15% in 2014, with visitor nights to Spain out of the UK rising by an even better 16%. The problem, however, is that whereas 30 years ago the vast majority of summer trips to Spain from the UK and Germany were package holidays, in today's world a huge part of this demand "leaks" (from a charter industry point of view) onto scheduled airlines, and most specifically the LCCs.
The only good news is that a procession of managemers at Europe's AIT operators, who held an attitude that the fundamentals of the charter industry were inviolable, has finally been broken; and a new breed of executives have realised that structural decline — due to the ease of travellers being able to put their own packages of flights and hotels together from LCCs and independent travel websites — will never go away.
As we covered in our last article, the new emphasis from tour operators is on jettisoning lower margin holidays, becoming more flexible (particularly in terms of owning versus leasing assets) and building up a portfolio of more profitable specialist holidays and related services. At the same time both TUI and Thomas Cook have been cutting costs relentlessly through their travel empires, and inevitably the spotlight is now falling on their charter airlines, which are usually the lowest margin part of the tour operator value chain — and therefore the most vulnerable to being outsourced.
TUI Group
In June last year TUI Travel (formed by the merger of the UK-based First Choice Holidays and the tour operating division of TUI AG, the Hannover-based German travel and shipping conglomerate, in 2007) announced plans for a full merger with TUI AG — which at that point owned 56% of TUI Travel — with TUI Travel formally de-listing from the London stock exchange In December 2014.
The share price chart (right) shows the market's positive view of the progress that Crawley-based TUI Travel had made in changing its strategy in the two years prior to that de-listing. Though the newly-named TUI Group has had little time to build up a track record, its first quarter results for the 2014/15 financial year (covering October to December 2014) saw a 5.4% rise in revenue (on a like-for-like basis with the constituent parts of TUI Group under their previous ownerships) to €3.5bn, with an underlying EBITA loss of €120m compared with a €141m as of the same quarter a year ago. (It's important to note that western tour operators usually post losses in the first-half of their financial years as they have significant costs but relatively little revenue in the period before the summer holiday season). The group's net debt stood at €1.6bn as at December 31 2014 (compared with €1.8bn a year earlier).
Clearly TUI Group can only be assessed properly once the ongoing process of integration between TUI Travel and TUI AG (which owns 323 hotels and four cruise ships) is completed. Some analysts have been sceptical of the tangible benefits of a merger, though TUI estimates they will produce €45m of cost savings on an annual basis.
The immediate implications for TUI's mix of assorted charter airlines and myriad aircraft types (see table, above) — all inherited from TUI Travel — are still unclear; the fleet was not mentioned once in TUI Group's 64-page first quarter report.
As the table, xx suggests, there is an obvious need for a reduction in airline brands and aircraft types. The TUI Group fleet has a total of 120 aircraft (with 68 on order), comprising 33 737s, 14 757s five 767s and seven 787s at Thomson Airways; 25 737s at TUIfly; 17 737s, one 767, one 787 and two Embraer 190s at Jetairfly; four A330s and three 747s at Corsair; and six 737s and two 767s at TUIfly Nordic. On order are three 737-800s and 60 737Maxs (the latter order was placed in July 2013).
It's inevitable that rationalisation (or "bundling", as TUI Group sometimes refers to it) will occur, though this may not be easy given the ageing profile of some of the aircraft. An initial attempt to simplify the fleet has already run into trouble, according to a report by Bloomberg, when in early March negotiations between TUI and Group Dubreuil (which owns Guadeloupe-based Air Caraïbes) for the latter to acquire the Corsair fleet from TUI group broke down.
With A330s and 747-400s, Corsair is by far the most "ill-fitting" of the TUI Group airlines, as its aircraft are simply too big for charter operations (the 747s, for example, operate 533 seats in a two-class layout). As a result Corsair has been loss-making for TUI Travel (and now TUI Group) since 2008, but remarkably the previous TUI Travel did little to rectify the situation. Sources indicate that Corsair will still be sold sooner rather than later, with the emphasis then being on uniting the remaining airlines in the TUI Group, alongside model simplification.
Thomas Cook Group
Like TUI, the Thomas Cook Group has changed strategy over the last few years, largely thanks to chief executive Harriet Green, who was appointed in July 2012 and set about transforming the tour operator by selling non-core assets, cutting costs by at least £350m annually (of which £140m are in the UK business and another £210m being group-wide initiatives).
In 2013/14 (the 12 months ending September 30th 2014) the group's revenue fell 7.8% to £8.6bn, EBIT crept up to £54m from £13m a year earlier, and the net loss improved from £163m in 2012/13 to £114m in 2013/14. For the October-December 2014 period (as with TUI, the first quarter of the 2014/15 financial year), Thomas Cook's revenue fell 8.3% to (£1.5bn), with an underlying EBIT loss of £53m, a slight improvement on the £56m loss in the comparative quarter a year earlier.
Significantly, however, Thomas Cook's effective turnaround commenced later than at TUI, and as a result there's much still to do — most notably with the group's debt pile, which still stood at £1.3bn as the end of December 2014, just £24m lower compared with 12 months previously. That debt includes £78m of commercial paper that matured in February this year, and a hefty £311m Euro bond that matures in another few months, in June.
It therefore came as a shock to many analysts when Green left suddenly in November 2014, to be replaced by the then COO, Peter Fankhauser. In the statement announcing her immediate departure Thomas Cook mentioned the share price had recovered from a low of 14p to around 130p over the period she was at the helm — but despite denials by Green and Thomas Cook, it was clear to most analysts that the turnaround was not yet complete.
As with its key rival, the Thomas Cook Group has an assorted mix of airlines and models; the fleet currently includes 86 aircraft at Thomas Cook Airlines (14 A321, four A330s, eight 757s and three 767s); Thomas Cook Airlines Scandinavia (one A320, eight A321s and four A330s); Thomas Cook Airlines Belgium (one A319 and three A320s); and Condor (10 A320s, five A321s, 13 757s and 12 767s). And on order at Thomas Cook Airlines Scandinavia are four A321ceos.
As we noted in our last article on the AIT market, progress towards fleet rationalisation has been "glacial" — though there is now much better co-ordination between those group airlines in areas such as procurement, finance and IT.
However, a major shift in strategy appears to be occurring. The group already buys in 45% of its seat capacity (split equally between charter and scheduled airlines), and in its latest annual report (released in January) Thomas Cook says that "in recent years there has been a significant increase in airline capacity, specifically in low-cost carriers, which has led to very competitive pricing".
It may be coincidental with the timing of Green's departure (and maybe not, according to one analyst), but there is significant chatter among analysts that the group is touting its airline assets to other airlines. All Thomas Group will say on the matter is that "we see it as an important part of our business and a support of our profitable growth strategy, but of course, we are always open for opportunities". That's clearly not an outright denial, and a sale of all (or at least a major part) of its aircraft capacity) must now be realistic possibility in the short- to medium-term.
That's assuming a buyer can be found at the right price; as TUI found out with Corsair, prospective buyers will no doubt be extremely hard negotiators on price in what is effectively a fire sale of an eclectic mix of aircraft in an overwhelmingly buyers' market for second-hand aircraft.
Though it's unlikely to reverse any strategic decision to sell the fleet, it's interesting to note that in March the Shanghai-based conglomerate Fosun International bought a 5% stake in the Thomas Cook Group for £92m, and has vowed to increase its share to 10% over time through buying shares on the open market.
Fosun acquired French tour operator Club Med for €939m in February this year, and though initial external analysis has focussed on the potential for attracting Chinese holidaymakers into Europe, in a statement Thomas Cook Group calls Fosun's move a "strategic partnership", and specifically mentions the potential for "collaboration opportunities with Fosun's other travel and leisure businesses, including Club Med".
Monarch Airlines
Monarch will disappear from the diminishing ranks of charter airlines in June this year when it fully turns into an LCC. The troubled airline (see Aviation Strategy, October 2010) was sold to London-based Greybull Capital in October 2014 just hours before its licence with the CAA expired. Greybull now owns 90%, with the remainder held by the company's pension fund.
Based at London Luton airport, the airline's fleet has eased down to 40 aircraft, comprising 27 A321s, eight A320s, two A330s, two 757s and a single A300. In October last year — just a week after its change of ownership — it ordered 30 737 Max 8s, for delivery from 2018 until 2020, which join an order for two A321s that will be delivered this year.
The airline's new strategy is clear — the A330s, 757s and A300 will all go in the short-term and eventually the airline will become a 737 Max 8 specialist, concentrating (from this summer) on European short-haul routes on a scheduled basis and under a low cost operating model
700 redundancies from the pre-deal workforce of 3,200 are being accompanied by a reduction in pay of as much as 30% for the surviving positions, and Monarch's operations at East Midlands will close this summer, leaving five operational bases — Luton plus London Gatwick, Manchester, Birmingham and Leeds-Bradford.
As a LCC, Monarch will compete head-on with easyJet, Ryanair and others, but ironically maybe its charter heritage will help pick it up substantial seat business from Thomas Group if that company does sell off its charter assets.
Thomas Cook Aircraft Fleet
Thomas Cook Airlines
Aircraft
UK
Belgium
Scandinavia
Condor
Total
Orders
757
13
8
21
767
12
3(1)
15(1)
1
A320
16(7)
4
10
15
45(7)
7
A330
4
4
8
Total
41(7)
4
14
30
89(8)
Note: Orders in brackets
TUI Group Aircraft Fleet
| | | | | | | | |
| --- | --- | --- | --- | --- | --- | --- | --- |
| Aircraft | Arke | Corsair | Jetairfly | Thomson | TUIfly | TUIfly Nordic | Total |
| 737 | 5 | | 17(1) | 33 | 25(3) | 6 | 86(4) |
| 757 | | | | 14 | | | 14 |
| 767 | 2 | | 1 | 5 | | 2 | 10 |
| 787 | 2(1) | | 1 | 7(2) | | | 10(3) |
| A330 | | 4 | | | | | 4 |
| 747 | | 3 | | | | | 3 |
| E190 | | | 2 | | | | 2 |
| Total | 9(1) | 7 | 21(1) | 59(2) | 25(3) | 8 | 129(7) |
Note: Orders in brackets
Monarch Airlines Fleet
| | | |
| --- | --- | --- |
| Aircraft | In service | Orders |
| A320 | 35 | 1 |
| A330 | 2 | |
| 737 MAX 8 | | 30 |
| 757 | 2 | |
| Total | 39 | 31 |