Aegean: Very efficient, very profitable and Greek March 2015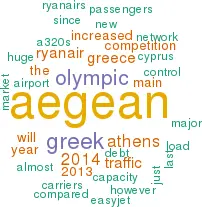 Greece has suffered terribly in the recession — real GDP has fallen by 25% since 2007, unemployment is out of control, traditional political parties are in disgrace and a neo-Marxist party, Syriza, won the recent election but has, as it has rapidly discovered, almost no control over the austerity measures and debt repayments demanded by the Troika to bring down national debt. Yet Athens-based Aegean Airlines, a hybrid carrier, is showing a level of profitability second only to Ryanair.
At the end of March Aegean announced its 2014 financial and operational results:
Capacity (ASKs) increased by 13.6%;
Average load factor increased to 77.3% from 74.4%;
Revenue for 2014 amounted to €911.8 m, 7% up from €850.0m in 2013;
Operating profit totalled €146.4m, a margin of 16.0% (compared to EasyJet at 13% and Ryanair at about 18%);
Net profit amounted to €75.6m, a margin of 8.3%;
The balance sheet has zero debt (liabilities from financial leasing contracts amount to €8.4m) while cash and cash equivalents stand at €218.4m.
If nothing else, these figures show how successful some companies in the Greek private sector can be in contrast to the profligate chaos of the public sector. There are three interrelated factors behind Aegean's performance.
First, Aegean has found a rare niche where the hybrid airline model works. The airline has a fleet of 36 A320 Family aircraft plus 12 Q400s and two Dash 100s (essential for the tiny PSO airports inherited from Olympic), carrying 10.1m passengers last year. The A320s are operated with a business class section at load factors in the upper 70s, comparable to network carriers rather than LCCs which are now averaging load in the low 90s. Although there is important connecting traffic between the Greek islands and Athens. Aegean internationally is a point-to-point airline
Aegean achieves average revenue per passenger of just under €100 compared to €94 for EasyJet ( (with a much higher proportion of ancillaries in the total) but Aegean manages to control unit costs at LCC-type levels — its 4.6 cents per ASK ex-fuel is almost exactly the same as easyJet's.
The main base is at Athens (AIA), a modern, efficient airport, is a major asset despite the fact that it levies the highest airport charges in Europe. Significant discounts on new routes and services have, however, been implemented following the 2013 sale by Hochtief of its 40% share to a Canadian pension fund. AIA, however, rejected Ryanair's offer of delivering 10m passengers if fees were halved. For Aegean the charge structure affords some protection from massive LCC incursion at its main base. In the summer peak 2014 Aegean accounted for 49% of seat capacity at Athens compared to 4% for EasyJet and 6% for Ryanair.
Athens' geographical position on the southeast corner of Europe also limits competition from the major network carriers whose main interest in this market is for feeder traffic, supplemented by high yield local passengers, to their main hubs. Aegean can easily compete on price for local traffic with BA and Air France, while, in the German market, it codeshares with Lufthansa as a Star Alliance member.
Second, Aegean was finally able to take over Olympic in 2013. Aegean since its start-up in 1999 had to endure state-subsidised competition from the grossly inefficient flag-carrier. But when Olympic was finally put up for privatisation in 2008, using an innovative structure which insulated the purchaser from legacy labour agreements and legal problems, Aegean did not join the bidding, assuming logically that the process would fail, as the previous five attempts had failed. In the event Olympic was bought by Marfin Investment Group (see Aviation Strategy, April 2010), and Aegean and Olympic immediately embarked on a vicious domestic fare war just before air traffic volumes collapsed as the economic crisis enveloped Greece. The rational response, with Olympic making huge losses and Aegean itself in the red (see graph) was a merger of the two carriers. However, the European Commission blocked this action, citing competition concerns, until a deal was agreed in 2013 when Aegean in effect took over Olympic.
The Aegean CEO, Dimitris Gerogiannis, has a reputation for efficiency (his background was in engineering in Germany), and under his direction the integration of Olympic appear to have gone smoothly. Indeed, the Olympic brand is being rationalised out of existence.
Third, 2014 Greek prices have fallen markedly as a result of the recession, restoring the competitiveness of the Greek tourism industry and causing traffic to rebound. Tourist arrivals in Greece rose by 15.4% in 2014 to about 23m. At Athens total passenger volume increased 22% to 15.2m, though this was still one million below the 2007 total.
Aegean is in expansionist mode, growing with the recovery in Greek tourism. In 2014 it increased its international destinations to 47 from 32 in 2013 and grew capacity by over 1m seats. In 2015 it will add a further 16 destinations — Helsinki, Toulouse, Deauville, Metz, Pisa, Malta, Amsterdam, Alexandria, Sharm-el-Sheikh, Paphos, Riyadh, Tallinn, Oslo, Tehran, Yerevan and Dubrovnic — and increase frequency throughout the network. About 2m seats will be added with seven new A320s being delivered throughout the year (one more than previously scheduled).
The strategic focus is on Larnaca in Cyprus where Aegean is in advanced negotiations with the Cypriot government to take over Cyprus Airways which has been in bankruptcy and grounded since last November. It is not clear what exactly Aegean would be buying but it plans to fly from Larnaca, where is bases four A320s, to London, Paris, Munich, Milan, Zurich, Tel Aviv, Kiev and Beirut. Ryanair strangely is also a bidder for Cyprus Airways though Aegean management now think that Ryanair will concentrate on more traditional service to Paphos, the other major airport on the island.
Ryanair's expansion into the Greek market is perceived as a threat to Aegean. But although it has instigated 13 routes into Athens (and will add Berlin later this year), Ryanair's focus appears to be on international and seasonal services to the island airports and Thessaloniki, Greece's second city in the province of Macedonia. In the peak season last year only 20% of Ryanair's Greek capacity was allocated to Athens. Because of the different networks and products Aegean should be able to live with Ryanair, just as Aer Lingus adapted its model to Ryanair competition, and benefitted as a result.
The huge threat is Greexit. The large majority of Aegean's costs are in euros or dollars and would remain in them if Greece abandoned the euro. As a rough estimate 50% of its ticket revenue would have to be sold in New Drachmae, a currency which almost inevitably would depreciate rapidly. While it might be argued that joining the euro, using very dodgy national accounts, was a huge mistake for Greece and the EU, leaving the Eurozone would be catastrophic for dynamic Greek enterprises like Aegean which are essential to the country's fragile economic recovery.
Aegean Group Fleet
| | | |
| --- | --- | --- |
| Aircraft | In service | On order |
| A320 | 28 | 7 |
| A321 | 6 | |
| A319 | 2 | |
| Q400 | 10 | |
| Dash 100 | 4 | |
| Total | 50 | 7 |