Air Berlin: Overcomplicated business model? March 2012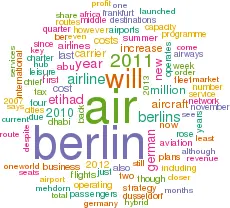 After poor financial results in the first half of 2011, Air Berlin replaced its CEO and launched a major cost-cutting and revenue-boosting programme. Can the second largest airline in Germany return to the black, or will its hybrid LCC/full-service/charter business model prove to be too complicated to manage profitably?
Air Berlin dates back to 1978, but as noted a few years ago (see Aviation Strategy, November 2007), the rapid expansion of the carrier in the late 2000s and its purchase of dba and LTU led to a complicated strategy of competing in both leisure and business markets on both medium- and long-haul.
Calling itself a "hybrid" airline, Air Berlin attempts to combine elements of a low fare/LCC while operating as a full-service network airline in most other aspects (via an FFP, serving primary airports etc) — as well as having a substantial charter business in Germany and other markets.
Today the Air Berlin group (which includes Air Berlin, NIKI and Belair) operates to more than 170 cities and leisure destinations in 40 countries throughout Europe, Africa, Asia/Pacific and the Americas from four hubs – Berlin, Dusseldorf, Vienna and Palma de Mallorca.
Air Berlin's recent financial performance has been poor. In fact Air Berlin hasn't recorded a net profit since 2007, and in 2010 — while revenue rose 15% to €3.8bn and traffic rose 16% (see chart, page 7) — it dipped into an operating loss of €9m. That was the first operating loss since 2005 – though in the four years between 2005 and 2010 cumulative operating profit had only been €114m in any case. Most worryingly for Air Berlin, the net loss in 2010 worsened from €9m in 2009 to €97m in 2010. However, Air Berlin was hit hard by the Icelandic volcano eruption of 2010 and it was hoped the carrier would bounce back strongly in 2011.
That wasn't to be. In the first nine months of 2011, Air Berlin recorded a 11.5% rise in
Air Berlin blamed the poor 1Q-3Q results result on a host of reasons ranging from the German aviation tax to reduced demand for North African destinations. Air Berlin claims that without the tax, which was levied from January 2011, it would have reported a pre-tax profit in the first nine months of 2011. The tax will cost Air Berlin an estimated €170m in 2011, the airline says, and although it is due to be reviewed by the German government this year it is "is impossible to pass on to customers due to tough competition", according to Hartmut Mehdorn, the new chief executive of Air Berlin.
Air Berlin is heavily dependent on the leisure sector – in 2010 more than 31% of all revenue came from bulk ticket sales to charter and package tour operators, and there's little doubt that it has been hit significantly by the "Arab Spring" of 2011, and specifically political unrest in Egypt and Tunisia. According to the World Travel & Tourism Council, tourist arrivals to Egypt fell by 45% in the first quarter of 2011, while the World Tourism Organization says that international tourism arrivals fell by 12% in North Africa during the whole of 2011, to 16.4 million — equivalent to 2.3 million fewer tourists — while by compari
Cost problems
However, Air Berlin's complaints against the aviation tax mask more fundamental cost issues for the carrier. Taking 3Q 2011 (traditionally Air Berlin's strongest quarter), and ignoring extraordinary items, costs per ASK rose to €cents 6.90 from 5.99 in the third quarter of 2010 – a 15.2% rise. But if the aviation tax is stripped out, CASK would have still risen 10.5% in Q3, from €cents 5.99 in 3Q 2010 to 6.22 in 2011. And even after ignoring fuel costs and the aviation tax, CASK rose from €cents 4.6 in 3Q 2010 to 4.89 in 3Q 2011 – representing a 4.5% increase in underlying non-fuel, non-tax costs.
And looking at the cumulative January-September 2011 bridge figures (i.e. where financials varied year-on-year) the picture is even clearer. EBIT worsened by a staggering €161m in 1Q-3Q 2011 compared with 1Q-3Q 2010, and costs became higher in virtually every part of the cost stack. So while the German aviation tax added €126m of costs and fuel an extra €176m of cost, all other costs at the airline rose by a considerable €197m.
Clearly the underlying cost base at Air Berlin was still rising last year, even though in early summer the (soon to be ex) chief executive Joachim Hunold insisted that: "I maintain that we can achieve a positive operating result despite the difficult first quarter of 2011." That prediction soon proved to be wrong, and immediately after reporting a second quarter loss Air Berlin launched a new "Shape & Size" restructuring and cost-cutting programme, in August 2011. Just a month later Hunold – chief executive since 1990 – resigned and was replaced by Mehdorn, who was previously chairman of Deutsche Airbus. In November, Air Berlin also appointed a new chief operating officer- Helmut Himmelreich (formerly the airline's chief maintenance officer), who replaced Christoph Debus.
Mehdorn has made Air Berlin's new priorities abundantly clear, saying that "in recent years Air Berlin has been concerned primarily with gaining market share. Now we are securing our achievements, and it is essential that we return to profitability for this to be possible".
"Shape & Size"
The "Shape & Size" programme includes no less than 30 separate work streams to either cut costs or improve efficiency in order to improve the bottom line by at least €200m in 2012. Of that €200m, around €100m is to come from increased yield and load factor, €50m will come from enhanced network and €50m from cost-cutting (to come from back office/admin costs, increased automation of processes, and better crew efficiency planning).
Air Berlin currently employs 9,200 but as the chart (see page 8) shows, the airline has been struggling to increase productivity as measured by ASK per employee over the last few years.
In terms of the group fleet, this will fall from 171 (with an average age of five years) to just over 150 by the summer season of 2012 (see table, page 8), with a number of leased aircraft having their leases cut short, before nudging up to more than 160 by the end of 2014. All but 15 aircraft in the current fleet are narrowbodies, including 72 A320 family aircraft and 67 737NGs. The widebodies are A330s.
There are 64 aircraft on firm order (with another 45 on option), comprising seven 737-700s, 39 737-800s and 18 787-8s. In October last year Air Berlin deferred the delivery of 11 A320 and eight 737 aircraft due to be delivered in 2012 and 2013 until 2015-2016, leaving 31 aircraft to be delivered in 2012 to 2014. This year Air Berlin will receive 11 737-800s and a number of A320s. The key effect of this is to reduce capex requirements by $0.5bn in 2012 and €1.1bn in 2013.
However, Air Berlin adds that its fleet plans – particularly in 2013 and 2014 – will retain an element of flexibility dependent on operational need. Helping will this flexibility is Air Berlin's current reliance on leasing, with 80% of its fleet leased, including all its A330s and the majority of its Airbus and Boeing narrowbodies.
Total available capacity has already been reduced by more than one million seats in the second half of 2011, as last summer — as soon as "Shape & Size" commenced — a number of international and domestic routes that were loss-making or of no "strategic importance" were immediately cancelled, including the key trunk route between Hamburg and Frankfurt, which faced fierce competition from Lufthansa.
The prime focus of the route-cutting though has been on intra-European routes from regional German airports, while a secondary priority has been to reduce the capacity imbalances between the summer and winter seasons. Later this year, in November, Air Berlin will close its operations at Dortmund and Erfurt – although the carrier has less than 80 staff members based at Dortmund and Erfurt combined, and only one aircraft stationed at Dortmund (with none at Erfurt). Altogether capacity in the 11/12 winter programme fell by 1.5 million seats (equivalent to 7.6%) and the summer 2012 capacity will drop by 0.8 million seats (3.1%) year-on-year.
The network priority for Air Berlin is now to build up feeder traffic into its four hubs. Of these, Palma de Mallorca is the centre for Air Berlin's charter business; Air Berlin finally completed integration with LTU International Airways (which it bought back in August 2007) in April last year, and that long length of time clearly indicates that all has not gone well in integrating the airline with the rest of Air Berlin's business.
Closer to home, NIKI and its base at Vienna is seen as a key gateway into eastern Europe, and last October the two airlines announced a tighter co-ordination of their schedules between German cities, Vienna and onto Bucharest, Sofia and Belgrade. Air Berlin also increased its flights to Moscow and St Petersburg from four German and two Austrian cities to 50 flights a week.
A new Berlin
At the third hub, Dusseldorf, a route to Las Vegas will start in May this year, with A330s operating twice a week; no other carrier currently operates on the route. However, it is Berlin that remains the prime hub for the airline, and Air Berlin will get a major boost when Berlin Brandenburg International (BER) airport opens in June 2012. BER is located 18km south of Berlin in Schoenefeld (to the south of the current airport there) and replaces three Berlin airports — Tempelhof (which closed in 2008), Tegel (which will close in June) and the current Schoenefeld, whose terminal will close, although its runway and much of its infrastructure will be incorporated into BER. At a cost of €2.5bn BBI will have an initial capacity of 27 million passengers a year, which will be expanded gradually to 45 million a year.
Air Berlin says that the new airport will increase the number of connections that Air Berlin can offer in the city from 1,500 to 10,500 a week, and it plans to make extensive use of BBI to increase the number of passengers it carries through Berlin airports from just over 8 million in 2011 to between 12 million and 13 million by 2020. Air Berlin (and other oneworld airlines) will have exclusive use of one of two piers at BER. Air Berlin officially became a member of oneworld on March 20th (with NIKI becoming an affiliate member of the alliance on the same date too). Since agreeing to join in the summer of 2010, Air Berlin commenced codesharing with BA in the summer of 2011 and now has codeshares with seven of the 12 oneworld carriers, including American Airlines and Iberia.
In terms of BER, Air Berlin wants to develop the facility into a truly international hub, for both European and intercontinental services. Later this year new routes will be launched from Berlin to Gdansk and Los Angeles, while at the same time the Berlin-New York service will increase from four services a week to daily flights.
However, Air Berlin faces a substantial challenge to its plans to increase passengers out of Berlin by Lufthansa, which has announced it wants to become the leading airline in the Berlin market by 2015 at the latest. This year the flag carrier is increasing its aircraft based in Berlin from 9 to 15, alongside a large increase in staff based there, from 500 to 4,000. And then there is the challenge of the LCCs – while Ryanair currently operates only six routes from Schoenefeld, easyJet has 37 routes out of there, and is a major competitor. Incidentally Air Berlin (as well as Lufthansa, though in a separate legal action) has just been granted permission by a German federal court to sue the airports of Frankfurt Hahn and Lubeck for allegedly giving Ryanair "illegal subsidies" via reduced airport charges – a charge that the airports concerned (and Ryanair obviously) deny.
The Etihad link
Air Berlin's plans for its main hub are also being affected by its new largest shareholder; in January the German regulators approved Etihad Airways' purchase of just over a 26% stake in Air Berlin, bringing its share up to 29.2% (it originally bought a 3% shareholding in early 2011). The move was achieved via the issue of 31.6m new shares in Air Berlin at a price of €2.3 each, for which Etihad paid €73m in total. Etihad also gains two seats on the Air Berlin board. Previously the largest shareholder was Turkish-based ESAS Holdings (which is the parent company of Pegasus Airlines), whose stake has now been diluted down to 12%.
The two airlines have announced a widespread codesharing agreement, closely linked FFPs, and common maintenance at Dusseldorf and Abu Dhabi; for example Air Berlin's 787s, which arrive in the middle of the decade, will be maintained for Air Berlin by Etihad Airways, which has 41 787s on firm order.
Undoubtedly the two networks are complementary – Air Berlin's 170-plus destinations being primarily in Europe and the Americas, and Etihad's 80-plus destinations being largely in Africa, the Middle East and the Asia/Pacific region. Adjustments are already being made. In January Air Berlin switched its Middle Eastern operation to Abu Dhabi from Dubai, where from January it now operates four flights a week from Berlin. Altogether Air Berlin and Etihad operate 29 flights a week from Abu Dhabi to Berlin and three other German cities – Dusseldorf, Frankfurt and Munich – and this will rise to 42 weekly flights by the end of April, including daily Air Berlin flights from Berlin and Dusseldorf to the UAE capital. This will be complemented by Etihad Airways' own Abu Dhabi-Dusseldorf service, which will increase to daily frequency from April (its other existing service to Germany operates to Frankfurt). Meanwhile Air Berlin's direct service between Berlin and Bangkok has been dropped, with Air Berlin passengers being able to transfer onto Etihad's services to Bangkok from Abu Dhabi. However, Air Berlin has also applied for approval to launch a new route between Abu Dhabi and Phuket, which although primarily a leisure destination will be operated all year round.
Etihad estimates that closer ties with Air Berlin will generate $50m for the Middle Eastern carrier in extra revenue in the first 12 months of operation. Etihad says it has no plans to increase its share further, and it has given undertakings not to dispose of its shares for at least two years.
From Air Berlin's point of view, it is forecasting that closer ties between the airlines will generate an annual EBIT impact of €66m, of which €38m will come from revenue synergies (€20m from network benefits and €18m from commercial) and €28m from cost savings (with €13m from financial savings, €10m from joint procurement and €5m from IT savings). Of that total annual benefit of €66m, between €35m and €40m is expected to be realised in 2012, though Air Berlin makes what may be slightly unrealistic assumptions that all those synergies will be realised without any "material implementation costs".
Importantly for Air Berlin, Abu Dhabi-based Etihad is to provide the German airline with a debt financing facility of more than $250m, which will last to the end of 2015. That financing will help Air Berlin with the cost of funding its extensive fleet renewal, which despite the recent order postponements will still be significant. Air Berlin issued €100m of bonds in November 2011 but the interest warrant was a hefty 11.5%, which is indicative of the higher risk now associated with the airline.
At September 30th 2011 Air Berlin's total long term debt had risen to €1bn, 3% higher than at the start of the year, but most worrying of all net debt rose to €644m, an increase of €155m in just nine months and due to "financing of on balance aircraft", according to Air Berlin.
The decline in Air Berlin's finances has given little respite to the downwards share price. Air Berlin carried out an IPO on the Frankfurt stock exchange in 2006, but after hitting more than €20 in 2007 the shares have slumped since and today they are struggling to reach the €2.40 level.
Despite the restructuring programme, it appears unlikely that Air Berlin will return to profitability in 2011 (results are due to be released towards the end of March), and one German analyst predicts that losses for last year will top at least €100m, with break-even now not expected to be seen until 2013. The traffic figures are not encouraging — in 2011 Air Berlin carried 35.3 million passengers – just 1.2% up on 2010.
A confused strategy
While the support of Etihad Airways will shore up Air Berlin's finances, at least in the short-term, the major question on Air Berlin still needs to be addressed – is its strategy right? While being a combination of a LCC/low fare airline plus a charter airline plus a full-service scheduled carrier gives the airline certain strengths, such as the ability to utilise aircraft through the peak leisure season and in winter scheduled services, it also has inherent weaknesses — such as an unfocussed management and exposure to the volatile AIT market, which is in long-term decline even despite Air Berlin's partial success in consolidating the industry in Germany. Air Berlin also owns 49% of Zurich-based Belair, which operates a fleet of 10 A320 family aircraft between German cities and leisure destinations around the Mediterranean and north Africa, and 50% of Air Berlin Turkey, a charter airline launched in November last year as a joint venture with Pegasus Airlines, though it was essentially a rebranding of former airline Izair.
In terms of operational emphasis Air Berlin had been trying to become more of a full service carrier, a move that the oneworld tie-up was supposed to help. However, the new closer links with Etihad means that development of that alliance will now surely have to be curtailed — plans to closely integrate Air Berlin's schedules with those of BA will have to be cut back, if not dropped altogether, in favour of schedule integration with Etihad. On the other hand, through connecting at Abu Dhabi with Etihad's onward network into the Asia/Pacific region, the Indian subcontinent and the Middle East, Air Berlin wi ll become much more attractive to business passengers.
Nevertheless Mehdorn continues to insist that Air Berlin will persevere with its hybrid strategy. The key question remains: is that hybrid strategy a unique market positioning that will help Air Berlin be successful in the long-term once it returns to profitability – or is that strategy the very reason why it's struggling to make a profit in the first place?
AIR BERLIN FLEET DEVELOPMENT PLANS
AIR BERLIN FLEET DEVELOPMENT PLANS
Old plan
New "Shape & Size" plan
Dec 2011
171
164
Dec 2012
178
152
Dec 2013
186
154
Dec 2014
190
162