Mexico: End to the good times? March 2012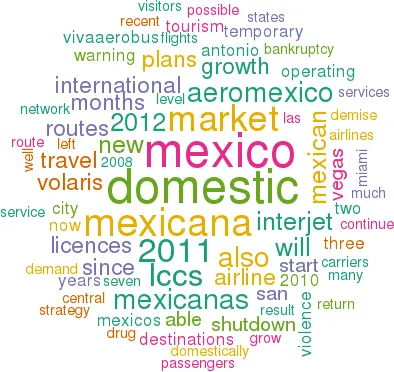 After 18 months of healthy industry conditions, Mexico's airlines face a triple whammy of challenges – rising fuel costs, an expanded Mexico travel warning from the US State Department and a possible return of Mexicana.
Airline industry conditions in Mexico have improved dramatically since Mexicana, formerly the country's second-largest carrier, filed for bankruptcy and ceased operations in August 2010. The shutdown of Mexicana and its low-cost and regional units Click and Link removed a large chunk of the overcapacity that had developed as a result of five years of intense start-up LCC activity. The many smaller-airline failures since 2007 (Azteca, Aladia, Aerocalifornia, Avolar, Alma, Aviacsa, Nova Air) have also helped create a more rational domestic pricing environment.
As a result, Aeromexico, the country's only surviving large airline, was able to stage a financial turnaround in 2010 and complete an IPO on the Mexican stock exchange in early 2011 (see Aviation Strategy, April 2011). Aeromexico recently reported strong results also for 2011: an operating profit of 3.4bn pesos ($271m) and a net profit of 2.1bn ($165m). Its operating margin was 9.6% in both 2010 and 2011, contrasting with losses in previous years.
The strongest new-entrant LCCs have been able to gain a firm foothold in the domestic market. As they raced to fill the gaps left by Mexicana, the three leading LCCs – Interjet, Volaris and VivaAerobus – increased their combined share of domestic passengers from 40% in 2010 to 55% in 2011. (Aeromexico improved its domestic market share from 36% to 40%; the remaining 5% was accounted for by Magnicharters and Aeromar.)
Mexicana's shutdown also made it easier for the top three LCCs to realise their international ambitions. Each has entered or added new service to the US. Two of the LCCs have placed major new aircraft orders.
The gaps left by Mexicana have been almost totally been filled in the domestic market, but not so internationally. Mexicana had relatively strong North, Central and South American operations, as well as some services to Europe. Only 10 of its 48 US routes (albeit 10 of the most important/lucrative US routes) and some of its Central American routes have been temporarily assigned to Interjet, Volaris or Aeromexico. However, total international flights from Mexico are actually up from the level 18 months ago; explanation: US carriers have been the main beneficiaries of Mexicana's demise in the short term.
While overall demand in the domestic market is still below the 2008 peak, growth has accelerated in recent months thanks to the numerous new services. Statistics from the Ministry of Transport and Communications (SCT) show that domestic scheduled passengers, which surged from 19.8m in 2005 to 27.6m in 2008 when LCCs entered the scene and then fell to the 24.4m level in 2009-2010 (recession, Mexicana's shutdown), grew by a promising 4% to 25.5m in 2011. January's growth was a spectacular 13.3%.
All in all, it would seem that Mexico now has, for the first time, a healthy and vibrant airline sector — not unlike the situation in the US after all the restructurings and consolidation. The surviving airlines are financially stronger, yet there are enough of them to provide tough competition domestically.
Mexicana's possible return
That equilibrium may be disrupted soon if Mexicana's latest rescue plans are successful. In February the judge overseeing
According to Dow Jones Newswires, Mexicana hopes to start flying again in April, initially with seven aircraft but with ambitious plans to grow the fleet to 44 by year-end. The airline has all the labour deals in place and the flight and ground crews ready to start working.
If it receives the capitalisation, Mexicana will then have to finalise its bankruptcy restructuring agreement with creditors, obtain an operating certificate and try to recover the necessary airport slots and route authorities. The bankruptcy judge set the ball rolling in mid-February by asking for the return of all the route licences that were temporarily granted to other Mexican carriers. In the first place, Mexicana wants back the routes linking Mexico City to Guatemala, Havana, San Salvador, Los Angeles, Las Vegas, and Bogotá; Monterrey-Chicago and Cancun-Bogotá, all of which operate under temporary licences that expire in May. The next batch would be Guadalajara-Las Vegas and Cancun-Lima in June and July.
Interjet and Volaris would both be materially affected. Interjet, which has been the largest beneficiary of Mexicana's shutdown domestically (and before that Aerocalifornia's shutdown) and operates its San Antonio and Miami routes under temporary licences, has chosen to fight the matter in the courts. While Volaris' leadership has indicated that they would cede the Los Angeles, Las Vegas and Chicago temporary licences if required to do so, they have warned that it would have a "negative impact" on the $3.9bn Airbus order. The LCCs have clearly been counting on the unused Mexicana route licences keeping them in the growth trajectory.
Interjet only went international in July 2011. San Antonio and Miami are its only US destinations, both launched in the past three months. It would be left with just two international points (Guatemala City and Havana), though it does have a 26-point domestic network.
Something like this could further delay Interjet's IPO plans, which it had to shelve in the spring of 2011. The airline has aggressive expansion plans and firm orders for 15 Sukhoi Superjet 100s, which will start arriving in the second half of 2012 (in addition to this year's six A320 deliveries).
Like Interjet, Volaris has been able to expand significantly at Mexico City and in the domestic market. It has also added seven US gateways since 2009 and now serves many of those from multiple points in Mexico. The network focuses heavily on the West Coast and benefits from a commercial partnership with Southwest, which allows the carriers to book passengers to each others' flights. Volaris is keen to continue growing both domestically and to the US, facilitated by its substantial A320 orderbook.
Although VivaAerobus has served the US market since 2008 (operating from Monterrey to Houston and Las Vegas), after Mexicana's demise it initially focused on the domestic market and only began adding new US service in 4Q11 (Chicago, San Antonio, Miami and Orlando). VivaAerobus has a more no-frills business model than the other LCCs and continues to add 737-300s to its fleet. It has plans to grow capacity by 18% and add three new US cities in 2012.
Aeromexico has been able to significantly expand its Mexico-US (as well as domestic) services since Mexicana's demise. It is now much larger, with a network covering 73 cities in 17 countries, and financially stronger, so even if it has to give up a couple of markets (at least Guadalajara-Las Vegas and Zacatecas-Chicago are on temporary licences), it should not feel too much impact from a slimmed-down version of Mexicana.
According to CEO Andres Conesa, Aeromexico will focus on the domestic market this year, as it has many E190s and E170s scheduled for delivery in the coming months. Domestic ASMs are slated to grow by 14.5% and international ASMs by 6.4% in 2012. Plans include two new US destinations — Atlanta and Washington DC – and increasing capacity to South America.
Expansion further afield will begin in earnest when the 787s start arriving in the summer of 2013. Aeromexico currently expects to take seven 787s (two from Airbus, five leased), which will replace 767s and will be deployed to places such as Buenos Aires, Santiago, Paris, Barcelona and Tokyo. In a recent speech, Conesa also mentioned Rome and London as possible later destinations (Mexicana operated to London, but any resurrected version is unlikely to be interested in intercontinental routes.)
There would obviously be a risk of overcapacity returning to Mexico's domestic market if Mexicana stages a comeback and the LCCs and Aeromexico continue on their rapid growth trajectory. This risk would be even greater if economic growth slows or demand for air travel weakens for other reasons.
On the economic front, the latest news is encouraging. Better than expected January data in Mexico and the improving US economy (Mexico's main export market) have suggested that Mexico's GDP growth in 2012 could be 4% (similar to last year's 3.9%), rather than in the 3-3.2% range anticipated earlier.
Drug violence and tourism
Potentially more worrying (not mentioned by any of the airlines) is the US State Department's decision in early February to issue a greatly expanded Mexico travel warning to Americans, who are now advised to avoid "all but essential travel to all or parts of 14 of 31 Mexican states". The reason is the drug-related crime, violence, kidnappings and killings that have plagued the country since the Mexican government stepped up its drug war in 2006. The warning covers the northern states, where the problem is worst, but also central and western states where cartels have also been warring.
Oddly enough, Mexican LCCs have so far mainly benefited from the surge of drug-related violence in Northern Mexico. As people have become increasingly afraid to take longer road trips, demand for cross-border flights for shopping trips and vacations has surged. This explains why in recent months Interjet, VivaAerobus and Aeromar have all launched service to San Antonio, Texas (a popular destination for Mexican tourists). A similar trend is likely with longer-haul domestic travel, with people increasingly preferring flying for security reasons.
But Mexico has so far also been able to minimise the adverse effects on inbound tourism. One strategy has been to diversify the sources of visitors, specifically targeting emerging markets with promotions, easing of the visa process, etc. As a result, while visitors from the US (the largest market) fell by 3% in 2011, those from Brazil rose by 66%, Russia 55%, China 30% etc. Overall Mexico attracted a record 22.67m international visitors in 2011, up 2%.
Another strategy is to focus on marketing the southeastern parts of the country that are generally considered to be safe. Fortunately the US travel warning does not cover the traditional tourist areas on the Yucatan Peninsula or Mexico City. Much of the tourist board's efforts in 2012 will go to promoting those resorts – Cancun, Cozumel and Playa del Carmen, as well as the Mayan cultural destinations. Specifically, Mexico intends to "capitalise on, celebrate and promote the start of the new Mayan calendar" (December 21, 2012).
Mexican authorities are anticipating another record-breaking tourism year in 2012. However, they can continue to deflect the effects of the drug violence on the tourism and airline sectors only for so long; concrete solutions (at the political level) are desperately needed.