Will it be all change at London Heathrow? March 2008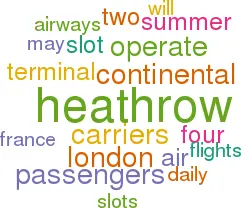 Frantic buying of slots at London Heathrow in time for the 2008 summer season has resulted in the four US non- Bermuda II carriers gaining access to Heathrow to varying degrees.
Continental has reported in a SEC filing that it paid $209m for its four daily (28 weekly) slot pairs to operate Newark and Houston flights; Delta (JFK and Atlanta) and Northwest (Detroit, Minneapolis and Seattle) have acquired three daily slot pairs while US Airways has acquired a single daily slot to operate a Philadelphia service.
Sellers of slots at LHR include: GB Airways (four), Alitalia (three), KLM (two) and Air France (two). The chart below shows that the European flag carriers retain a sizeable presence at Heathrow should they wish to either sell their slots, operate long–haul services in conjunction with alliance partners or — as in the case of Air France with its new Los Angeles service — operate their own metal, gate permitting. The two most interesting slot portfolios to keep an eye on for 2009 are bmi and Alitalia, the former of which may be about to embark on a transformational transaction that may see it become part of the Lufthansa group, and the latter of which is likely to become part of the Air France/KLM empire (see Briefing, page 10).While planned capacity and movements from London Heathrow to the US have increased by a headline inducing level of more than 20% in the summer of 2008 compared with the summer of 2007, the total capacity between all five London airports and the US has increased by just over 9%, reflecting the fact that many airlines have shifted certain Gatwick–US operations that could not operate ex- Heathrow due to Bermuda II (e.g. Houston, Dallas and Atlanta).
Price wars
There has been a considerable amount of speculation about a transatlantic price war. We're not sure what form, if any, this will take. Yield per RPK for BA on US routes has historically been lower than that of Air France and Lufthansa operating from their respective continental hubs.
There isn't therefore much incentive for the continental network carriers to engage in a price war in order to attract economy leisure passengers, who are profit neutral at best. The UK to US and continental to US markets are in any case largely separate.
However, there is a concern that the mere presence of Delta, Northwest, Continental and US Airways at Heathrow could shut the door for what has been hitherto been a lucrative source of revenue for Virgin and BA: employees of US firms with corporate contracts with one of the four non–LHR US carriers who could exploit the fact that their 'designated carrier' did not serve Heathrow by taking their business to one of the two UK carriers.
These passengers were often booking unrestricted premium travel tickets, and this option may no longer be available to them. This could also impact Eos as well, and Silverjet to a lesser extent.
While the macro–economic indicators are pointing south, the relatively strong pound against the US$ should help to compensate as the number of UK outbound passengers on transatlantic flights is higher than US outbound passengers, and for 2007 remained very strong. Lastly, Terminal 5 opens on March 27th. We have some concerns about T5 as there seem to be niggling issues with baggage handling systems. Furthermore, there is considerable doubt that passengers are going to be enthused about the newly introduced biometric testing, even for domestic flights.
However, the facility should be impressive, but so too will be the amount of free space in the other terminals created by BA's withdrawal — starting with Terminal 1 at the outset and followed by Terminal 4 once BA has moved across its long–haul operations to Terminal 5 on the planned date of April 30th. It's set to be an interesting summer season at London Heathrow.