Could EADS become Airbus or FADS? March 2005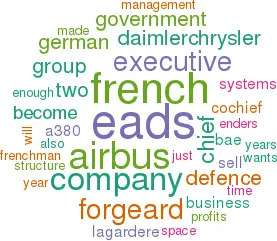 Tension is mounting in Toulouse as Airbus prepares for the first flight of the A380 in early April and as power struggles intensify within the company and its parent, EADS.
The group is headed for a major shake–up of its top management, followed by its shareholding structure.
The appointment of Airbus chief executive Noel Forgeard as co–chief executive of EADS is bound to be a forerunner of big changes within the Franco–German group.
Since its creation in 1999, EADS has been run under a cumbersome management structure, with two chairmen and two chief executives.
Late last year Rainer Hertrich, the German co–chief executive let it be known that five years of bicephalism was enough for him, so he would be leaving this summer. He would have been prepared to stay on only if he had become sole boss.
Then Forgeard lobbied to succeed the other co–chief executive, Philippe Camus, a Frenchman whose contract was also coming up for renewal this summer.
Helped by his close connections with French president Jacques Chirac, Forgeard won the post, and Camus will return to the Lagardere media group as chief executive. But Forgeard also suggested it might be better if he were to be the single chief executive, giving the company a more normal governance system.
This went down badly in Germany, and DaimlerChrysler (owner of the 30% German shareholding) made clear that it was against such a move to increase French influence in the company. So Tom Enders, previously in charge of EADS's defence business, and a protégé of DaimlerChrysler chairman Jurgen Schremp, was put forward to be the German co–chief executive. Enders is seen by DaimlerChrysler directors as enough of a heavyweight to hold Forgeard in check. That may not be the case, for Forgeard is already manoeuvring to become, in effect, the more important of the two chief executives.
Hitherto, the operating divisions of EADS reported to the German CEO, if the line manager was French, and vice versa.
But Forgeard wants to retain board oversight of the commercial aircraft business which he has led with considerable success for the past five years.
Indeed, Airbus accounts for the bulk of EADS sales and virtually all its profits. Were Airbus directly under his control, he would in effect be boss of EADS, with Enders number two responsible for the growing (but not yet very profitable) defence and space interests.
The German shareholder has blocked the appointment to the top Airbus job of Gerard Blanc, Forgeard's deputy, because he lobbied so toughly for the final assembly of the A380 to be in Toulouse rather than at Airbus's other big plant in Bremen.
That leaves two Frenchmen, Fabrice Bregier (who runs the Eurocopter part of EADS) and Charles Champion (in charge of the A380 project) as leading candidates. Since both lack experience of top–level management, either would make a good fit with Forgeard.
Cashing in
Beyond the jockeying for the cockpit controls, there lies more uncertainty for Airbus and EADS.
The company was formed when Germany's DASA was merged with Aerospatiale Matra in 2000. Only 35% of its shares are publicly traded: the French government and the private Lagardere group own just over 30%, as does DaimlerChrysler (which owned Dasa); 6% is held by the Spanish government's industrial holding company, SEPI.
But this ownership structure is temporary, even unstable. Lagardere wants to sell out in the next year or so.
DaimlerChrsyler (content for the moment with a more–than–tripling of the shares to nearly €24) will sooner or later want to employ its capital in its core business of making cars. Its Chrysler brand is under intense competitive pressure in America, and Mercedes–Benz will need lots of time and money to recover its slipping reputation for quality and leading products in Europe and around the world.
Significantly, Arnaud Lagardere, chairman of the eponymous group, has just joined the board of DaimlerChrysler.
He has made no secret of his strategy of turning the French company into a purely media concern; he has no interest in automobiles.
The real purpose could be to keep the Germans and French in touch over a co–ordinated sell down of their stakes, as more of EADS is floated. The French government, with its worsening budgetary situation, would probably welcome the cash from reducing its 15% stake, and Forgeard has made no secret of his wish for the government to withdraw.
And, as we have seen recently, what Forgeard wants, he usually gets.
DaimlerChrysler directors were alarmed late last year not just by the prospect of a Frenchman taking over as chief executive of EADS but by a proposal, floated by the French government, for EADS to take over Thales, a French defence and civil electronics contractor, of which the two main shareholders, the French government (31%) and the troubled Alacatel telecom equipment maker (9%), want to sell out. The Germans, with enough problems of their own in the automobile industry, were averse to the risks involved in absorbing another (French) defence company.
With Thales, EADS would become predominantly French in terms of assets and business. The German shareholders have also indicated that if EADS is to become more French, with a Frenchman at the helm of both Airbus and the parent, then a precondition is that the French government backs off, leaving EADS to behave as a private company.
At the same time as this uncertainty builds, there is the potentially de–stabilising position of BAE Systems — a 20% owner of Airbus, which accounts for about a fifth of the company's profits, putting it third behind Saudi Arabia and North America as profit centres for the group.
Every time BAE Systems chief executive Mike Turner is asked about selling out of Airbus he replies in terms of finding no reason to sell out of a good investment until the company can find something better to do with the money.
If BAE Systems were an industrial conglomerate such sentiments would put the Airbus stake firmly in the category of "managing for value", in other words, selling when the price is right. For BAE Systems that would probably mean a few years hence once the A380 programme is starting to generate profits as sales reach double their present volume. The most likely buyer would, of course, be EADS, making it even more synonymous with Airbus.
So the future of European Aeronautic Defence and Space Company (EADS) could either be Airbus Aerospace or FADS (French Aeronautic Defence and Space Company).