The post September 11 generation March 2004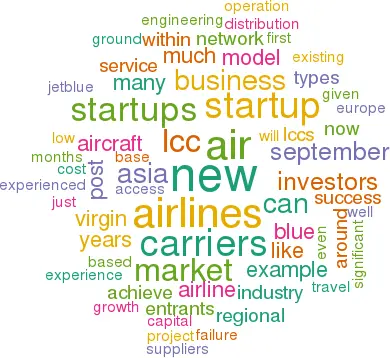 The post September 11 period has seen an unprecedented wave of new airlines emerge — 53 airlines worldwide are identified on page 4 — and there are doubtless others with "blue", "fly" or "sky" as part of their name. Moreover, there are at least as many start–up business plans currently seeking financial backing.
To some extent this is a cyclical phenomenon: previous waves of new entrants appeared in the early 80s in the US and in the mid- 90s in the UK, in both cases the result of a combination of deregulation that opened up new possibilities and industry recession that made factors of production (aircraft, pilots, slots) relatively cheap and attainable. For investors with an appetite for risk, a start–up airline project at such times can be an attractive proposition.
The grim reality is, however, that most start–up projects either never get off the ground or fail in the early years of operation.
It has been estimated that the US failure rate for start–ups was around 97%.
This time around the start–ups have mostly emerged in Europe and Asia, while in the US, most of the activity has centred around the spin–off of low cost subsidiaries of the network carriers. There are numerous types of start–ups:
LCC models, for example Air Asia, based at Kuala Lumpur using a Ryanair–type model, VBird, based at Neiderrhein, attempting to introduce a jetBlue–type operation to Europe; Air Arabia, based in Sharjah, UAE, adapting an easyJet model to the Middle East and becoming the first flag–carrier designed on LCC principles.
Independent charter airlines, like Astraeus in the UK, Air Finland, and Blue Wings in Germany, or new tour company–owned charters like Canada–based Zoom.
Low cost scheduled subsidiaries of existing full service carriers — Song (Delta), Ted (UAL), bmibaby (bmi), snowflake (SAS).
Pre–existing airlines evolving from regional into LCC types, for example, Norwegian Airlines.
Niche carriers, for instance Air Bourbon linking Paris to the island of Réunion.
There have been few start–ups in the scheduled long haul market, which is natural given that market access is far more restricted by bilateral air service agreements.
However, entrepreneurs see opportunities here: BlueFox, a London–based business–class transatlantic airline project, continues to seek funding, while a 747 start–up in Australia has reportedly just signed a capital funding agreement with an experienced airline investment fund.
The post September 11 environment in the US has been hostile towards new entrants, though Richard Branson is now being ardently wooed by many US cities that want to be the base for Virgin USA when or if it materialises. Overall traffic volumes in the domestic market remain depressed, the existing LCCs (Southwest, jetBlue and AirTran) have grown strongly, and there have been opportunities for investors in airline restructurings (whether successful like Frontier and Alaska or inadequate like US Airways). The one innovation in this region which has yet to spread to Europe or Asia is the attempted conversion of regional carriers to LCC models using Regional Jets — ACA's Independence Air venture is the leading example.
Other major carriers such as Qantas and SIA intend to launch their own versions of the LCC model, and in the process avoid the problems that befell BA with Go, Continental with Continental Lite, Air Canada with Tango, etc. SIA's subsidiary, Tiger Airways, is due to be launched this summer, given additional credibility by the presence of highly experienced private investors David Bonderman/Bill Frankie and the Ryan family who are backing the project. Qantas claims that its subsidiary, JetStar, will have much lower unit costs than Virgin Blue, and has imported ex–Ryanair management expertise to ensure this.
Cyclical features
So what are the underlying reasons for the start–up phenomenon? Aircraft availability In the past two years this has been the lifeblood of liquidity to many of the new carriers (albeit that ventures such as Ted and Song are a mechanism for incumbents to utilise excess capacity).
A global over–supply of new generation equipment (A320 family and 737NGs) and older but good quality types (737–300s and — 400s) has provided a ready source of equipment.
And this surplus has not been mopped up by the fast–expanding existing LCCs such as easyJet, Ryanair and JetBlue, which have placed mega–orders for new aircraft.
We estimate that just under 200 aircraft (including some widebodies) have gone to post September 11 carriers. But there are still around 500 units currently parked that could come back into commercial service, as well as widespread availability from the lessors.
What is remarkable is that completely new businesses with no trading track record have access to assets of such high capital value, and in relative terms, for minimal collateral (usually three months lease deposits).
Furthermore, these new customers in some instances appear to have negotiated lease rates even more advantageous than big–name airlines. BA and Air France have started urging providers of finance to take a stricter view of airline credit in order, in their view, to help stabilise the industry.
Market opening As full service network carriers have adjusted capacity and network size in response to falling demand, niche carriers have taken advantage of the window created. In the extreme case a failure of the incumbent carrier has led to multiple start–ups trying to fill perceived gaps in the market — VBird, Birdy, Helvetic and Fly Baboo were to some extent products of the Swissair and Sabena bankruptcies.
Customer expectations Travellers have always been price sensitive but the LCCs have stimulated a whole new market for leisure and VFR passengers, who have now come to expect low fares (if booked well in advance) and minimum frills. And following the excesses of the dotcom boom, LCC travel for business passengers has become very widely accepted, even favoured against network carriers in many cases.
Lower costs Availability of labour (cockpit, cabin crew, engineering), has clearly assisted start–ups in some markets. Start–up airlines have also found it easier to negotiate with ground handling suppliers who have been affected by volume downturn and whose own sector has been deregulated, and consequently become more competitive.
Structural features
Barriers to entry are also lower than they have been in previous industry downturns for structural reasons.
Direct selling and distribution Theinternet and use of direct selling mechanisms on travel distribution is a critical factor.
A web–based booking engine and user–friendly website has been exploited by the successful LCCs to produce a massive reduction in distribution costs. The new distribution channels have all but eliminated the old barriers to competition enjoyed by established airlines, through their hold over travel agents and the use of GDSs.
IT systems Today software covering booking and reservations, yield management, operations and control is available in packages from suppliers like Navitaire and Intellysis. A start–up operation can acquire a functioning system for a commitment of less than US$1 million and be operational within months — without the need to invest heavily in people or bespoke development.
Outsourcing Key production areas such as ground handling (ramp, passenger and cargo) and, if the product requires, catering can be outsourced at base and outstations. All heavy engineering and, in some cases, line engineering functions can be outsourced to specialist contractors.
New supplier relationships New entrants do not have to be price takers from their suppliers. Most strikingly the traditional relationship between airlines and airports has been shaken up. Many airport operators, from BAA to the owners of previously pretty much unheard of or un–utilised airports now have a much more commercial outlook on this relationship
. Start–up airlines can receive significant route development and marketing support as well as (now subject to EU state aid conditions) discounts on landing fees and other charges.
Successful business plans?
Our survey of start–ups has been taken from a September 11 baseline. Extending the timeline just a few years back, the list would include some high profile growth stories such as jetBlue, Virgin Blue and Go as new entrants who had attracted private equity into the market. Along with at least one post September 11 example, Air Asia, these airlines demonstrate the main attraction of the start–up. If the business plan works, higher growth and profits can be achieved than by the incumbents. Even better, the original investors can realise value very rapidly through attracting second stage investors to fund growth (see table, above). Air Asia attracted three investors within 18 months and Virgin Blue sold a 50% stake to Patrick Corporation within two years and achieved a rapid capital market exit through an IPO within four years.
Of course, the number of the current wave of start–ups that will achieve such returns will be very limited. Success is dependent upon various factors which are rarely in alignment together:
Highly experienced management with experience relevant for the particulars of the business plan. Trying to match LCC experience with the understanding of particular regional markets is a major challenge.
The majority of the start–ups have small fleets, usually below five aircraft.
To achieve the types of return of the industry lead examples, the model must be able to achieve significant top line growth. Scaleability of the business model is the central success factor.
Success is dependent upon both creating a low cost base relative to the competition and sustaining it as the business grows. Experience so far suggests that this is not easy to achieve in practice and requires continual, dogged and single–minded focus.
In a cyclical industry there is no substitute for timing. For example, Virgin Blue's success coincided with and benefited directly from the failure of Ansett. Air Asia's appearance in Southeast Asia as the first LCC style operator has given it a significant "first mover advantage". Much of the timing issue derives from exploiting greater market access — the reason why so much start–up activity is occurring in Asia.
NEW CARRIERS OPERATING POST SEPTEMBER 11, 2001
cellpadding=0 cellspacing=0 class="t3"> NEW CARRIERS OPERATING POST SEPTEMBER 11, 2001
Ops
Airline
Country
Base
Fleet
Backers/Owner
Concept
start
Adam Air
Indonesia
Jakarta
2x737, 1x737
Adam Suherman 100%
Sched. domestic
Dec-03
Aero Mongolia
Mongolia
Ulaanbaatar
2xF50
Undisclosed
Sched. domestic
May-03
Air Arabia
Sharjah
Sharjah
3xA320
Sharjah CAA 60%, Kanoo Travel
Middle East LCC
Oct-03
Air Asia
Malaysia
Kuala Lumpur
12x737
Tune Air Holding 73.41%
LCC Ryanair model
Jan-02
Air Bourbon
France
Reunion Island
1xA340
Undisclosed
Scheduled int'l
Jun-03
Air Deccan
India
Bangalore
4xATR
Deccan Aviation 100%
Regional to LCC
Aug-03
Air Finland
Finland
Helsinki
2x757
Jussi Salonoja plus 7 investors
Int'l charter
Mar-03
Air Paradise
Indonesia
Bali
1x737,A300,A310
Bounty Group 100% (Kadek Wiranatha)
Scheduled int'l
Feb-03
Air Polonia
Poland
Warsaw
2x737, 4xLET410
Undisclosed
Regional LCC
Dec-03
Air Southwest
UK
Plymouth
2xDash8
Sutton Harbour Holdings 100%
Regional
Oct-03
Astraeus
UK
Gatwick
4x737
Management and Aberdeen Private Equity
Int'l charter
Apr-02
AV8Air
UK
Manchester
1x757, 1x767
CT2 100%
Int'l charter
2004
Birdy
Belgium
Brussels
3xA330
G.Gutelmann, V.Hasson
Scheduled int'l
Apr-02
Blue Wings
Germany
Dusseldorf
1xA320, 1xA321
Jorn Hellwig and others
Int'l charter
Jun-03
bmibaby
UK
E.Midlands
15x737
BMI
Scheduled int'l
Mar-02
Bonair Exel
Netherlands
Antilles
2xATR
Bonaire Holding 100%
Sched. reg/dom.
Sep-03
CanJet
Canada
Halifax
6x737
IMP Group International, Inc.
Sched. domestic
Jun-02
Denim Airways
Netherlands
Augsburg
14xF50/F27, 5xDash8
Airton BV, EDW Beheer BV
Sched. charter
Jun-03
Duo
UK
Birmingham
9xCRJ
MBO June 2003 100% Maersk UK
Scheduled int'l
Jun-03
Etihad
UAE
Abu Dhabi
2xA330, 1xA340
Abu Dhabi Government
Sched. int'l/reg
Nov-03
Fly Baboo
Switzerland
Geneva
Dash 8
Undisclosed
Scheduled int'l
Nov-03
Fly Jet
UK
LGW/MAN
2x757
Undisclosed
Int'l charter
Jun-03
Fly Niki
Austria
Vienna
1xA320, 2xA321
Air Berlin 24%, Niki Lauda
Int'l charter
Nov-03
Germania
Germany
Berlin
17xF100
Germania
Sched. charter
Jun-03
Hapag Lloyd
Germany
Cologne
4x737
TUI
Sched. charter
Dec-02
Hellas Jet
Greece
Athens
3xA320
Cyprus A/W 49%
Sched. int'l-LCC
Jun-03
Helvetic
Switzerland
Zurich
5xF100
Undisclosed
Scheduled int'l
Feb-02
Hooters Air
USA
Atlanta
4x737
Bob Brooks
Sched. domestic
Jun-03
Iceland Express
Iceland
Reykjavik
1x737
4 private investors
Scheduled int'l
Feb-03
Jet 2
UK
Leeds
6x737
Dart Group
Sched. int'l-LCC
Feb-03
LAFE
Argentina
Buenos Aires
6x737
Brazil Govt. 80%, Intercargo 20%
Sched. int'l/dom
Oct-03
Lagun Air
Spain
Leon
4xSaab340
Regional Govt. aid €5.8m
Sched. domestic
Sep-03
Livingston
Italy
Milan
3xA321
Livingston Aviation Group
Int'l charter
May-03
Norwegian
Norway
Oslo
8x737, 6xF50
9 private investors
LCC dom/int'l
Sep-02
Quebecair
Canada
Quebec
2xSaab340
Undisclosed
Sched. regional
Apr-03
SkyEurope
Slovakia
Bratislava
2x737, 6xEmb120
Private + EBRD, ABN Amro and EU funding
LCC
Feb-02
SkyNet
Ireland
Shannon
2x737
6 private investors own 75%
Scheduled int'l
Jun-02
SkyNet Asia
Japan
Fukuoka
4x737
Hiro Hattori 100%
Sched. domestic
Jul-02
snowflake
Sweden
Stockholm
4x737
SAS
Scheduled int'l
Mar-03
Song
USA
NorthEast
36x757
Delta Airlines
Sched. domestic
Apr-03
Styrian Spirit
Austria
Graz
3xCRJ
Local private investors
Sched. regional
Mar-03
Ted
USA
Denver
5xA320
UAL
Sched. domestic
Feb-04
Thai Jet
Thailand
Bangkok
2x757
Owned by AtlasJet
Int'l charter
Dec-03
Thomas Cook
Belgium
Brussels
4xA320
Thomas Cook, Germany
Int'l charter
Mar-02
U Air
Uruguay
Montevideo
2xF100
Undisclosed
Sched. regional
2003
ValuAir
Singapore
Singapore
2xA320
Lim Chin Beng 89%, AsiaTravel.com 11%
LCC JetBlue model
2004
VBird
Germany
Niederrhein
4xA320
Niederrhein Airport, R.Stinga + others
LCC JetBlue model
Oct-03
Viking
Sweden
Heraklion
2xMD80
Undisclosed private investor
Int'l charter
May-03
Wind Jet
Italy
Sicily
4xA320
Finaria Group 100%
Domestic LCC
Jun-03
Wizz Air
Poland
Katowice
A320s
Undisclosed
LCC
May-04
Zoom
Canada
Ontario
2x767
Go Travel Direct 100%
Int'l charter
Dec-02