Market balance: lessors squeezed March 2002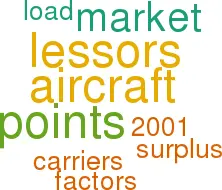 Listed opposite are the 1,274 jets officially scheduled for delivery this year, according to ACAS. This is about 300–400 more than is needed to retain the current state of imbalance in the aircraft market, according to Aviation Strategy's analysis (in the February 2002 issue, we estimated the 2001 average surplus at 11% in 2001, rising to 14% average this year).
The delivery schedule is dominated by US carriers, both Majors and their regional affiliates, and the lessors. The lessors — ILFC, Gecas, CIT/Tyco, Pembroke, etc. account for 220 of the aircraft to be delivered, about half of which have confirmed lessees.
The lessors may be facing a painful squeeze at the moment. The manufacturers are pushing them to take the scheduled aircraft in order to keep their production lines open. But the lessors are failing to win business from the fast–expanding low–cost sector.
Ryanair, having trawled the second–hand market for suitable 737s, finally opted for a very acceptable deal with Boeing. EasyJet, Go and JetBlue are also going mostly directly to the manufacturers.
Marketing to the European flag–carriers or the US Majors is an equally difficult proposition at the moment.
Traffic is coming back quite well with the effect that load factors based on the post- September 11 reduced capacity are looking rather strong. For example, AEA intra- European load factors were up 2.1 points in January, the North Atlantic was up 6.1 points and the Europe–Far East was up 2.4 points. For the US airlines, load factors were up 0.7 points domestically in January, while North Atlantic was up 2.3 points and the Pacific 6.9 points.
But these carriers have plenty of surplus capacity There is already talk of parked aircraft being recommissioned, aircraft that were available for sale or lease being taken off the market and of postponed deliveries from 2001 now being accepted. The current depressed level of yield affords little possibility of a return to profitability for most carriers, but marketing departments are promoting the traditional idea of market share gains.
All this means that the lessors will be left holding surplus inventories of aircraft throughout 2002 and into 2003. And lease rates will remain at bargain levels — around $200,000/month for a modern A320, around $100,000/month for a 737–400.
SCHEDULED 2002 DELIVERIES
SCHEDULED 2002 DELIVERIES
Customer
717
737
747
757
767
777
A600
A319
A320
A321
A330
A340
CRJ
135
140
145
328JET
Total
ILFC
24
2
1
1
15
12
18
10
14
2
99
Northwest
2
7
22
1
0
34
66
GECAS
19
1
4
0
13
7
1
4
13
62
Continental Express
12
39
51
Atlantic Coast Airlines
20
26
46
American
17
8
4
6
35
Comair
33
33
Continental
14
12
4
1
31
Skywest
31
31
American Eagle
9
19
28
Delta
25
2
1
28
CASC
22
1
0
2
25
Mesa Air Group
10
15
25
Air Wisconsin
21
21
Southwest
21
21
CIT Leasing
5
0
5
2
2
5
19
Qantas
15
2
1
18
American Trans Air
12
5
17
Atlantic Southeast
17
17
JetBlue
16
16
ANA
7
5
3
0
15
Air France
1
3
2
5
3
14
Asiana
3
5
2
4
14
British Airways
1
11
2
14
LanChile
12
2
14
UPS
14
14
Pembroke Capital
13
13
SAS
3
5
2
3
13
Korean Air
4
3
2
3
12
Lufthansa
1
0
11
12
Ryanair
12
12
Varig
6
4
2
12
Lufthansa Cityline
10
10
Others/undisclosed (94)
11
107
18
3
10
24
3
28
56
21
12
6
33
32
13
25
14
416
Grand total
24 306
34
36
36
64
17
81
128
50
48
13
242
44
32
79
40
1,274