FedEx and UPS: prospects for the cargo majors March 2002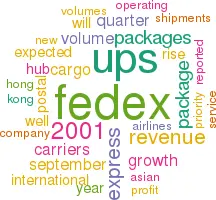 The two leading cargo airlines — FedEx and UPS — are recovering well. Indeed, they may even have benefited from the fallout from September 11.
In February, FedEx favourably revised its earnings outlook for the third quarter (ending on February 28th). Strong revenue and profit growth at FedEx Ground and continued focus on FedEx Express costs, were deciding factors in the upgrade. Second quarter (three months to end Nov 30) results for FedEx Express were better than expected, driving a $245m net income at its parent company. FedEx Express (the airline) moved an extra 27% of mail per day and fuel costs shrank by 10%, despite an increase in flying. FedEx Express reported a $309m operating profit compared to $271m in the same quarter a year ago. At present FedEx's share price has seen a 53% rise from September 2001 and is now at around the $60 mark.
UPS' full year results for 2001 showed a revenue rise of 2.9% over the prior year to $30.6bn. Operating profit fell 12.2% to $4bn and net income decreased from $2.9bn to $2.4bn. UPS reported a 5% rise in international package traffic in 2001, with the last quarter showing an 8% surge in international export volume. This included a 15% increase in packages from Europe and a 7% gain in Asian packages. On the home front, US package volume fell by 1% for 2001. Operations in the US account for 80% of UPS revenue.
The UPS share price has risen from a September 2001 low of $47 to $61.
Both carriers were affected by September 11, but they weren't hit as hard as the passenger airlines. In its fourth quarter conference call,
UPS said it had picked up substantial cargo from passenger airlines, which for security reasons were unable to fly their usual cargo shipments. Similarly, FedEx Express is carrying more US Postal Service packages.
The US business traveller has been flying to fewer meetings, with the side–effect that priority business documentation and packages were being flown at an increased volume.
Volumes were approaching pre- September 11 levels within a week on some routes. Package volumes over Christmas and the holiday season were a boost to both carriers. UPS reported seeing large gains in e–commerce shipping and deliveries on the busiest day of the period surged past 19 million packages. UPS received $37m and FedEx $116m from the US government as part of the Air Transportation Safety and System Stabilisation Act.
The Act compensated both carriers for the grounding of the fleets post–September 11 as well as for expected losses.
Strategic developments
Key developments for the two carriers are as follows. FedEx signed an extensive agreement with the US Postal Service in January 2001 that began operating on August 31.
Domestic postal express shipments, a.k.a. US Priority Mail, are being transported by FedEx. Over a period of seven years the agreement should bring in $7bn of revenue. The alliance means 500 pilots, 200 aircraft mechanics, and 800 package and ramp handlers are joining the staff at FedEx. Growth in US domestic package volume was only 3% for 2001 and volumes are expected to decline for 2002. The US Postal Service contract is boosting revenue and also increases FedEx Ground's US coverage, with a new network of FedEx drop boxes at US Post Offices.
FedEx saw an 11% rise in International Priority package revenue for year ending May 31 2001, and expects the same growth for 2002. This higher–yield growth was especially strong in Asia and Europe, where FedEx experienced a 12% and 24% average daily volume growth rate for 2001.
UPS has embarked on a strategy to create more revenue from abroad. Experts on tariffs, custom regulations and quota requirements from UPS will aid delivery of not only packages but produce shipments as well.
For example, a UK company, Eurofrut, imports fresh fruit from South Africa. UPS finances the orders in advance and deals with customs administration as well as shipping the produce. Corporate strategists at UPS believe this newest initiative is also "changing the way we perceive a parcel carrier".
These new moves to extend the UPS brand internationally are important for its Asian expansion plans as FedEx is by far the more recognised company in that part of the world. UPS will be opening a new hub at Clark International Airport in the Philippines on April 1. Routing five aircraft through the hub is expected to boost UPS's capability to compete in the Asian express cargo market.
With Clark in action UPS will not have to rely on buying as much belly space and will be catching up with FedEx, who already have a Philippines hub in action.
Ideally, both carriers would prefer Hong Kong as a hub. At the moment, FedEx is allowed only five flights a week from Hong Kong to destinations outside of America and UPS none. However, if Hong Kong grants the US more third–country rights, UPS would seem to be the likely recipient.
LATEST FINANCIAL RESULTS ($m)
LATEST FINANCIAL RESULTS ($m)

| | | | | | | |
| --- | --- | --- | --- | --- | --- | --- |
| | UPS | | | FedEx | | |
| | Q4 (31/12/01) | Q4 (31/12/00) | % change | Q2 (30/11/01) | Q2 (30/11/00) | % change |
| Revenues | 8,100 | 7,900 | 2.5% | 5,140 | 4,900 | 4.9% |
| Operating | | | | | | |
| profits | 1,000 | 1,100 | -10.0% | 433 | 345 | 25.5% |
| Net income | 645 | 724 | -10.9% | 245 | 194 | 26.3% |