British Airways - Future Size and Shape (or Keep It Simple, Stupid) March 2002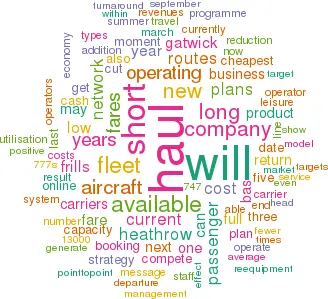 BA's "new" plan, entitled "Future Size and Shape", extends the earlier recovery strategy in place now for the last three years. It encompasses four main targets: 10% operating margins within three years; simplify the fleet structure and product proposal; compete with the no frills operators; resize staffing levels to a realistic level for the new environment. It also contains one promise "We will deliver".
It is in all appearance a continuation of the earlier strategy, with a full realisation that BA cannot operate its bases of operations at either Heathrow or Gatwick as a full transfer hub–and spoke network operator. It must concentrate on maximising frequencies on core business routes and minimising low performing routes.
Although the strategy had highlighted the requirement to chase premium and business traffic and reduce exposure to leisure transfer passengers, the media had latched on to the idea that BA was spurning leisure passengers and cheap tickets. As for any full service carrier BA can never afford to turn away from a segment of the market: and that publicity at the time probably had a deleterious effect on the appearance in the market of BA's leisure product.
The main difference in this plan are the proposals to target the budget conscious passenger effectively once more.
Once the plan is fully in effect it should result in a 9% reduction in overall capacity (52% lower capacity at Gatwick), 10% higher short haul utilisation, 15% fewer destinations, 49 fewer aircraft, 40% fewer aircraft sub–types, and a total manpower reduction of 13,000. It may even result in an operating profit nearer the £1bn mark.
One main message came from the meeting.
BA has finally taken on board a lesson from the no frills operators: KISS (keep it simple, stupid).
Fleet strategy
Fleet strategy is mainly unchanged, but implementation has been somewhat accelerated.
The company has spent the last five years on its long haul fleet re-equipment programme involving the disposal of all the older 747-200s and the acquisition of 777s. It has now embarked on its short haul re-equipment programme involving the acquisition of the A320 family to replace its older short haul Boeings.
It has so far taken delivery of 31 and has a further 40 on firm order and options for an additional 129.
Once the renewal programme is finalised it will significantly reduce the number of aircraft types and cockpit types. However, the company had large number of sub-types. In the long haul fleet this party depended on the stage of embodiment of the new flying bed club class seat and product. BA will now be accelerating the simplification of the fleet structure through the elimination of different configurations.
For example, at Heathrow last year, BA was operating five different configurations of 747 and four of 777s. Among these there was one 747 that had been configured with 102- club capacity while Concorde had been grounded. The elimination of aircraft sub types will help significantly in improving utilisation and turnaround times.
PRODUCT RATIONALISATION
Type
Club
Club
2001
2003
product
seats
747-400
New
102
*
New
70
*
*
New
38
*
*
Old
55
*
747-200
Old
76
*
777
New
48
*
*
Old
56
*
Old
70
*
777ER
New
48
*
*
767
Old
36
*
Total sub types
9
5
The de-hubbing of the Gatwick operation is being accelerated and the downsizing will be deeper. The new role of Gatwick within the BA portfolio will be to concentrate on local point-to-point services, only operate profitable services that do not fit in to Heathrow and achieve a return. The company has suspended 14 routes overall since September - including 8 short haul and one long haul at Gatwick. It has plans for a further 10 route suspensions for Winter 2002. It will also be moving 8 routes from Gatwick to Heathrow this summer.
This also implies the transfer of aircraft to the Heathrow base. At the moment the company operates 6 different aircraft types at Gatwick - ATR, 737, 757, 767, 777 and 747. By Summer 2003 the fleet will consist of 777s for long haul and 737s for short haul. By the same time, the number of destinations served from the airport will have fallen to 34 short haul and 15 long haul from 54 and 47 respectively last summer. Half of the reductions relate to transfers to Heathrow, half to elimination of duplications. The result is planned to be a cut in ASK capacity by some 60% from the peak and a cut in slots of some 30%.
NUMBER OF FLEET SUB-TYPES BY BASE

| | | | |
| --- | --- | --- | --- |
| | Summer 2001 | Future | Change |
| LHR Long haul | 9 | 5 | -44% |
| LGW Long haul | 6 | 3 | -50% |
| LHR Short haul | 5 | 4 | -20% |
| LGW Short haul | 4 | 2 | -50% |
| UK Regions | 9 | 6 | -33% |
| Total | 33 | 20 | -39% |
A significant knock on effect of the fleet and network simplification should be to improve utilisation. This will come almost automatically with the removal of fleet sub-types. In addition, the company is targeting a 10% improvement in short haul fleet utilisation partly through improved turnaround times. There is admittedly no hope at all that BA at Heathrow could target the 20 minute turnaround achieved by some no frills carriers.
However it is planning to be able to cut five minutes from the current 45 minutes on short haul European and 10 minutes from domestic flights - partially for example by double loading catering supplies.
AIRCRAFT FLEET
Change
Summer:
1999
2000
2001
2002
2003
03/01
Long haul
118
122
126
114
112
-14%
Short haul:
London
138
140
142
129
122
-20%
Regions
93
82
78
-15%
Short haul total
235
211
200
-35%
Competing with low-cost carriers
Basic problem: how can a full service network carrier possibly compete with the no frills, low cost, point–to–point operator. It is noticeable that in the US none of the majors have found an effective way to compete head to head with Southwest. BA first thought that rather than beat it would join — and found that Go was cannibalising its own traffic.
The real problem lies in the depths of aviation history: in the days of fares fully regulated by IATA, the tariffs for particular routes would all be laid down on a point–to–point basis and the pro–rate would be established on a mileage basis. Given that short–haul routes are intrinsically higher cost per kilometre to operate compared with long haul, a passenger connecting from short haul to long haul would provide the operator of the short haul leg with a very low net contribution. This could work out to be the very deepest discount that would be available on the short haul flight — but because it was a pro–rate would not be a publicly published fare. The no frills carriers not only have an intrinsic cost advantage through not being network carriers and not having the baggage of history trailing along behind them, but also effectively have the freedom of pricing to use the deepest discounts they may want to generate the traffic.
In addition the traditional way of looking at demand was to assume that the passenger knew where he wanted to go and when he wanted to go and then to offer him a price.
With the electronic distribution revolution, there is a major step change that the no–frills carriers have been able to address: booking on the Internet avoids having to pay the travel agent.
DESTINATIONS

| | | | | | | |
| --- | --- | --- | --- | --- | --- | --- |
| | | | | | | Change |
| Summer: | 1999 | 2000 | 2001 | 2002 | 2003 | 03/01 |
| Long haul | 92 | 84 | 82 | 76 | 71 | -11% |
| Short haul: | | | | | | |
| London | 74 | 77 | 74 | 67 | 62 | -12% |
| Regions | | | 51 | 48 | 48 | -3% |
| Short haul total | | | 125 | 115 | 110 | -15% |
Furthermore, the low cost product has a very simple message — fly because it's cheap and the earlier you book the cheaper it is — which allows the marketing and advertising of routes through the best supermarket lead–in pricing campaigns to get the passenger to walk in through the (electronic) door.
The growth of the no frills competition has been dramatic for BA. Low–cost operators compete on over 60% of BA's short haul routes from London. They have grown by more than 300% in the last three years — and from the UK they currently operate 5,550 frequencies a month compared with BA's 8,000. Importantly (and probably not surprisingly) nearly a third of BA's low fares are sold through business travel agencies — just to show that the business passenger can also be a leisure passenger and that BA cannot afford to ignore that segment.
The result of the strategic review emphasises that BA needs to remain a full service network carrier. To maintain its unit margin it needs to strengthen and maintain its business market product premium.
In addition it has to fill up its aircraft with the cheaper fares and to do that has to regain some momentum against the low cost competition. To do this, and hopefully to return short haul operations towards profitability, it has to adapt its short haul economy product to the current environment and aim to move it further towards the no frills model.
The new short haul economy
BA is turning the traditional system on its head. From June, when the new system comes on line, it will start a major publicity campaign to get across the message that it too offers "fares to XXX from £yy", that these fares are competitive with the low cost carriers although it does fly to and from more convenient airports and that BA's lowest fares are only available on line.
It is completely changing its online booking model. The new system, currently under test, will be based on the idea that the passenger knows where he wants to go but is flexible about the date of travel but wants to find the best available fare. Consequently when he logs online he will have the choice in the economy cabin to specify a departure and return date plus or minus a fortnight.
The next screen will show the chosen date range for the outbound flight with the cheapest available fare on each day. The next screen will highlight the return date range with a similar choice. The following screens will specify the times of the outward and then return flights specifying against each departure the cheapest fares available. At each occasion the passenger will be offered what is available -rather than at the given moment what may be available.
This new model requires a change in the inventory management system. At the moment BA, as traditionally, adjusts the capacity available in any discounted fare class according to the absolute and historic booking patterns on a daily basis. Consequently a £150 fare that may be available today for a particular flight may be quoted at £200 the following day and £120 the next.
This can be confusing for the customer.
The new message will be that the cheapest available fare will rise on a ladder the closer you get to departure date. This does not mean that the whole yield management model needs changing but that the visibility of the cheapest offerings will be more transparent.
These cheapest fares will only be available online. BA will charge an extra £10 per booking for call centre and own shop sales. (At the moment it offers a £10 reduction for booking online). In addition where eTickets are available, they will impose a further £10 charge for paper tickets.
Short haul economy yield management
Distribution Costs
In line with this BA is once again attacking distribution costs. From June it plans to cut travel agency commissions to a mere £2.50 from £6 per segment for discount economy short haul fares and £5 from £11 for short haul flexible fares.
DISTRIBUTION CHARGES-UK TRAVEL GUIDE

| | | | |
| --- | --- | --- | --- |
| Routing/Ticket type | Was | Will be | Change |
| Per Sector | | | (from June 02) |
| Short haul flexible | £11.00 | £5.00 | -55% |
| Short haul restricted | £6.00 | £2.50 | -58% |
| Long haul Premium | £20.00 | £20.00 | nc |
| Long haul Non-Premium | £11.00 | £11.00 | nc |
Staff cuts
In August the group employed some 56,700 (in man–power equivalents). In the aftermath of September it announced reductions in staff numbers of 7,200 (5,800 of which had gone by the end of December). In February it announced a further cut of 5,800 positions.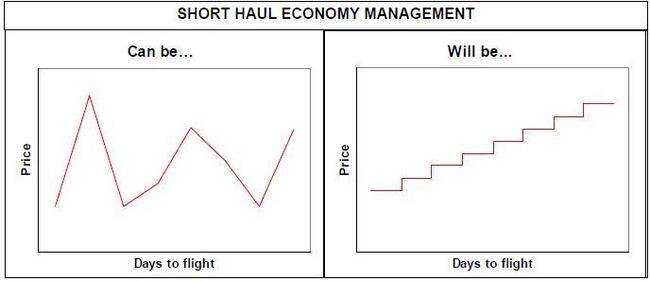 The resulting 13,000 equates with 23% of the pre–September workforce. Since privatisation we have been waiting for BA to slim down its managerial and non–operational staff. The current plans include the disposal of 4,200 of these positions — or 36% of the total. Only 20% of the online jobs will go — in line with the current downturn in business. It is hoped that the company will be able to get away with voluntary redundancies and early retirement plans — although it says that these will not be as generous as historically. The company aims to have completed 10,000 of these job reductions by the end of March 2003, and to have completed the 13,000 by end March 2004.
One oddity is the plan to get rid of 1,500 engineering posts. This in fact is part of the move to more simplicity: in the past (as a legacy perhaps of being the Comet operator?) the BA engineering operation had apparently a department dedicated to writing and specifying the maintenance procedures on all aircraft in the fleet. This process has continued even though the rest of the world has readily accepted the Boeing- or Airbus–approved maintenance 'B', 'C', and 'D' check schedules.
MANPOWER REDUCTION BY AREA

| | |
| --- | --- |
| Cabin Services | 3,400 |
| Heathrow customer services | 800 |
| Gatwick customer services | 550 |
| Flight operations | 400 |
| Engineering | 1,500 |
| Cargo | 800 |
| World sales | 2,600 |
| Other areas | 2,950 |
| Total | 13,000 |
Financial implications
In the year to March 2001 BA made an operating profit of £380m on revenues of £9.3bn. In the 12 months to December 2001 it produced an operating loss of £126m on revenues of £8.6bn and has been burning cash — with £1bn outflow in the quarter alone.
The measures it put in place in September helped reduce operating costs by 8.5% in the quarter ended December — but not fast enough to off–set the 20% reduction in revenues.
The plan implicitly targets a 10% operating margin within three years. The company is not however budgeting for any material increase in turnover.
Consequently, on their plans it appears that they are aiming to save cash costs of some £650m and generate some £350m from productivity improvements. In the past BA has successfully delivered its cost cutting plans.
It should be able to do it this time — even if this is one of the severest shocks it has ever suffered in its history.
An operating margin target does not actually mean much — but the company is currently using this internally because it finds that it is the easiest number for its operational staff to understand. The more meaningful internal targets are for a debt equity ratio nearer 50% from the current 66.5% and a return to positive cash flow — which has been negative since 1996.
Currently the only part of the network that is positively profitable is the long haul. It is naturally difficult for a network carrier in Europe to generate positive returns from its short haul or domestic network. It will be an uphill struggle for BA to fulfil its avowed aim to turn its European and regional networks back into profits.
Fundamentally, on financial grounds despite the lack of revenues at the moment, BA is not in that bad a position. It can boast current liquidity of £3.4bn in cash, committed facilities investments and other assets. Its debt profile is all long term and contains no upcoming repayment spikes — with an average repayment requirement of £550m a year over the next seven years. Only 11% of its debt is unsecured.
MARGIN IMPROVEMENT TARGETS

| Operating profit | £m | Margin |
| --- | --- | --- |
| | | points |
| YE Mar 2001 | 380 | 4.1% |
| Year to Dec 2001 | -126 | -1.5% |
| Margin improvement | £m | implied |
| Market recovery | 238 | 2.6% |
| Network changes/Utilisation | 238 | 2.6% |
| Pricing & distribution | 156 | 1.7% |
| Service delivery & productivity | 174 | 1.9% |
| Reduced overhead levels | 174 | 1.9% |
| Procurement & IT | 73 | 0.8% |
| Target operating margin | 928 | 10.0% |
It has a very flexible fleet finance structure — 44 of its 367 aircraft fleet are unencumbered and 98 are financed on operating leases (of which 63 can be returned in the next five years).
Most importantly, the long haul fleet re–equipment programme is nearly over. In the three years to March 2000 BA was spending an average £2bn a year on aircraft. The long haul deliveries started tailing off in FY2001 and will be completed at the end of the current financial year. Over the next five years the company plans to spend an average of only £240m on the short haul deliveries. The current year is going to show dire results — and the company is sure to throw as much bad news as it can into the full year results. It seems highly likely that BA will move back into positive cash flow territory by Summer 2003 at the latest.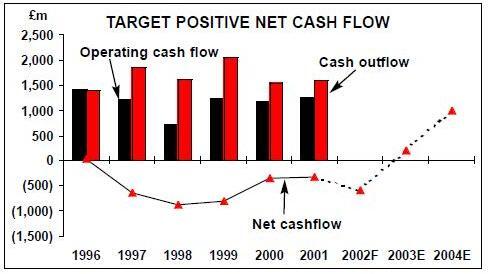 Outlook
The strategic review has re–emphasised and accelerated the plans put forward in the existing strategy. The usual cyclical cost cuts are being implemented and finally some new management reprocessing is being done as the new CEO Rod Eddington makes his mark. The beast is still the marketing beast — but now it may have started to understand a way to compete with the feared low–cost operators. Above all BA still has "fortress" Heathrow and undoubtedly will become highly profitable again.