Investors focus on low-costs and regionals March 2002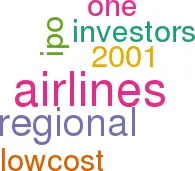 Immediately after September 11 there was widespread concern that the airline industry had become unfinanceable. In fact, investors have shown themselves more than willing to support specific types of airlines, the potential winners in a restructured business. In Europe the stock–market valuation of the low–cost carriers has soared. According to a review by Merrill Lynch, Ryanair's share price rose 36% between September 10 2001 and March 6 this year; easyJet recorded a 38% increase in its share price.
Analysts and investors are evidently convinced that the low–cost, point–to point model is the one that will come to dominate the intra- European market.
The slight worry is that the current ratings implicitly assume that the UK/Irish operations can be successfully transferred onto the continent. In other words, Ryanair will be able to build its hubs at Brussels Charleroi and Frankfurt Hahn and easyJet its hubs at Paris Orly and Geneva in order to develop continent–wide Southwest–type networks.
In the US, JetBlue issued an IPO prospectus in February, aiming to raise some $150m to fund the expansion of its A320 fleet. JetBlue, which started service in February 2000, has adapted the classic low–cost formula to include some frills and an operation based at a major international airport — New York JFK. It achieved an operating income of $26.8m (before $18.7m of government aid under the Stabilization Act) in 2001. Its operating margin, 8.4%, was only bettered by one US airline — Southwest.
The other area of investor interest is the regional airlines. No less than three IPOs are planned. Chautauqua Airlines aims to raise up to $85m to partly finance the purchase of 37 more Emb 145s. Chautauqua, which reported a net profit in 2001, albeit of only $2m, is fully owned by the venture capitalist, Wexford Capital.
More controversially, two US Majors have filed IPOs for their regional subsidiaries: Northwest has filed an IPO for what used to be known as Express One, calling it Pinnacle Airlines, and Continental for ExpressJet (formerly Continental Express).
The concern here is that the Majors may be using their regional subsidiaries as vehicles for raising capital on better terms than their parents could hope for. There is the possibility that certain costs and revenues could be transferred between the parent and subsidiary airlines in order to enhance the IPO sales message.
This is a difficult proposition to gauge at the moment as there is no real history of public equity financing of regional operations.