Ryanair: role of its secondary airport policy March 2001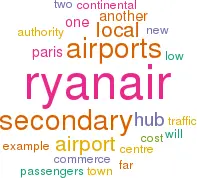 Ryanair has produced yet another excellent set of financial results (pre tax profits of €21.3m for the fourth quarter of 2000, 33% up on 1999), has embarked on another network expansion and announced its continental hub. What role does the its secondary airport strategy play in its sustained traffic and profit growth?
Ryanair has adopted a consistent policy of flying to previously unknown airports often located some way (100km–plus in some instances) from the centre of the nearest major town. There are a surprising number of such airports in the EU — 200 according to one estimate — and Ryanair claims to be talking to up to 30 new candidates at any one point. In late February it announced another six new points, two in Italy, one in Austria, one in Denmark and two in Sweden.
Usually owned by local governments or Chambers of Commerce, the secondary airports have high fixed costs, are regarded as a key tool for development of local industry and tourism, and are ignored by the major carriers. So, an approach from Ryanair or another low cost carrier is warmly welcomed, and generous terms are available when it comes to negotiating a contract.
Indeed, it would appear that Ryanair in return for guaranteeing a certain level of passengers is able to negotiate minimal or zero passenger and aircraft handling charges, and even an annual payment (from the airport) for providing flights there. In addition, the airport may have to ensure a dedicated bus link to the town centre.
Parallel agreements are often signed with local tourism offices, which provide free marketing and advertising of the route at both the origin and the destination.
There are limits to the secondary airport strategy in that in some countries, Spain and Greece for example, secondary airports come under a central authority making it extremely difficult to negotiate typical low cost deals. In France, the Chambers of Commerce, which own and operate the secondary airports, are prime targets for Ryanair, yet there are still significant markets closed off to the airline because there is no suitable secondary airport — Nice/Cote d'Azur, for example.
The concern for Ryanair is that the secondary airports will, once the routes are established, push for a more commercial charging structure in the same way as the main hub airports have with their low cost airline clients.
But Ryanair by dint of its dominance at the secondary airports — accounting for over 80% of the traffic at Paris Beauvais, for example — remains very powerful, exercising in some cases monopsonistic control. Also, most of the secondary airports are not strictly profit–making entities; they are funded by local taxes, regional subsidies, etc funnelled through the regional authority or local Chamber of Commerce. And as budgets tend to be increased in line with traffic increases, there may not be an obvious incentive to battle Ryanair on charges. Consequently, Ryanair seem to be able to push through extensions on its existing contracts of up to 20 years.
Nevertheless, there are limits to what Ryanair can demand of the secondary airports and what they can provide. The process of establishing a new continental hub (more precisely a platform at which Ryanair will position 737s) illustrates this.
The hub choice
Brussels Charleroi, now served from Dublin and London, has now been chosen, with Ryanair planning to position two 737s there and operate to up to seven cities from the airport.
Ryanair states that it plans to invest €100m at Charleroi, a rather depressed former coal–mining town, and guarantee 100 local jobs.
What this investment will consist of is unclear. It was only last year that the local government rejected a Ryanair request for support of flight crew overnight costs in return for positioning a 737 there, the political argument being that although Ryanair landed a lot of passengers in Wallonie (French–speaking southern Belgium) they spent their money in Brussels City (a different administration). Evidently, Ryanair succeeded in the changing the political viewpoint.
Stockholm was probably the closest competitor. But this city has limited potential to develop into a European version of a Southwest–type hub (see Briefing, Sept. 2000 for a discussion of this concept) as it is located too far north. Pisa probably suffered from a similar disadvantage, being too far south in Ryanair's network.
Frankfurt Hahn was some observers' favourite, but it comes under the authority of FAG, which operates Frankfurt Main (50m passengers a year), and on past experience does not welcome any additional competition. A Paris hub might have been thought of as ideal for a continental expansion. But Paris Beauvais is situated just too far out from the centre of Paris, and its terminal capacity is limited at present (extension work is being carried out). Ryanair operates there from Dublin and Glasgow but a London Stansted service would be very difficult partly because of competition from Eurostar. The airport's management have also apparently balked at the length of the extension of the current contract Ryanair had suggested.