Sabena: blue skies turning very stormy March 2001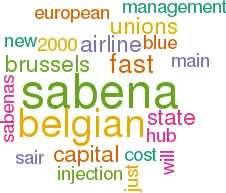 The €250m capital injection received last month from the Belgian state and SAirGroup may not prevent Sabena from becoming the first European flag–carrier to disappear. The capital injection is just intended as a first step towards full recovery. It was only made after yet another ambitious restructuring programme, which aims to improve EBIT by €354m a year, was agreed to by the trade unions after frantic and acrimonious negotiations. The annual savings on direct labour costs alone are targeted at €52m.
The Belgian state purchased new non–voting share certificates valued at €100m through its financial arm Zephyr Fin and SAir acquired more share certificates at a cost of €150m. While the Belgian state contribution has been roundly criticised by the airline's competitors, it is not expected that it will be disapproved by the European Commission (whether SAir is happy or not with the Commission's stance is difficult to tell).
For now, Sabena has just pulled back from the brink. Under Belgian company law, once the company's net worth sank to less than 25% of nominal equity in early December, the shareholders were to either come up fast with a capital injection to redress the balance sheet and meet the legal criteria, or liquidate the company. Meanwhile the "Blue Sky" recovery plan has started. Newly acquired aircraft were grounded and put up for sale. Prestigious long–haul Brussels–Newark and Brussels–Johannesburg services were eliminated. Sabena–owned properties in New York and elsewhere will be sold.
Compounding its problems, Sabena no longer enjoys the unconditional support of the Belgian political and business elite. Only the French–speaking Socialist Party seems to still stand by Sabena. One former political supporter noted: "the airline played with fire. It renewed its entire fleet much too fast. It launched loss–making new routes and continued to price fares below cost."
There is widespread exasperation with the unions. When at the end of August 2000 CEO Christophe Müller came up with Blue Sky, labour leaders were not pleased. "The problem is not with us, but with management, the board and the government,", complain the pilots.
Because they suspected that Swissair would cherry pick the best of Sabena's routes and other assets, the pilots and other unions demanded an independent audit by IPSC, affiliated to ALPA. There is general disagreement on the audit's findings: still, staff productivity is not the problem claim the unions. Management is to blame, and the Belgian state failed to provide enough capital. The airline's management reads that financial resources were insufficient to renew the fleet and at the same time grow so fast. Former managers are blamed; Paul Reutlinger, who was in charge between 1996 and 2000, is directly blamed. A typical tale of an unreconstructed and unrealistic flag–carrier.
Sabena's hub development and its alliance with American had huge potential. But its strategy appears to be largely based on aggressive pricing to increase traffic volumes between European city pairs, via Brussels, and little feed to long–haul services. Even if the numbers look good for Brussels airport, Sabena's the bottom line is not there. Connecting passengers always contribute less unit revenue than O&D traffic, and Sabena has not adapted its unit cost base to a hub operation.
Indeed, in recent years, Sabena has clearly opted for growth at almost any price. While turnover grew at a fast clip — €1.8bn in 1997, €2.1bn in 1998, €2.3bn in 99, losses mounted just as fast. No stranger to annual losses (Sabena turned up a profit only twice in four decades), the airline earned at long last a net profit of €22m in 98 but went back to lose €14m the following year. And then came 2000 for which a loss of €200m is expected.
The reaction of some local observers has been bewilderment. "Accounts do not seem to reflect reality", said a professor of economics at Brussels Catholic University. "It is impossible to lose so much money in so short a time."
Meanwhile, SAirGroup's plan to increase its stake in Sabena to 85% is on hold. The main interest of the SAir is in increasing its existing stake into the catering, cargo handling and ground handling activities, rather than in the main airline business. This would be impossible to accept by the Belgian Government and a complete break–up of the relationship between the two main shareholders would be more likely.
This would leave Sabena at the mercy of larger predators. Lufthansa and British Airways are rumoured to circle around the Belgian airline, both interested in the possibilities of gaining an additional hub. Spring will be hot in Brussels.
SABENA'S FLEET
SABENA'S FLEET

| | | |
| --- | --- | --- |
| | In operation | On order |
| 737 | 17 | |
| A319 | 12 | 16 |
| A320 | 2 | 1 |
| A321 | 3 | |
| A330 | 10 | |
| A340 | 2 | 4 |
| MD-11 | 2 | |
| Total | 48 | 21 |