Braathens: reeling from
Scandinavian market share battle March 2000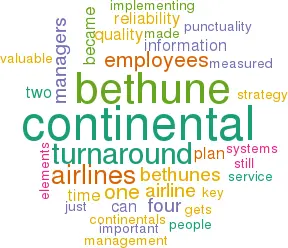 The last financial year to 31 December 1999 was an annus horribilis for Norway's principal domestic airline, made only slightly more palatable by improved results in the fourth quarter. But it is now putting in place measures that should help it recover from the effect of its vicious market share battle with SAS.
Preliminary full year results released in mid-February indicate that while revenues increased by 4.4%, operating expenses shot up by a huge 16%, plunging the airline heavily into the red. Total operating revenue reached NKr6,661m ($860m), offset by expenses of NKr6,811 ($880m), resulting in a gross operating loss of NKr150m. The net loss for the group came to NKr612m ($80m), compared to NKr23m in the previous period.
The poor result is attributed to a number of largely external factors. The downturn in the Norwegian economy, combined with the opening of the new Oslo Gardermoen Airport, created severe over-capacity in the Norwegian domestic market, causing a collapse in yields. Lengthy start-up problems at the new airport and a shortage of air traffic controllers badly affected punctuality, and were a significant contributor to Braathens' difficulties, as was the airline's experience from its forays into neighbouring Sweden.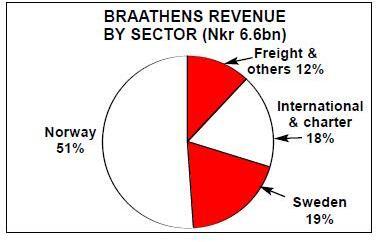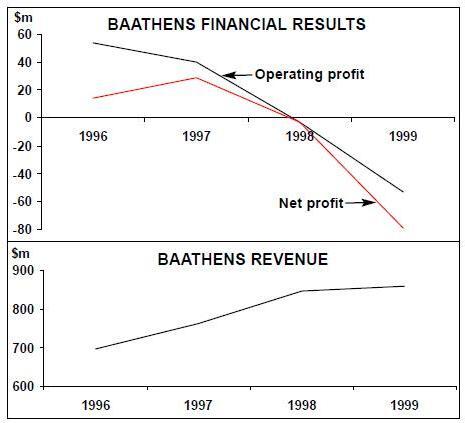 Without the proceeds from the sale of assets, the financial picture would have been even more depressing. During the year, Braathens sold two 737-400s for NKr340m, and sold and leased back eight 737-500s and one 737-400 at a sales price of NKr1,540m. In addition, Braathens also sold its shares in Equant NV, gaining NKr77m, and leased back buildings at the airport, but making a loss of NKr25m on the sale. Capital gains totalled NKr668m.
A further sale and lease back transaction for three 737-500 aircraft was completed in January 2000. The proceeds of NKr450m were also used to prepay debt. The capital gain of about NKr175m will be booked against the first quarter of the current financial year. The airline plans to sell and lease back another 737-500 during the second quarter.
Braathens has a letter of intent for the sale and lease back of buildings at Stavanger Airport, where it has its technical base, which should result in a sale price of NKr240m and a capital gain of approximately NKr160m. The sale and lease back of its head office at Fornebu is another project being worked at for implementation in the first quarter.
Also on the cards is the outright sale, or a joint venture, of its engine workshop. The workshop specialises in CFM 56-3 and -7 engines (as used in the 737), and has built up an enviable reputation for quality and ontime performance. The joint-venture approach has already been set in motion in the ground handling sector, where Braathens has transferred its third party ground handling activities (apart from services for its alliance partners) at Gardermoen to Servisair Norge AS, in which Braathens will have a minority holding. All these measures are being used to reduce financial liability, although it also strips the company of assets, which could be a risky strategy.
When these transactions are completed, and an outstanding 737-700 is delivered in March, Braathens will have a fleet of 35 aircraft, of which six 737-700s are owned and three leased, with 21 737-500s and five 737-400s also leased.
In the longer term, Braathens has options on about ten 737-700s, which are likely to replace earlier types. Braathens Malmö Aviation's fleet comprises ten BAe 146-200s, one 737-300 and four Fokker 100s, all leased. The 96-seat 146-200s are being replaced this summer by newer 112-seat Avro RJ100s, which will be acquired through a lease agreement with BAE Systems Asset Management. The 737 has been retired and, together with the four Fokker 100s, will be sub-leased to other operators during the remaining three-year lease period.
BRAATHENS FLEET PLANS

| | | | |
| --- | --- | --- | --- |
| | Current | Orders | Remarks |
| | fleet | | |
| 737-400 | 5 | | |
| 737-500 | 21 | | |
| 737-700 | 9 | 1 | Plus 10 options |
| Total | 35 | | |
Domestic dismay — the Gardermoen effect
Domestic services account for around half of Braathens' operating revenues, and as such are vital for the airline's survival. The shape and terrain of Norway makes air travel essential, thus ensuring a strong market, which supports a total of nearly 11m passengers a year (the country's population is 4.4m).
To understand last year's slump, it is necessary to go back into recent history. Norway's market was heavily regulated until European liberalisation. (The EC's Third Package was applicable in Norway because the country participates in the European Economic Area although it is not an EU member.)
However, liberalisation has no practical effect as the slot restrictions at Fornebu Airport kept a stranglehold on the domestic sector. This shut effectively shut out would-be competitors to the incumbent airlines Braathens and SAS, which had shared the spoils more or less on an equal basis.
Then in October 1998, the opening of Oslo's new Gardermoen Airport, with masses of spare capacity, swept away the restrictions overnight. The result was a frantic scramble for increased market share, led by SAS, which increased its domestic capacity in Norway by 25-30%.
Braathens followed suit, although its capacity boost was somewhat less at 15-20%. The competitive landscape was further altered by a newcomer, Color Air, which began scheduled services in August 1998 with a fleet of three 737-300s. The ensuing battle for market share, while adding many new flights and frequencies, inevitably resulted in lower fares and depressed yields.
The real problem, says Braathens' VP Corporate Affairs Frode Geitvik, was that the 5.5% traffic growth generated was not real, but hyped and, together with the drop in fares, could not be sustained. Additionally, the fall in the oil price at that time brought Norway's oil exploration and production business almost to a halt, and as the oil industry was among Braathens' biggest clients, the effect on its business traffic was devastating.
Punctuality problems at the new airport, largely due to teething troubles and shortage of air traffic controllers, exacerbated the situation, with the net result that the airline's full-fare business traffic slumped by 15-20% at the beginning of 1999. With Braathens' passenger traffic being approximately two-thirds business, this fall-off represented a body blow. According to Geitvik, this is now down to 10%. The airline is not likely to get the rest back, because of changes in travel patterns due to the less convenient location of the new airport and the unlikelihood of the oil industry recovering to the heights achieved during the last two decades — in spite of a renewed hike in oil prices.
Color Air, with no real critical mass, soon succumbed and ceased operations last September. While this had little real effect on domestic capacity, Braathens and SAS were both forced to retrench. Braathens cut several routes and frequencies from Oslo, reducing its overall domestic capacity (measured in ASKs) by 12%.. SAS made cuts of 5%.
Market shares — return to status quo
In terms of market share, it is back to the status quo, with Braathens successfully defending its position, taking 48.5% of the total domestic market. While this is down by 1.5 percentage points from that prior to the price war, it can be explained by being exactly half of the share enjoyed for a short period by Color Air. Braathens expects no domestic growth in 2000, but hopes for a slight improvement in business traffic.
The poor financial result has put any future plans on the back burner. Priorities number one, two and three for the last few months, says Geitvik, have been "to stop the bleeding".
Braathens claims that it is on the verge of succeeding. Fares have gone up by around 10% and are moving towards an acceptable level, and yield improvements are already beginning to filter through.
Some of the actions taken — such as cutting capacity, eliminating the biggest loss-making routes, selling aircraft, and financial restructuring — are showing shows signs of success. These measures are in addition to its "Improve 800" programme, whereby Braathens aims to cut NKr800m off its costs by the end of 2001. In the first six months, Improve 800 has achieved savings of NKr150m, mostly through a reduction in ground operations personnel and distribution.
Its E-Pass electronic booking system is making a substantial contribution to reducing costs and improving efficiencies. The system allows business-class passengers with a Wings membership card to book tickets over the Internet.
From a standing start at the beginning of 1998, the number of passengers using the facility exceeded 16,000 in one week last December and is continuing to rise. Braathens estimates that electronic distribution will save it between Nkr100 and 200m per year.
Swedish woes
In Sweden, Braathens has got badly burnt, especially on the former Transwede operations out of Stockholm-Arlanda. Since acquiring Transwede in 1996, and Malmö Aviation in 1998, now combined under the Braathens Malmö Aviation name.
BRAATHENS IN SWEDEN
(Nkr millions)
Revenues Losses
1996
602
1
1997
634
20
1998
821
147
1999
1,213
230
Restructuring cost (99)
307
Total
3,270
705
($420m)
($90m)
This company has suffered a cumulative loss of NKr705m, including NKr307m for restructuring of the Swedish operations during 1999. These included redundancy payments to employees (which were cut from 900 to around 500), as well as lease and other aircraft expenses.
All routes out of Stockholm-Arlanda, to Lulea, Umea, Halmstad, and Oslo (now flown by mainline Braathens), as well as the Stockholm Bromma — Lulea route, have been closed down.
Instead, the airline is concentrating its activities in Sweden on the Stockholm city centre Bromma airport, and the profitable 'golden triangle' routes between Stockholm, Malmö and Gothenburg. A new management has also been installed.
Legal possibilities
Although it has taken a battering in trying to muscle in on SAS's stronghold, the final chapter on this saga has yet to be written. The Swedish competition authority has ruled that SAS's price cutting and bonus points inducements provided unfair competition. Apparently, if the decision is upheld, Braathens would have a case for suing SAS for the losses incurred in closing down its Arlanda operation.
Either way, Braathens has no intention of pulling out of Sweden altogether. It sees the market as a vital component in being able to offer network size within Scandinavia, without which its appeal to the international business passenger would be limited.
Only after the situation at home, and in Sweden, has been stabilised, will Braathens again focus on its international routes (it currently serves 10 cities outside Scandinavia).
The KLM alliance
The priority is strengthening the alliance with 30% shareholder KLM. Discussion on a possible joint-venture have been ongoing for some months, but have had to be put on hold, while the airline tackled its more pressing problems.
Last October, Braathens Group chief executive officer Arne Jensen said; "KLM and Braathens believe that closer co-operation will serve both airlines and enable Braathens to strengthen and further develop its market position."
The key objectives of such a joint-venture are revenue, profit and risk-sharing, as being pursued by KLM and Alitalia. Scheduled coordination, marketing, lounges, and frequent flyer programme benefits, have already been in place for some time.
The question remaining is not so much if, but when this joint venture will be cemented. A profitable Braathens would speed up the process, but at Braathens' own admission, profits will not be achievable until the 2001 financial year, although significant improvements in results are forecast for this year.
Such predictions, of course, can be influenced either way by external factors. Braathens depends on an improvement in Norway's economy, a return to sensible competition, and the development of alliance building. Nevertheless, it feels that it has put in place the necessary measures to extricate itself from the bear pit.