Canada: From inefficient duopoly to what? March 2000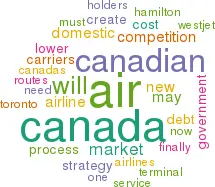 The Canadian duopoly was constructed on a unstable platform of egregious debt, even by airline industry standards. Competition between Air Canada and Canadian was limited to bouts of sporadic fare wars, the intensity of which has decreased in recent times. Onex's attempt to acquire and merge the two Canadian carriers finally broke open a situation that had been stalemated for years. And the resulting confusion in political circles allowed Air Canada to finally acquire its arch–nemesis. How will the Canadian industry evolve now?
The short–term strategic choice for Air Canada is simple: focus on strengthening its monopoly positions and move quickly on costs. This includes cutting domestic distribution costs, reducing capacity, initially on the thicker routes (to avoid public scrutiny) and rationalising fleet types. An employee attrition programme should target the first 2,500 of what may eventually have to be a 8,500–10,000 if Air Canada is to be prepared for the next downturn.
In order to effectively leverage Canadian's assets, Air Canada has implemented an asset strip strategy, reminiscent of the Frank Lorenzo approach to his Eastern Airlines acquisition of over a decade ago. It has, for example, now taken over exclusive and valuable routes rights like Tokyo.
US/Canada cabotage?
With this process all but complete, negotiations with debt holders have become even more one--sided.There is comparatively little left in Canadian that Air Canada wants, and it could simply abandon the remainder of the airline if debt holders prove "unreasonable". Internationally, a market the size of Canada can be covered well by one national airline brand with competition coming from external airlines. Domestically, however, the government is again faced with the need to legislate to create more competition. (It was clear back in the mid 80s that the Canadian deregulation process was seriously flawed — it was a response to the US change than a recognition of Canadian market realities.)
There are a number of options for de–monopolising the Canadian domestic market. One is the complete opening of the Canada–US border in order to create would create a North American cabotage regime.
The result would probably not be reciprocal; US carriers would come north but Air Canada would not move south. The arrival of the US carriers would probably lead to additional competition on the key sectors, maybe 10 city pairs, but the rest would remain under–served or have their service cut altogether.
Reaction to the new entrants
So, the delicate policy of cross–subsidy between major trunk routes and thin regional services, quietly maintained by Air Canada throughout the deregulated era, would be undermined. The consequence would be either a disintegration of the domestic network or a government–mandated minimum network — as in the regulated market of the 1980s. The second possibility is that the problem will be solved by the market through the emergence of start–ups. WestJet (see Briefing, pages 10–13) is the big hope, having already announced plans to start service from a mini–hub it will create at Hamilton (near Toronto) serving a number of cities both east and west of there.
Air Canada says it plans its own start–up airline using surplus smaller aircraft (737 or DC–9- 30) within the coming year to compete with the newcomer. The government has ordered Air Canada not to start until September at the earliest.
The reality is that Air Canada will not have an easy time setting up its own low–cost subsidiary for the following reasons:
Union scope clauses will be a major obstacle;
Hamilton's traffic potential is very dubious — no carrier has ever planned a significant operation there;
If Air Canada builds up Hamilton, it risks stealing Toronto traffic from itself at lower yields
Now that Air Canada and Canadian are merging their Toronto operations in Terminals 1 and 2 this means that the higher cost Terminal 3 (the current Canadian terminal) will need new tenants, and attractive lease rates will be available for new entrants.
As for WestJet, it is just possible that it has made a mistake in pushing growth faster it can handle and leaving itself vulnerable. It may be spreading itself too thinly across the country and this may be part of the Air Canada strategy. Could it be that Air Canada need only build a paper airline at Hamilton to lure WestJet out of its slower, successful growth strategy?
One must also contemplate the plight of the domestic Canadian consumer and the prospects for equitable competition in the domestic Canadian market. It would appear that government must go beyond simply controlling the monopoly, which its current poorly constructed draft legislation purports to do, and provide incentive for start–ups to enter new markets.
A system that ensured that lower fares were linked to lower unit cost structures might provide some incentive to compete. This would have the effect of reducing Air Canada's ability to discount in markets in response the entry of carriers with lower cost structures.
Onex returns?
Other provisions such as mandated FFP membership at fair cost and redemption rate,guaranteed slots and terminal access at key airports would also prove positive in stimulating investor interest. In addition, the government must mandate minimum service levels (frequencies and capacity) for the many communities where air travel is a necessity. Finally, it is possible that a much larger game is still in the process of being played out, maybe featuring the return of Onex (Aviation Strategy, Sept. and Nov. 1999).
By the end of this summer the new Air Canada (Canadian having been mostly absorbed or cut back) will have emerged. Regulatory issues will have been addressed. Canadian Airlines debt holders will have been dealt with.
At this point another Onex approach would be far less contentious, and Air Canada's poison pills may be be strong enough. Air Canada's cash position took a hit from its protective actions last year,and Star may not be able to come to the table two years in a row to rescue Air Canada. In Onex's eyes, the value of Air Canada would be greatly enhanced as it would have completed the difficult tasks in the merger process.