A3XX: the question of space March 2000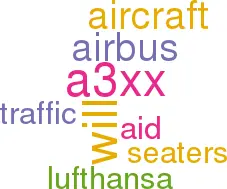 Despite an absence of definite commitment to the A3XX from target airlines, the project will be given a major boost if the UK government agrees to provide £540m ($865m) of launch aid to BAE Systems. Unconfirmed reports at the end of February suggested that the funds would be forthcoming (for an explanation of launch aid see Aviation Strategy, December 1999).
If the aid does materialise, Airbus will be able to claim acceptance of its rationale for developing the A3XX. Basically, Airbus argues that exponential growth in air traffic combined with congestion at the main hubs will make a shift to the super–jumbo inevitable. Also, the unit operating costs of such an aircraft will be compelling. Future trends in aircraft size, according to Airbus, are shown in this chart.
Whereas Airbus has an almost visionary approach in its presentations of future aircraft demand, Boeing is more prosaic. Its representatives tend to point simply to the actual evolution of long–haul operations over the past ten years, which has been a fragmentation of markets and a downsizing of aircraft types. Moreover, Boeing argues that closer examination of traffic patterns at the main hubs indicates that traffic congestion will actually be alleviated by up–sizing from 120 to 150 seaters, from 150 seaters to 180 seaters, etc..
Jurgen Weber, CEO of Lufthansa, made a very interesting observation at a recent European Aviation Club meeting. Asked if the Singapore — Frankfurt route, where a Lufthansa 747 takes off within minutes of a SIA 747, were not a natural for the A3XX, he replied no. The reason is that there is not room at Frankfurt for Lufthansa to increase the feeder services that would be needed to fill an A3XX. The alternative strategy, as the market develops, would be to introduce direct operations from Singapore to Hamburg, Munich, etc using A340s.