US low-cost carriers reassert themselves March 2000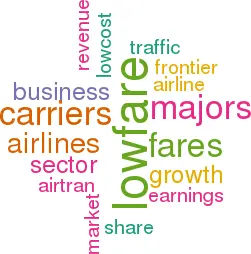 While the high–cost US major carriers are now expected to report reduced earnings in 2000, the prospects for many of the low–fare new entrants and the regionals, as well as Southwest of course, remain very favourable.
According to James Parker, analyst at Atlanta–based SunTrust Equitable Securities who focuses on what he calls the "growth airline sector", the lower–cost operators will continue to gain market share from the large carriers and have sustainable 13–30% annual earnings growth rates.
Not so long ago, it looked like the majors were getting the upper hand. In 1996–1998, they became more price competitive, thanks to more sophisticated yield management systems and the ability to subsidise cheap seats with higher business fares. This helped stem the flow of price–sensitive traffic to the low–fare sector.
However, in 1999 the market share trend turned back in favour of the low–fare airlines as business travellers, fed up with paying fares that had risen by 49% since January 1996 (while leisure fares declined by 13%), began shifting to the coach cabin or to low–fare airlines.
As a result, many low–fare operators reported strong yields and earnings growth last year. And the majors are now under pressure to make up for the business traffic revenue shortfall by raising leisure fares, which would shift even more traffic to low–fare carriers. (Northwest is trying to tackle the problem by reducing business fares with its "Bizflex" initiative, though PaineWebber analyst Sam Buttrick believes that the move is "potentially net revenue dilutive".)
The majors may become more restrictive in offering very cheap seats through the Internet, because the impact appears to be a net dilution in revenue. In any case, price–sensitive travellers are more likely to hit the web sites of low–fare airlines first. Internet bookings represent about 10% of low–fare airlines' total bookings (and as much as 17% of AirTran's), compared to 3.5–7% for the majors.
Also, unit cost differentials between the majors and low–cost carriers are likely to increase further over the next few years. The major carriers remain under pressure on the wage front and may even lose some of the benefits achieved with the low–cost subsidiaries. For example, United's pilots have succeeded in bringing B–scale United Express wages up to the level of the mainline pilots.
Frontier and AirTran have proved that low–fare airlines can co–exist with the majors at hubs, as long as they are careful not to offer excessively low fares or try to substantially expand market share.
While the regional airline sector has shrunk with Delta's acquisition of Comair and ASA, Parker points out that the sharply improved profitability of Frontier and AirTran and the IPO of WestJet have expanded investment opportunities in the growth airline sector. His best picks, though, are Southwest and its European "refined version" Ryanair. Frontier and AirTran are recommended as "more aggressive investments".
UNIT COST TRENDS (Cents/ASM)
UNIT COST TRENDS (Cents/ASM)

| | | | |
| --- | --- | --- | --- |
| | Majors | Low cost | Difference |
| | | carriers | |
| 1993 | 8.86 | 8.43 | 0.43 |
| 1994 | 8.91 | 6.92 | 1.99 |
| 1995 | 9.08 | 7.68 | 1.40 |
| 1996 | 9.45 | 8.83 | 0.68 |
| 1997 | 9.51 | 8.62 | 0.89 |
| 1998 | 9.56 | 7.65 | 1.91 |
| 1999 | 9.63 | 7.90 | 1.73 |
PERCENTAGE OF TOTAL BOOKINGS VIA THE INTERNET
PERCENTAGE OF TOTAL
BOOKINGS VIA THE INTERNET
AirTran
17%
Southwest
15%
Frontier
7%
WestJet
5%
US majors
US Airways
7.2%
Delta
7.0%
Northwest
6.5%
United
4.0%
American
3.5%
Continental
3.5%
Source: SunTrust