BA's strategic bubbles March 2000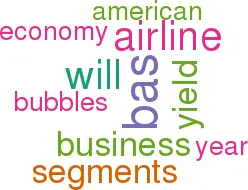 BA's new business class product has been well received, but the airline is still not persuading investors of the viability of its business plan, as evidenced by its feeble share price performance.
In order to clarify its strategy BA has produced the following chart. The bubbles represent BA's various business segments, the bigger the bubble the bigger the revenues. Their position on the chart depends on two things — their profitability and the value of assets (aircraft) that are associated with the segment.
The idea, at its most basic, is to grow and defend its most profitable segments, mostly the point–to–point premium services, both long and short haul. In segments like long–haul point–to–point economy, BA aims to enhance its market position and improve the yield mix. As for long/short haul connecting economy traffic, that is targeted for deflation.
The bubbles will not only float upwards if BA's plan succeeds, they will also drift to the left so further improving the company's RoI. In other words, as the airline downsizes, say from 747 to 777- types, less capital will be tied up in the various segments.
One problem facing BA is the extent of the yield increase that it will have to return to the profitability level of 1996/97. According to our calculations, BA is going to have to push average yields up by 2% in 2000/01, 8% the next year and 4% the following year, even assuming that load factors move up to 70% from the present 66.9%. This would give BA a net profit of about £350m in 2002/03 (this year, 1999/00, will probably end up at around -£250m).
This yield target is very ambitious — no airline, as far as we now has achieved such a yield improvement. And business–class fares from London are by some way the highest in Europe now. Perhaps there are more operating cost savings to be made, from the Internet, for example, but that isn't clear yet.
Oneworld implications
BA has to focus more on all its customers to have a chance of charging higher premium fares. Yet staff morale doesn't seem too wonderful at present, and is unlikely to improve when the airline downsizes and lays off employees. Adapting one of Gordon Bethune's ideas ( see pages 18–19) might be helpful — promise the staff bonuses related to the number of business and economy travel awards the airline receives rather than to some arbitrary target imposed by management. There is also the question of the implications of BA's new strategy for its oneworld alliance partners. BA is in effect downplaying its role as a network carrier (note the outsourcing to Go and the decision to sell Air Liberte). In effect, it is becoming a larger scale Virgin Atlantic. So there is a greatly diminished role for mutual feed, and the urgency of BA's need to establish a full code–sharing agreement with American must have faded (American in any case seems to be becoming more interested in its Swissair/Sabena connections).
American would still be extremely valuable to BA if the two carriers were able to consolidate and control key trunk routes on the Atlantic. But surely the regulators wouldn't permit that, even as a trade–off for full open skies.