Air France's partnership options March 1999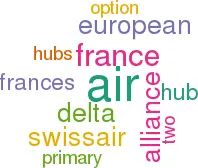 Successfully part–privatised, Air France can now concentrate on getting its alliance strategy worked out and has stated that it would like to do so by the end of the year. As the last major unaligned carrier in Europe, Air France is going to have to break into (or break up) one of the existing groupings.
Given entry into Star or oneworld is a non–starter, the two remaining options are:
Northwest/Continental and their European partners KLM and Alitalia; or
Delta and its primary European partner Swissair with its Qualiflyer affiliates,
Sabena Austrian, TAP, THY (membership temporarily suspended), plus a set of regionals.
Indeed, in late February Air France announced that it would be increasing code–share routes with Continental from 12 to 30 and those with Delta from 14 to 48.
Option one considerations include:
The alliance would be attractive to Northwest and Continental;
It would create a power block stretching from Amsterdam to Rome, across some of the richest territory in Europe;
CDG would threaten Schiphol's role as the primary northern hub of the alliance and possibly undermine KLM's position in the alliance;
There might be a conflict between Air France's development of its Lyons hub and Alitalia's investment at Milan Malpensa;
It would provoke a negative reaction from the European Commission on grounds of market dominance, proximity of hubs, etc.
Option two considerations include:
This alliance would be very good for Delta in terms of increased European market share;
It could severely marginalise Swissair, though the SAirGroup could be compensated by, for instance, taking over Air France's ground handling and maintenance through SAirServices, Air France's catering operations through Gate Gourmet, cargo handling through SAirLogistics or in–flight sales through Nuance Trading;
A primary hub like CDG is of much greater value than a series of secondary hubs;
Swissair might moderate its competition with Air France for traffic in the east and south of the country; and
Brussels would still have major concerns but would be less likely to block this link–up.
On balance, option two, with Delta, looks to be the more attractive course of action for Air France. But Swissair could well decide to opt out of what already seems to be an uncomfortable relationship with Delta (the Atlantic Excellence brand is not co–ordinated with Qualiflyer).
Then Swissair could well end up in oneworld. It would bring its Zurich hub, which could fit into oneworld's emerging pattern of European hubs — London (the mega–hub), Helsinki for Europe–northeast Asian connections, Madrid for Latin American connections, Warsaw for former East Bloc traffic and Munich and Paris Orly as enclaves in the Lufthansa and Air France empires.