China Airlines: a sellable proposition? March 1998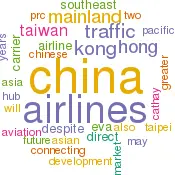 In February Taiwan suffered its worst ever air disaster when a China Airlines A300 crashed on approach to Chang Kai Shek airport at Taipei. In reaction to the tragedy senior Taiwanese politicians have been urging the privatisation or trade sale of the carrier in order to strengthen management and build a recovery strategy. Is China Airlines a sellable proposition?
China Airlines is officially a non–airline; it does not appear in IATA or ICAO publications because of the UN's official recognition of the People's Republic of China (PRC). It also has a confusing ownership structure — it is 71% owned by the China Aviation Development Foundation, a quasi–governmental body whose role is often not at all clear. For example, the airline and the government have over the past two years been in conflict over the composition of CADF, with the result than an attempted trade sale of 10–20% of the airline got nowhere.
Despite this, China Airlines has some unique selling points, and could prove to be an intriguing target for investors able to look beyond the carrier's poor safety record and the current Asian crisis.
A changing airline
China Airlines is not a protected flag carrier. Competing with rapidly growing EVA over the past five years has steeled China Airlines, prompting essential moves which it would not have made as a monopolistic state–backed carrier: more daily direct services to Southeast Asia; setting up a joint venture with TransAsia; and addressing fundamental cost, efficiency and marketing issues. In the first half of the financial year (to September 1997) it made a pre–tax profit of Tw$2bn ($63m) on turnover of Tw$32bn ($1bn).
Against this background, China Airlines' potential can be gauged. For a US airline, China Airlines offers access to the Southeast Asian market through its hub at Taipei, supplementing or bypassing the super–congested Narita hub. It provides daily frequencies to all major Southeast Asian points, has a good brand in this region and is also very strong in local distribution.
Indeed, China Airlines operates a twin hub system as it has extensive fifth freedoms at Hong Kong (and enough unused rights to be able to double its frequency to Southeast Asia over Hong Kong), with the two cities being linked by the densest international traffic route in the world.
It was the Pacific/Southeast Asia connecting potential which attracted American Airlines into an extensive code–share alliance last year. China Airlines is the operating arm of the alliance on the Pacific with a fleet of seven 747–400s. It also has another two on order.
In the future, China Airlines may well play a crucial role in the development of the Greater China market. Despite the general perception the Taiwan and the PRC are implacable foes, Beijing–Taipei aeropolitical relations are governed by pragmatism. Taiwan is closely connected in business and cultural terms to the Shanghai and Xiamen areas of the mainland where commercial development is most rapid. And US pressure is mounting on the Taiwanese to start formal talks with the mainland Chinese about a whole range of economic and political issues.
China Airlines has strong established traffic flows into the mainland with 40–50% of its Hong Kong traffic connecting into the mainland; the interlining procedure for this traffic works smoothly and is accepted by both sides. Moreover, an aviation agreement between Hong Kong and Taipei was signed in 1996 establishing a working framework for at least five years following the hand–over of the former British colony.
A direct boost
Should direct flights between Taiwan and the PRC be permitted at some point in the future China Airlines stands to gain substantially while Cathay Pacific is likely to lose and EVA, for political reasons, may be excluded. Although a third of Taipei–Hong Kong traffic currently connecting through to the mainland might be lost (i.e. 15% of China Airlines' traffic on the Hong Kong route), this effect will be dwarfed by new traffic generated: a rapid doubling in volumes is more than possible given the latent demand for travel both from Taiwan to the mainland and from the mainland to Taiwan. Yields are likely to be maintained at the same level as those currently achieved over Hong Kong; indeed, they could increase as competition on direct routes will be less intense than that over Hong Kong.
Whatever consolidation take place among the Greater Chinese airlines (including Cathay, EVA, TransAsia, CNAC/ Dragonair/Air Macau, Air China, China Southern and China Eastern), China Airlines will be a key player. Cathay Pacific, despite its recent traffic problems, remains the number one Chinese carrier, but is essentially Europe–orientated. The corporate culture of the Evergreen Corporation would probably preclude a strategic stake for a foreign entity in EVA.
So, despite current appearances, China Airlines may well be an key investment vehicle for the future Greater China aviation market.