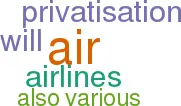 All of a sudden the European privatisation process has accelerated. Air France has announced that up to 47% of the carrier's capital will be sold to investors, employees and maybe other airlines. Alitalia, Iberia and TAP are progressing along the same lines. Even the former East Bloc airlines, LOT and Balkan Bulgarian, have announced plans for equity sales. By the turn of the century all of the Euro–majors should be at least part privatised.
One wonders whether there is any limit to European investors' appetite for airline stocks, such is the number of secondary and tertiary carriers coming to various stock–markets. Listings are planned for airlines like Air Europe in Italy, Air Europa and Air Nostrum in Spain, Portugalia in Portugal and Air GB and Gill in the UK. As the Brit Air IPO (pages 6–7) proved, there is no lower size limit to airline flotations.
Pressure for privatisation has come from various sources — directly from the EC in the case of some of the state subsidised airlines (so it won't be forced through the "rational investor" rigmarole again) but increasingly from national governments of various political complexions. The logic for retaining state ownership in a flag carrier is rapidly undermined when it can no longer be subsidised; it will simply become a financial and political embarrassment.
The likelihood is that retaining a 50%-plus government stake in a flag–carrier will also come to be seen as a mistake. The main effect will simply be to dilute the share price.
Privatisation is also privately regarded as a means of dealing with some of the most powerful public sector unions still around. Allocating 12% of Air France's stock to the pilots' union is not only a direct way of reducing costs (salary give–ups are estimated to around the 15% mark with no snap–backs), but it is also a means of making the unions confront the financial consequences of their influence on operational matters, for example insisting on maintaining unprofitable routes or demanding new aircraft.