Aeroflot and podeba:
Putinesque
June 2018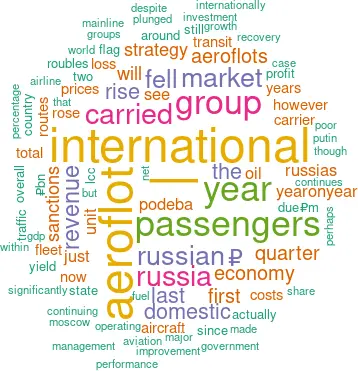 Though oil prices have risen and the Russian economy has escaped from recession, Aeroflot's profitability plunged during 2017. But while the country's flag carrier is hamstrung by majority state ownership and influence, it is a statist corporate strategy that is Aeroflot's biggest challenge.
In calendar 2017, under IFRS standards, the Aeroflot group's revenue rose by 7.4% to ₽532.9n (US$9.1bn), thanks to a 15.4% rise in passengers carried, to 50.1m. However, group operating profit fell 26.1% to ₽40.4bn ($693m) and the net profit was down a substantial 40.6% year-on-year to ₽23.1bn ($395m) — see charts.
The downward profit trend is continuing into this year. In the first quarter of 2018, revenue rose 8.5% to ₽112bn ($2bn), with passengers carried up 6.8% to 11m. However, EBITDA plunged from a ₽1,136m loss in Q1 2017 to a ₽7,732m ($138m) loss in the first quarter of 2018 — close to a sevenfold rise in losses, which Aeroflot claims is due to "the seasonality pattern of the Russian aviation market coupled with macroeconomic factors".
That is a surprising statement given macro trends are starting to improve for Russia. After the value of the Rouble fell by around 60% in two years, from a rate of 33 Roubles to the US Dollar at the start of 2014 to 84 Roubles exactly two years later, it has improved significantly since then, and today stands at around 62 Roubles to the Dollar.
The Rouble's recovery is linked with an improvement to Russia's economy. The country's rate of GDP growth started falling in 2012 before the economy shrank in both 2015 and 2016 — with the causes lying almost entirely at the feet of the Putin government, whose imperialistic ambitions in the Ukraine/Crimea (and challenges to the West in general) have been met by US and EU sanctions that have helped — along with Putin's domestic policies — drive the Russian economy into the ground.
But 2017 was a year of recovery for the economy — inflation has fallen significantly recently and GDP grew by around 1.5%, which though modest is a considerable improvement compared with the last few years. The World Bank expects Russia's economy to grow at around 1.7% this year and 1.8% in 2019.
Structural weakness
However — and it's a big however — there are still severe structural weaknesses in Russia's economy, not least of which is the high correlation with oil prices. Prices for crude oil plunged from $108 a barrel in September 2013 to less than $30 in February 2016, and it's no coincidence that Russia's escape from recession has coincided with an improvement in oil prices since then.
Hydrocarbons account for an estimated 30% of Russia's GDP and somewhere between 40% and 50% of the federal budget. Russia is now trying to reduce its dependency on these volatile revenues, and earlier this year introduced a new regulation whereby once the price of oil goes above $40 a barrel, all revenue over that level will be allocated to a "National Welfare Fund" (ie allocated for long-term investment), rather than being used for regular government spending, as has usually been the case.
Perhaps more crucial than oil prices, international sanctions have made it very difficult for the Russian government, banks and companies to raise funds outside of the country, and the result has been significantly reduced investment. Until the first quarter of 2017, Russia went 11 consecutive quarters where investment growth fell (as measured by percentage change on gross fixed capital formation). Those sanctions have therefore forced Russian companies and banks to wean themselves off what had been cheap foreign debt, and domestic economists hope that Russia retains that discipline when sanctions are lifted.
Yet, if anything, Putin is becoming more belligerent towards the West, and despite president Trump's wishes to bring Russia back "in from the cold" (including an unsuccessful plea in June this year to allow Russia to rejoin the G7 nations, to make it a G8 again), sanctions on Russia remain obstinately in place. Also in June, Jens Stoltenberg — Secretary-General of NATO — said that continuing sanctions deters Russia from invading other countries.
In short, the Russian state will remain a virtual international pariah until either Putin reverses his aggressive stance internationally, or — perhaps more feasibly — he is replaced by a moderate president at some time in the future. That won't be soon though, as he was re-elected easily in March (while hardly bothering to campaign overtly) and is undoubtedly popular domestically.
Against this challenging background, Aeroflot has to operate as the nation's flag carrier.
Aeroflot post-Transaero
Aeroflot's dip in profitability during 2017 comes despite being boosted considerably in the last two years by the demise of Transaero Airlines, formerly the second largest airline in Russia (see Aviation Strategy, April 2017), when in effect Aeroflot has been able to cherry-pick the best of Transaero's international routes. They are now served by the group's multi-brand strategy, with the mainline Aeroflot operating alongside regional/charter airline Rossiya, regional carrier Aurora and LCC podeba.
podeba (which means 'victory' in Russian) has garnered a lot of attention since its launch in December 2014, but the LCC saw passengers carried rise just 6.9% in 2017, to 4.6m. Of those, 3.7m were carried on domestic routes, which was actually 3.7% down year-on-year — a remarkable achievement in a year when the overall Russian domestic market grew by 11%.
Based at Moscow Vnukovo, podeba operates 18 737-800NGs, with six more due for delivery this year and a target of 45 aircraft in operation by 2022. They fly on 62 routes (38 of which are unique within the wider Aeroflot group), and the focus now is clearly on international routes, where passengers carried rose 84.8% last year, to 0.9m.
The LCC, however, has to be seen within the context of the Aeroflot group — it accounted for just 9.1% of total group passengers carried in 2017 — and this percentage was actually down on 2016, when it accounted for 9.9% of all group passengers carried.
Strategic confusion
Is this a rejection of the LCC model in the Russian market, or just poor management of podeba by Aeroflot within the wider group portfolio? Aeroflot suggests "limitations in fleet" are to blame, but responsibility for that lies squarely with Aeroflot's management. A net profit of ₽2.8bn ($48m) in 2017 was 24.4% down on 2016, and — worryingly — in the first quarter of 2018 (which is traditionally the weakest quarter in the Russian market), podeba made an EBITDA loss of ₽882m ($16m), 28.8% worse year-on-year, and a net loss of ₽736m (a 55.1% higher loss than Q1 2017).
Whatever the reason for podeba's struggling performance. the powerhouse of the group is increasingly the mainline Aeroflot, which saw passengers carried rise 13.3% in 2017, to 32.8m. Based at Moscow Sheremetyevo, somewhat obstinately the mainline continues to develop Moscow as a transit point for passenger flows between the Asia/Pacific region and Europe/North America — which is a tough ask given Russia's reputation currently.
Aeroflot's total international to international transit passengers rose from 3.7m in 2016 to 4.4m in 2017, thanks to increasing frequencies on international routes, but as a proportion of all international passengers carried by Aeroflot that has actually fallen year-on-year, from 20.2% in 2016 to 19.5% in 2017.
We have commented on Aeroflot's strategic goals for 2025 previously (see Aviation Strategy, April 2017), and suffice to say that many are already in tatters, with transit passengers a case in point. The airline has an explicit goal for 32% of total group passengers carried to be transit passengers by 2025, but the proportion is going down, not up.
In any case, the transit goal seems in direct contradiction for the plans to develop podeba's point-to-point network — or then again, this might explain why the LCC's traffic growth was so poor last year. Interestingly — and in complete contrast to its stated strategy — at the conference call with analysts to discuss 2017 results, Giorgio Callegari (Aeroflot groups' deputy CEO for strategy and alliances) said that "transfer traffic is an important and interesting opportunity — but not the focus of our efforts. The percentage of International–International traffic still remains a very, very minor part of our total number of passengers". Intriguingly, Callegari, who is internationally respected, resigned in March, and Aeroflot is reportedly a shortlist of replacement candidates that are "all foreign", according to Vitaly Savelyev, Aeroflot CEO.
In terms of fleet, the group continues to expand, and it now comprises 336 aircraft, 45 more than at the end of 2016 (see chart). Modernisation of assorted fleet types is advancing steadily, although the group still has 10 different major types, with subsidiaries operating DHC-8s and DHC-6s; thankfully, the last of the An-148s and An-24s have left the group fleet, which now operates to 169 destinations in 52 countries.
On outstanding order for the group are 131 aircraft, comprising 14 A350-900s, six 777-300ERs, 18 787-8s, four 787-9s, 22 737-800s, eight SSJ-100s and 50 MC-21s (the first of which is due in the first quarter of 2020). Much of this is "front-loaded", with 41 aircraft due for delivery over Q2-Q4 this year, and the overall group fleet is set to rise to 409 aircraft by the end of 2022.
Immense challenges
What is fundamentally worrying for Aeroflot is that it is losing market share in both the domestic and international markets (see charts). In 2016, in terms of passengers carried, the group had a 44.6% share of the domestic market and a 39.4% share of the international market to-from Russia, but in 2017 this fell to 44.1% and 36.9% respectively.
The international market performance is the most disappointing. While international passengers carried by the Aeroflot group actually rose by 23.3% in 2017 (to 22.6m), that was substantially less than the overall increase in the international market in 2017, of 31.7%. That market rise (helped by the appreciation of the Rouble) came after two years of sharp stagnation as the Russian economy tanked, sanctions bit and international executives sharply reduced their travel to the country. Indeed, international passengers carried to/from Russia fell from 65.5m in 2014 to just 46.4m in 2016, and despite the recovery last year the international market was still some 3.3m passengers lower in 2017 than it was back in 2013.
The international market is critical to Aeroflot since international revenue accounts for almost 60% of total scheduled passenger revenue, and both yield and unit revenue are higher on international flights than domestic ones. Yet on any measure Aeroflot's international performance last year was poor.
In 2017 international revenue per RPK fell a hefty 7.7% year on year, from ₽4.11 in 2016 to ₽3.79 last year (by contrast domestic yield fell 1.1% year-on-year), while international revenue per ASK fell 5.6% year-on-year, from ₽3.25 to ₽3.06 (domestic unit revenue fell 1.6%). International yield has improved in the first quarter of 2018, but that has to continue through the whole of this year.
With yield and unit revenue falling in 2017, Aeroflot needed unit costs to fall similarly, but that just didn't happen. Excluding fuel, CASK fell from ₽2.40 in 2016 to ₽2.35 in 2017, but most of that gain was wiped out by the rise in fuel costs, so that overall unit cost fell by just ₽0.01 over the year, to ₽3.13 in 2017. And the continuing rise in fuel costs plus increasing lease costs led to a 7.7% rise in unit costs in the first quarter of 2018, to ₽3.37 (compared with ₽3.13 in Q1 2017).
Perhaps the only good news on the horizon for Aeroflot is the current World Cup, which is undoubtedly boosting traffic, both internationally and domestically, this summer (and in which Russia is doing unexpectedly well). But it will be a short-term boost only — the tournament lasts for a few weeks, and very few of the international fans that will use Aeroflot group flights will ever repeat the experience in the future.
Other than being the flag carrier in a country ruled by an effective dictator, the last major challenge is that Aeroflot continues to be state-owned, with holding agency Rosimushchestvo having a 51.2% stake. State control over Aeroflot's strategy is absolute; the geopolitical interests of the Russian state are the prime driver of all major decisions made by all state-controlled entities in Russia, and this will not change until the flag carrier is fully privatised — and there are no serious signs that this will happen under Putin's watch.
Naturally the airline's management is keeping to the party line, with Savelyev saying: "I don't currently see any reason to part with a company, even for some large amount of money, that fulfils really big social functions for the country. If there was a different owner, it's not a fact that we would offer flat rates and cheap tickets for the World Cup football championships".
AEROFLOT GROUP FLEET
In service
Aeroflot
Rossiya
Aurora
Pobeda
Group Total
On order
A319
26
10
36
A320
76
5
81
10
A321
38
38
5
A330
22
22
A350
14
737-800
38
16
18
72
26
747-400
9
9
777-2/300
16
6
22
6
787-8/9
22
SJ100
42
42
13
DHC-8/-6
14
14
MC-21
40
Total
232
62
24
18
336
136