Mexico's LCCs:
The Trump effect June 2017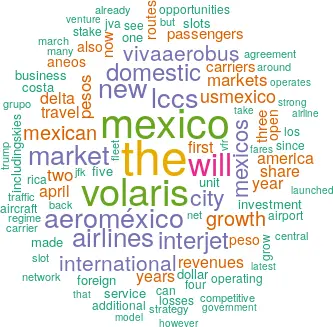 The past 10 months have been eventful on the Mexican aviation scene, with the US-Mexico open skies regime coming into force, Delta and Aeroméxico launching their immunised joint venture, President Trump's pronouncements hitting the Mexican peso, business sentiment and travel demand. How are the leading LCCs – Volaris, Interjet and VivaAerobus – dealing with all this?
Trump's protectionist trade policies and anti-immigration rhetoric, including his campaign promises to build a wall on the US-Mexico border and terminate the North American Free Trade Agreement (NAFTA), seemed like devastating blows to Mexico's economy. Business confidence declined, investment plans were put on hold and the Mexican peso plummeted.
The peso, already volatile, fell by 14% against the US dollar in the week after the election and by a further 6% by mid-January, to bottom out at around 22 pesos to the dollar.
Fortunately, though, Trump has had to soften his policies or has found his proposals blocked or delayed in Washington. In April he conceded that NAFTA can be renegotiated and that the talks will be sensible and gradual. There will be no mass deportations of Mexicans. Scant progress has been made on controversial proposals such as funding the border wall or imposing a 20% tax on imports.
As the economic threats on Mexico have diminished, the peso has gradually strengthened. By June 20 it was back to its MXN18 pre-election level. The peso is still weak by historical standards; three years ago it was at the 13 peso level (see chart).
The peso's depreciation against the US dollar (about 13% year-on-year in Q1) played havoc with Mexican carriers' first-quarter financial results. The airlines have up to 60% of their costs denominated in US dollars (fuel, aircraft rentals, etc), so they have seen terrible cost headwinds and foreign exchange losses. The four largest carriers all reported losses for the period.
Aeroméxico did not fare too badly, limiting its adjusted operating loss to 2% of revenues, as its highly diversified international operation helped mitigate the weakness in US-Mexico operations. Net loss was 258m pesos, contrasting with a profit of 161m pesos a year earlier. That net loss included a foreign exchange gain of 312m pesos, as Aeroméxico uses the US dollar as its functional currency.
Volaris reported steep operating and net losses of 722m and 1,361m pesos (negative margins of 13.7% and 24.1%) — its first quarterly losses since 2014 (see chart). Unit costs surged by 26.6%. The losses came despite the fact that Volaris earns about a third of its revenues in US dollars – a result of extensive Mexico-US operations and a high volume of US-originating VFR traffic.
Interjet reported operating and net losses of 477.7m pesos and 595.6m pesos (10.8% and 13.5% of revenues). A year earlier it earned operating and net profits of 271m pesos and 203.9m pesos (7% and 5.3% of revenues).
The good news is that Mexico's airlines could see profit margins recover quickly now that the peso has bounced back (as long as the Trump rhetoric does not take a turn for the worse).
The LCCs are being helped by growth in ancillary revenues. Since March they have been permitted to charge a first checked bag fee for travel to/from the US and Puerto Rico. Based on the experience of US airlines, those fees could provide a lucrative revenue stream.
Analysts are especially bullish on Volaris, because it deploys a true Ryanair-style ULCC model, is seeing strong non-ticket revenue growth (28% in Q1) and has good opportunities to pursue additional US dollar revenues with its new unit in Costa Rica (more on that in the section below).
Mexico's airlines continue to benefit from a relatively robust economy. Mexico's GDP expanded by 2.3%, 2.7% and 2.0% in 2014, 2015 and 2016; and the OECD now projects growth to remain at around 2% in 2017 and 2018.
In its June review, the OECD noted that exports were strengthening (helped by the peso's weakness) and that, as the Trump fears faded, "investment plans that were put on hold due to recent heightened uncertainty and turbulence are expected to resume as confidence is gradually restored". However, the OECD warned of substantial risks to the outlook, including the possibility of NAFTA renegotiations or other protectionist measures.
Travel demand strength
Despite Trump, Mexico's domestic and international air travel markets have continued to grow at a healthy pace.
Domestic passenger numbers have continued the double-digit growth seen in the past two years: up 12% in the first four months of 2017, with April witnessing a 16.1% surge.
Growth in international passengers to and from Mexico has accelerated this year: up 15.7% in the first four months of 2017, compared to 8.6% and 12.6% increases in full-year 2016 and 2015. In April international passenger numbers surged by 22.3%.
Those trends are easy to explain. Domestic demand has remained strong because healthy GDP growth has continued and because many Mexicans have chosen to vacation at home, as a weaker peso has made the US a more expensive destination for them.
The surge in international travel has reflected the substantial increase in new flights and frequencies (and lower fares) under the Mexico-US open skies agreement. The US market accounts for 63% of the total international travel to/from Mexico, and passenger numbers on the US-Mexico routes rose by 20% in April.
Airlines have reported that, mainly because of the exchange rate developments, northbound travel from Mexico to the US has been weak but southbound leisure and VFR travel have remained strong.
Including projected 2017 traffic, Mexico's domestic market will have doubled in just seven years. Domestic passengers have increased from 24.5m in 2010 to 41.9m in 2016. That growth has largely been a result of the stimulation provided by LCCs' low fares and the "bus switching initiatives" of operators such as Volaris and VivaAerobus.
But the airlines believe that the domestic market has significant further growth potential. Volaris has said that is hopes to convert to air the estimated 70m people that take bus journeys of longer than five hours each year.
The top-three LCCs have increased their combined domestic market share from 31.4% in 2009 to 65.6% in April 2017. That is an unusually high LCC penetration compared to other countries or regions.
The LCCs have captured all of the 27% domestic market share held in 2009 by Mexicana, which filed for bankruptcy and ceased operations in 2010. The LCCs have also captured a little bit of domestic market share from Grupo Aeroméxico (Aeroméxico and its regional unit Aeroméxico Connect), which had 28.8% of the domestic market in April, down from 32.3% in 2009. It will be interesting to see if Aeroméxico can recapture any of that share with the help of Delta.
In April, Grupo Aeroméxico's domestic passengers rose by only 1%, compared to 9.6% growth for Interjet, 18% for Volaris and 57.5% for VivaAerobus. The latter has been aggressively building its domestic market position with the help of a new Airbus fleet and new strategies.
The LCCs have made equally impressive inroads into Mexico's international air travel market, which at 39.2m passengers in 2016 is similar in size to the domestic market. The top-three LCCs have increased their share of the international passengers carried by Mexican airlines from 3.3% in 2009 to 43.8% in April 2017. However, Volaris and Interjet account for virtually all of it, with VivaAerobus' share being currently only 0.3%. Regional carrier Aeromar has a 0.2% share and Grupo Aeroméxico accounts for the remaining 56%.
The total international market to and from Mexico remains extremely imbalanced by nationality, with Mexican carriers accounting for only 27.9% of passengers and foreign operators (mostly US airlines) having the lion's share of 72.1%.
The situation is improving gradually as Aeroméxico, Volaris and Interjet continue to grow at a heady rate internationally; the latest (April) data show a 2.7 percentage point year-on-year improvement in the Mexican carriers' share.
In April Grupo Aeroméxico saw its international passengers surge by 30.3% as it continued long-haul expansion, which in the past year has focused on Europe. Interjet's international traffic grew by 56% and Volaris' by 34%, but VivaAerobus saw a 15.2 decline.
US-Mexico Open skies
A long-awaited open skies-style regime became effective in August 2016, replacing the highly restrictive bilateral air service agreement (ASA) that dated back to 1960. It opened up all US-Mexico city pairs for unlimited flights by any number of airlines. The previous ASA had limited the number of airlines to just two or three from each side on 30 or so key routes, which had prevented many airlines from entering the largest markets.
However, airlines from both countries had already benefited from a liberalised regime in the secondary markets, which had led to an influx of new flights and new operators. Under that regime, for example, Southwest was able to enter Mexico and add several routes, while Volaris grew significantly to the US as its strategy focused on secondary markets anyway.
The new regime is not totally open skies in that slot constraints at Mexico City Airport and New York JFK continue to require government approvals and limit access to some of the most attractive US-Mexico markets.
The open skies ASA facilitated Delta's additional investment in Aeroméxico and an immunised joint venture agreement (JVA) for the two airlines in the US-Mexico market. Delta completed its tender offer for an additional 32% of Aeroméxico in March, as a result of which it owns 36% of the equity (which along with options for a further 13% would give it 49%). The airlines formally launched their JVA in early May.
Getting the JVA approved was a long and contentious process because of Aeroméxico's extensive slot holdings at Mexico City. The eventual remedy was a divestiture of 24 daily slot pairs at Mexico City and four at JFK for US-Mexico service by LCCs. 14 of the Mexico City slots and two JFK slots were allocated for the current summer season and the other half will be made available if needed next summer.
As things turned out, only five airlines submitted proposals and got more or less what they wanted. Alaska, JetBlue, Southwest, Volaris and VivaAerobus received Mexico City slots, while Interjet, Volaris and VivaAerobus received JFK slots. Interjet did not receive any Mexico City slots because it is already the second largest carrier by a wide margin at the airport.
So Mexico's LCCs got some decent growth opportunities as a result of the Delta-Aeroméxico divestitures that will earn them more dollar revenues to offset the new cost pressures. All three LCCs can now serve New York JFK from Mexico City; and Volaris also from Cancun. VivaAerobus can enter Mexico City-Las Vegas and Volaris can introduce new or additional service from Mexico City also to San Antonio, Los Angeles, Denver, Dulles, San Jose, Ontario, Chicago and Oakland. Some of those services will be launched in 2018.
But Mexico's LCCs will also see increased competition from US carriers. They will face Alaska for the first time in Mexico City; tougher competition from JetBlue now that it has decent slots there (rather than pre-6am slots) and will operate more flights from its Fort Lauderdale, Orlando and Los Angeles focus cities; and substantially more competition from Southwest (from Houston Hobby, Fort Lauderdale and Los Angeles).
The largest US airlines have been busy entering popular US-Mexico leisure or VFR markets that no longer have limits on the number of operators. Routes such as Los Angeles-Cancun and Los Angeles-Los Cabos now have five US airlines.
But the main competitive threat to the LCCs may come from Delta-Aeroméxico, which will dominate the US-Mexico market with a 23% passenger share. The combination will be twice as large as American, the number two in that market.
Delta and Aeroméxico plan to grow under the JVA. They will dominate Mexico City airport, and because of the feed from Delta's domestic network, Aeroméxico will be able to develop new gateways for transborder traffic such as Monterrey and Guadalajara. Delta has said that it will provide Mexico service through Atlanta, Detroit, Los Angeles, Minneapolis-St. Paul, New York, Salt Lake City and Seattle.
In the JVA's first expansion phase, Aeroméxico will launch five new transborder routes this autumn, including Seattle and Portland to Mexico City using 737-800 services.
The many frequency additions under the JVA will include a third daily flight on the JFK-Cancun route operated by Delta, marking it as an early clash point with Volaris, which is likely to enter that market in 2018. Volaris is likely to do well in competitive markets with its ULCC business model (as it already does on the Mexico City-JFK route), but then again Delta has a new weapon at its disposal — the "basic economy" offering.
The Delta-Aeroméxico JVA is a first of its kind globally in that it applies to short-haul, high-frequency operations (rather than an intercontinental market). For that reason alone regulators will be keeping a close eye on its effects. The US DOT has made it clear that even though the ATI has been granted for five years, it reserves the right to re-examine it earlier if necessary.
But the combination poses potentially the biggest threat to the LCCs in Mexico's domestic market. Delta is in effect acquiring Aeroméxico. The key attraction, in addition to Aeroméxico's Mexico City slot holdings, was the huge marketplace of 127m people right next to the US that is "still relatively underdeveloped".
It is indicative that Delta has adopted a very hands-on approach with Aeroméxico. In addition to having board representation, one of its VPs (Mike Medeiros) became Aeroméxico's COO in January. There should be a lot of know-how, best practices and advice passed to Aeroméxico.
Back in January Mexico's Senate quietly passed legislation increasing the foreign investment limit in the country's airlines to 49%, to facilitate the Delta's additional investment in Aeroméxico. It would not be surprising (though obviously depending on political developments) if Mexico abolished the limit altogether at some point, following the example of Brazil. That would allow Delta to establish a true "airline of the Americas" with Aeroméxico and GOL.
The Mexican government sees the new policies as potentially levelling the playing field between US and Mexican airlines. In a 2014 letter, the Mexican negotiators wrote that ATI could enable Mexico's carriers to "be competitive given the natural asymmetry between [the two sides]". And the government has made the point that the new freedoms will be equally available to the smaller carriers.
But it is not clear if the LCCs can benefit from foreign investment or immunised alliances. While Interjet, a JetBlue-style operator, has embraced alliances (and in late 2016 reportedly even explored selling a stake to American or United), Volaris has not forged any alliances since finding a few years ago that cooperation with Southwest did not make economic sense. VivaAerobus lost its foreign investor and Viva brand partners last year when Irelandia sold its stake in the airline to its Mexican co-owners. However, Mexican regional carrier Aeromar late last year sold a 49% stake to Brazil's Synergy Group (which owns a majority stake in Avianca-TACA).
Perhaps there will be more interest from foreign carriers in alliances with Mexico's LCCs when access to Mexico City improves. The first phase of the planned new $13bn, six-runway airport, which will replace the current Benito Juarez International Airport, is apparently on schedule to open in 2020. It will initially have three runways and capacity to handle 50m passengers a year. Eventually the airport will be able to handle 120m passengers, quadrupling Juarez's capacity.
In the following pages Aviation Strategy takes a look at each of the leading LCCs in turn.
Volaris
Mexico City-based Volaris, founded in March 2006 with the help of an investment from Indigo Partners, completed a $350m IPO in September 2013, which gave it listings in Mexico and New York (NYSE). Volaris is a classic Ryanair-style ULCC that has grown extremely rapidly and has been consistently profitable since mid-2014 except for the latest quarter.
Volaris operates point-to-point services that target VFR, leisure and cost-conscious business travellers. It operates from five bases in Mexico (Cancun, Guadalajara, Mexico City, Monterrey and Tijuana), serving typically high-volume markets.
In recent years Volaris has focused on growing its international network, largely to the US where it now serves 23 cities (the most among the Mexican LCCs). Its network also covers 40 cities in Mexico and five destinations in Central America (Puerto Rico, Costa Rica, Nicaragua, Guatemala and El Salvador).
In an unusual move in November 2016, Volaris launched a Costa Rica-based unit that essentially seeks to replicate its ULCC model in Central America, offering low base fares and point-to-point service. The venture currently operates four daily segments and three routes from San José (Costa Rica), serving Guatemala, El Salvador and Nicaragua. The next stage will see Volaris Costa Rica flying to Mexico and the US (subject to government approval). It could potentially later also fly to South America. The plan is for the unit to operate 18-20 aircraft by 2020.
The Costa Rica unit represents an opportunity for Volaris to increase its dollar-denominated revenues (33% in 2016), as all of Central America is priced in US dollars. It is a move to diversify away from Mexico, should macroeconomic conditions there deteriorate, and to also reduce dependence on the US-Mexico market. The main disadvantage is greater exposure to formidable competitors such as Copa, which incidentally has launched its own low-cost unit (Wingo) for Central America.
Volaris sees further growth opportunities. According to its latest annual report, it has identified 135 suitable international routes (of 200+ miles) and around 110 potential routes within Mexico that it could serve.
As of March 31, Volaris operated 68 aircraft, consisting of 43 A320s, 14 A319s, 10 A321s and one A320neo. It has firm orders for 39 more A320neos and six A321neos, all scheduled for delivery over the next four years. The entire fleet is on operating leases.
Volaris is one of the best positioned carriers in Latin America. First, it is in promising growth markets with the right kind of business model. Second, it is among the world's lowest-cost airlines, with CASM-ex of just 4.4 US cents in 2016. Third, it is well positioned to grow ancillary revenues, with many new products in the pipeline. Fourth, it has good opportunities to diversify risk and grow dollar revenues.
Interjet
Toluca-based Interjet is a more upmarket, JetBlue-style LCC that offers a "unique brand of lower fares with free checked bags using our priority fare, more legroom and great service".
Interjet only went international in 2011 but has ventured into interesting markets, including Cuba and South America. Domestically it is about the same size as Volaris. The network now covers around 53 destinations in seven countries, including 36 cities in Mexico, nine in the US, one in Canada (Montréal, from July), three in Cuba, two in South America (Bogotà and Lima) and two in Central America (Guatemala and Costa Rica).
Since early 2016 Interjet has been undertaking significant US expansion, entering typically much more competitive markets than Volaris. It benefits from significant slot holdings at Mexico City (almost a quarter of the airport's total), which in combination with its more conventional product offering positions it to attract business traffic. It was indicative that in mid-June Interjet, citing robust business travel demand, added a fourth daily flight on its Mexico City-JFK route.
Interjet is the only one of the Mexican LCCs that has embraced codeshare relationships. Last year it added LATAM to the roster that also includes Iberia and American.
As of May 18, Interjet operated 73 aircraft, including 45 A320s, three A320neos, three A321s and 22 Superjet SSJ100s. Current firm orders include 37 A320neos (deliveries from 2018), 10 A321neos, three A321ceos, one A320ceo and eight SSJ100s.
Interjet has been keen to step up growth, to keep up with Volaris and take advantage of the US opportunities, but it has found it hard to raise funds. It has been seeking to go public for at least 6-7 years and last year unsuccessfully explored selling an equity stake to a US airline.
In May Interjet found a solution: leasing 10 additional A320s from Aviation Capital Group, the first of which will be delivered in July.
VivaAerobus
Monterrey-based VivaAerobus is the smallest and the least financially successful of the top-three LCCs. It has made many strategy changes over the years. There have been two unsuccessful major forays into the US, the latest of which was in 2014-2015.
One of the biggest earlier mistakes was to operate old aircraft. In a strategy shift in October 2013, VivaAerobus opted to replace its used 737-300s with new A320s and placed a $5.1bn order for 40 A320neos and 12 A320ceos, plus 40 neo options. It began taking those aircraft in March 2014 (initially from lessors) and completed the fleet transition in November 2016.
The airline currently operates a 22-strong all-Airbus fleet consisting of 20 A320s and two A320neos. The 38 A320neos on firm order have deliveries stretching through 2020.
Since the fleet transition VivaAerobus has focused on domestic growth; in the past two years it has actually been the fastest growing carrier in Mexico's domestic market. Its network now covers around 33 points and system capacity is protected to grow by 22% in 2017.
While operating primarily domestic services, VivaAerobus is now cautiously venturing back into the US market to take advantage of opportunities offered by the open skies agreement. It will launch the Mexico City-Las Vegas route in December, entering a competitive market where Interjet and Aeroméxico already provide service.
Originally founded as a joint venture between Grupo IAMSA, Mexico's leading bus operator, and Irelandia, VivaAerobus became wholly owned by IAMSA in December 2016. Irelandia sold its 49% stake in the carrier for $250m as part of a strategy to focus on South America.