Asia's aviation drama
in numbers June 2017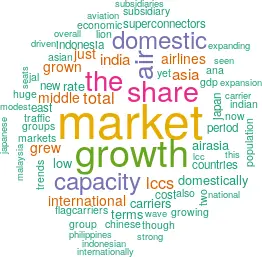 Recent and forecast traffic growth in the Asian region is normalised at 5%-plus, more than twice the market growth rate for Europe and North America. But the Asian market is diverse and fragmented with contrasting trends in different countries, as this overview of capacity trends illustrates.
The analysis is based on crunching schedule data for the period 2010-2016, then identifying trends by various carrier groups (there is always a grey area in classifying airlines, but we tend to be quite restrictive in defining LCCs, excluding hybrid type carriers which may claim low cost status). Five countries are included — Malaysia, Indonesia, Philippines, India and Japan — covering the main economies in the three key sub-regions — SE Asia, South Asia and NE Asia.
The overall picture is condensed into the table below: a 7.2% average annual growth rate, 7.4% for the domestic markets and 6.8% for the international markets. The market share of the flag-carriers (excluding low cost subsidiaries) has fallen sharply — from 46% of the total in 2010 to 32% in 2016 — and their capacity in absolute terms has stagnated (to be precise it has risen at just under 1% pa). Growth has been generated mostly by the new wave of LCCs but also by low cost subsidiaries, the Middle East superconnectors and Chinese carriers — in total 11% average growth for 2010-16.
As in Europe, it is clear that the Asian flag-carriers, no matter how uncommercial, are not going to be allowed by their governments to exit the market. At present cross-border mergers seem totally unfeasible, so managed decline is probably the best outcome for the flag-carriers.
The extent to which the traffic growth comes as a direct consequence of economic growth or from price stimulation or as a result of diversion from other modes is almost impossible to discern exactly. However, the three factors tend to reinforce each other. For instance, Japan's stagnant economy growth is matched by timid experimentation with LCCs, and traffic growth, domestically at least, has been very depressed. India, at the other extreme, has experienced buoyant GDP growth, albeit from a very low base, with new air travel demand further boosted by capturing passengers from the huge, slow railway network. This has proved to be an enticing combination for the multiple LCC new entrants after liberalisation of the air transport system, and domestic growth has surged (though individual airline profitability is another matter).
Populations and GDP per capita are useful markers for defining markets, and for highlighting the huge variations between countries, but are of limited use when trying to understand the dynamics of the rapidly growing and structurally changing aviation scene. Detailed demographic analysis — specifically the volume of citizens gravitating to the "flying middle class" tranche, or dropping out of it through old age in Japan's case — might provide a stronger guide to future trends.
Malaysia
In population terms Malaysia is small (32m) relative to other Asian countries, which explains the necessity of AirAsia's multi-country, multi-airline strategy. Domestically, the region's first genuine LCC, modelled on Ryanair, has grown at just 5.5% during 2010-16, partly the result of the "perfect storm" that hit its expansion in 2014. It is, however, the largest airline domestically with a 46% share. MAS, has not added any net capacity over this period and has seen its share dip to 34%, but its low cost subsidiary, Firefly, has filled some of the gap, accounting for about 8% of the market in 2016. Malindo, a Malaysian-Indonesian joint venture, is Lion Air's response to Air Asia's expansion in the Indonesian domestic market; rapid growth has taken this LCC to around 12% of the domestic Malaysian market. In total, the domestic market grew at 5.9% pa during 2010-16.
Internationally, MAS's capacity was roughly the same in 2016 as it was in 2010, which is not a bad outcome given the two tragic accidents it suffered and its fundamental financial weakness. Its share has dropped to just 19% of the total market. The AirAsia airlines, including AirAsia X and the Indonesian, Thai and Philippine associates, have grown strongly, at 9% pa, taking the group's share to 42% in 2016. The Middle East superconnectors have expanded solidly at about 10% pa, as has SIA's full service subsidiary, Silkair. In total, the international market grew at 7.2% pa during 2010-16.
Indonesia
Indonesia is the "I" in MINT, the group of countries also comprising Mexico, Nigeria and Turkey which were identified by Goldman Sachs as representing the newest wave of global economic growth. Politics have dented that prognostication somewhat, but Indonesia, with consistent GDP growth of at least 5% pa, a huge population on the archipelago (258m), and a well-established tourism industry in Bali, should have strong air traffic growth. It does: seat capacity in the domestic market grew by a remarkable 14.5% pa during 2010-16.
Lion Air, record orderer of A320s, has driven the domestic market, expanding at an impressive 19% pa to achieve a capacity market share of 53% (Lion Air includes its owned affiliates, Batik and Wings). AirAsia Indonesia has also grown, about 9% pa, but its market share is very modest — just 4%.
Remarkably the flag carrier Garuda has grown at 13% pa domestically during this period. Add in its low cost subsidiary, Citilink, which was spun off in 2012, and the group's market share was 32% in 2016, up from 23% in 2010. The period 2010-16 coincided with Grauda's five-year turnaround plan — codenamed "Quantum Leap" — which has seen a doubling in the fleet and an aggressive attempt to recapture business lost in the previous ten years. In capacity terms the growth is impressive but there is little evidence that it has translated into profitability.
Internationally, The Indonesian market grew at 7.5% pa overall during 2010-16. Garuda resumed a significant number of routes previously suspended (partly because of safety issues) and grew capacity at 7.4% pa to maintain its market share at a modest 15%. Lion Air's and the Air Asia Group's positions in the international market are the reverse of the domestic situation: shares of 6% and 24% respectively, though they exhibit similar growth rates of 8-10%. The biggest movers have been the superconnectors, growing at 14% pa to establish a 7% market presence.
Philippines
The Philippines is another hugely populous country (104m) but one of the poorest in SE Asia. GDP growth has been around the 6% pa mark, but this has only translated into a similar, 5.8% pa, domestic growth rate over the 2010-16 period.
PAL is a large part of the reason for this sluggishness. The loss-making flag-carrier's growth rate has been precisely 0% domestically since 2010. Its market share is down to 31% in 2016 from 43% in 2010, yet political support from the government remains strong. CEBU is clearly the dominant force in the domestic market — growing at 8% pa to achieve a market share in 2016 of 56% (including affiliates). AirAsia, operating under the local brand Zest, has also established a sizeable market position — a 12% share in 2016.
Internationally, PAL has been growing steadily — at 7.4% pa — but not quite matching the overall market rate of 8.2%, though it still has the leading position with 27% of seats offered. CEBU has been very aggressive — 16.1% pa growth and a capacity share of 21% in 2016. The AirAsia Group has expanded rapidly but from a small base and its share has just reached 5%.
With strong migrant labour flows the Middle East superconnectors have been expanding in the Philippine market by about 9% pa and have a 9% capacity share. This sector is softening as economic and social problems increase in the Middle East.
India
The regional superpower, exhibiting dynamic economic growth, is now demonstrating powerful aviation growth after decades of suffocating regulation and protection for the national airlines. Domestically, the 2010-16 capacity growth rate averaged 10.5% during 2010-16.
The wave of new LCCs — Indigo, Spicejet, Go, JetLite, Air Asia India, and Vistara — have driven this expansion. In total they grew an 18.9% pa during 2010-16 and now account for 67% of the internal market, though only Indigo as yet has demonstrated an attractive RoI. Given the emergence of, in local terms, an affluent middle class, somewhere between 100 and 200m in a total population of 1.3bn, the vibrancy of the Indian IT industry, the attraction of its tourist destinations, and the evident superiority of air transport over railways and roads, there is no reason why this type of growth cannot be sustained.
Meanwhile, the once dominant Air India/Indian Airlines has seen its share of the domestic market fall from 22% in 2010 to 15% in 2016 (this includes Air India Express/ Alliance Air). Surprisingly, the Indian government now seems to be proposing to privatise of the national carrier. There are some high profile names in the "others" group — Jet Airways, part of the Etihad empire, has just about maintained its share of the domestic markets, while Kingfisher has soared and crashed.
The international market remains constrained by bilaterals and has grown in capacity terms by "only" 6.3% during 2010-16. Yet the LCCs are expanding aggressively here as well — all LCCs, Indian and others, notably Air Arabia, flyDubai and Air Asia, have in total grown by 18.7% pa, taking their capacity share to 13% in 2016. This compares with 17% for Air India and 14% for other Indian airlines, mostly Jet. India is the key market for the Middle East superconnectors whose annual capacity growth of 8% has won them a 19% share of seats to/from India.
Japan
Japan contrasts with the rest of Asia — very affluent in terms of GDP/capita, but economically stagnant for over ten years, a declining population, and continuing market control by the two national carriers — JAL and ANA.
In the domestic market ANA has grown at 1.4% pa and JAL has fallen by 3.0% pa during 2010-16, yet the two carriers still command 78% of capacity, which is down from 90% in 2010. The new LCCs have achieved a modest 7% of the market, and they are in effect controlled by the two majors — Peach and Vanilla by ANA, while Jetstar Japan is joint venture between JAL and Qantas. Even the other domestic airlines — Air Do, Skymark and Fuji Dream, for example are tied into the majors through cooperation agreements. It is difficult to see how the domestic market can be revitalised, and the regional airport privatisation plan accomplished, with this status quo. The total domestic market grew by just 2% pa during 2010-16. Things have to change in this huge market of 154m seats, but change will be managed in a uniquely Japanese manner.
The international market is somewhat different — a 6.8% pa capacity growth 2010-16. Much of the growth has been driven by Chinese carriers, at 8% pa, which now have a 20% share in the Japanese international sector, compared to 21% for JAL and ANA combined. The future of air travel to/from Japan increasingly depends on Chinese tourism, and that is not a comfortable prospect for many Japanese politicians.
LCCs have come from nowhere to take 17% of the international market in 2016. These LCCs include the ANA/JAL subsidiaries, Chinese carriers Spring and Okay, the AirAsia Group, Scoot, SIA's subsidiary, and the South Korean airlines, Air Busan, Eastar and Jeju.
MARKETS AND FLAG CARRIERS
TOTAL
775.9
7.2%
32%
-14
Total market
Annual Growth
Flag carrier(s)
Change from 2010
2016 Seats (m)
2010-16
Share 2016
(% pts)
Domestic
Malaysia
32.1
5.9%
34%
-13
Indonesia
132.1
14.5%
21%
-2
Phillipines
29.6
5.8%
31%
-12
India
126.1
10.5%
15%
-6
Japan
153.8
2.0%
78%
-12
Total domestic
473.7
7.4%
39%
-16
International
Malaysia
57.6
6.3%
19%
-9
Indonesia
39.6
7.8%
15%
0
Phillipines
29.5
8.2%
27%
-22
India
69.4
6.3%
17%
-13
Japan
106.1
6.8%
21%
-3
Total international
302.2
6.8%
19%
-13
Note: Flags = MAS, Garuda, PAL, Air India/Indian AL, JAL & ANA. Does not include low cost subsidiaries.
ECONOMIC INDICATORS
| | GDP/Capita | Real GDP Growth | Population | Total Seats (Dom& Int) |
| --- | --- | --- | --- | --- |
| | (US$ 2016) | (2016 est) | (millions 2016) | (millions 2016) |
| Malaysia | 9,545 | 4.30% | 32 | 90 |
| Indonesia | 3,635 | 5.00% | 258 | 172 |
| Philippines | 2,991 | 6.40% | 104 | 59 |
| India | 1,718 | 7.60% | 1,309 | 195 |
| Japan | 37,800 | 0.50% | 127 | 260 |