BRICs and mortar: World Economic Outlook updates June 2013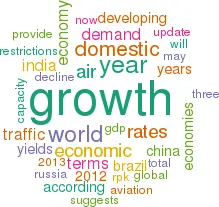 According to the latest update to the IMF's World Economic Outlook in April the two speed global economy is fragmenting a little. The august establishment suggests that there are real signs of recovery developing in the US (despite or even in spite of "sequestration"), while the developing economies continue to provide the major engine of world economic growth, albeit at a slightly lower rate than recently. Europe continues to stagnate although the threats of a Euro break-up may be dissipating. It suggests that we are now in a "three speed" environment.
The update lowered the IMF's central forecasts. It expects that world real GDP will grow by only 3.3% in 2013, down slightly from its forecast of 3.5% growth made six months ago — developing and emerging economies generating around 5% in both 2013 and 2014; the US growing by 1.9% this year but starting to accelerate to generate 3% growth in 2014; the Eurozone remaining in recession this year before returning to 1% economic growth in the next. The only area where the group has raised its forecasts is for Japan; the impact of Abenomics allowing that economy to improve by around 1.5% in this and next year — figures up by 40bp from the last forecast update.
The BRIC nations have taken a lot of attention in recent years as being the prime engine of global economic growth. The designator of that soubriquet, Jim O'Neill of Goldman Sachs, may soon be retiring and there may be concerns that the growth rates in China, Brazil, India and Russia are under pressure, but as The Economist pointed out in a recent article, all these economies have been maturing — and as growth matures growth rates decline. In particular there has been a global upheaval as India and China have moved to regain a share of the world economy they last saw in the 17th Century; but after the sprint of a catch-up in the past three decades the rate of growth will naturally decline.
The four main BRIC nations all saw a "tough" 2012 (in relative terms), as their economies could not find the markets for goods in the stagnated western world. Russia, as an energy producer fared reasonably well with growth of 3.4% down from 4.3% the year before and China's growth only declined to 7.8% from 9.3%; but India slumped from 7.7% to a mere 4% growth and Brazil to 0.9% from 2.7%. They all suffered relatively high inflation as energy, wage and food price pressures increased.
Given that GDP is a prime determinant of air traffic demand it is perhaps remarkable that there has been a distinct difference between them in aviation terms. China's domestic air traffic (including traffic between mainland China, Hong Kong, Macau and Taiwan) grew by 8.8% in RPK terms in 2012 similar to its GDP growth and despite what seems to have been a small decline in yields. The wild variations in the monthly performance in the chart above relate to the incidence of national holidays and the Chinese New Year, but current growth rates appear consistent. Russia's total air traffic in 2012 grew by 15% year on year in passenger numbers (according to Aeroflot), while (according to IATA) domestic traffic in RPKs increased by just under 8% after similar growth rates in the previous two years.
By contrast Brazilian and Indian growth rates have dipped considerably; in both cases following several years of strong expansion. In Brazil total domestic demand growth slipped to 7.9% in RPK terms from the double digit rates of growth in previous years. Since the beginning of 2013 this has gone into negative territory with both GOL and TAM cutting capacity dramatically — and in the first three months domestic demand has fallen by 1.3%. In India, total domestic demand actually fell in 2012 by 2.2% in RPK terms according to IATA — in part due to the collapse of Kingfisher, but also in face of air fare increases. In both cases the domestic industries had been overheating with significant excess capacity driving down yields at a time when fuel costs have been really hurting. With the cuts in capacity — both voluntary and forced — the evidence suggests that yields and unit revenues are now rising strongly (GOL achieved a near 14% year on year increase in yields in the first quarter); but growth is restrained.
It is not just economic performance that will decide the development of aviation; regulation and politics play important parts. China remains highly regulated — with its command based communist economy and restrictions on personal freedoms. Russia, as a former command-based communist economy retains many internally focussed restrictions. However, it is investigating the idea of encouraging LCC development to spur air travel demand and appears to be looking to invite non-Russian airlines to help. India also has a highly regulated domestic industry but is now relaxing ownership restrictions — with Tony Fernandes's Air Asia planning to move into the sub-continent to provide further disruption. Meanwhile in Brazil, the overheated local environment is succumbing to the realities of the consolidation that has taken place in the Mercosur. With the developed world in stagnation is the aviation industry relying too much on the developing world to provide the growth?