Southwest: Concrete plans to go international June 2012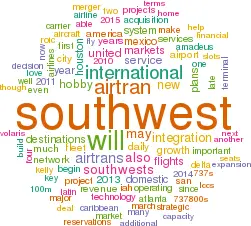 Southwest Airlines may still be in a "no-growth" mode and posting lacklustre profits, but the low-cost pioneer has multiple strategic initiatives in the works that should help kick-start earnings and ASM growth in the coming years. Significantly, Southwest finally has concrete plans to become a major player in near-international markets.
On the international strategy front, the past two months have seen two important announcements. First, Southwest announced in April that it would replace its existing simple reservations system with a global system by Amadeus. This will give it the capability to serve international destinations by 2014 (along with more sophisticated revenue management and other benefits).
Second, in late May Southwest made the spectacular announcement that it would spend $100m of its own funds to build an international terminal at Houston Hobby and use it to launch significant expansion in the US-Latin America markets from 2015.
These moves are important in many respects. They will mean a new growth phase at Southwest, which has been in a no-growth mode since 2007. US-Latin America markets will gain a strong new player, one that will stimulate traffic with low fares. The competitive implications are also significant, as was illustrated by United Continental's dramatic immediate announcement that it would contract by 10% at Houston IAH, its main gateway to Latin America.
The past six months have also seen Southwest reach significant milestones and make important decisions about fleet strategy. December saw the long-awaited 737NG replacement decision. Southwest placed a launch order for 150 737MAXs, for delivery from 2017. The $19bn Boeing deal also included 58 additional 737NGs, which will accelerate the retirement of the carrier's 737 Classic fleet.
In January Southwest took the decision to retrofit its 370-plus 737-700 fleet with an
In March-April Southwest received and introduced to commercial service its first 737-800s. The type, which offers 38 more seats than the -700, will lower unit costs, enhance scheduling flexibility and open up potential new long-haul markets like Hawaii, Alaska, Canada, Mexico and the Caribbean. Southwest has 78 737-800s on firm order, of which 34 will arrive this year (most of which will be ETOPS certified and equipped).
And Southwest has even found a good home for the 717s that came with the AirTran acquisition. Under a late-May tentative deal with Delta and Boeing Capital, it will sublease all 88 717s to Delta between the second half of 2013 and 2015.
Of course, Southwest's biggest project is the integration of AirTran, following the closing of the acquisition in May 2011. This project has turned out to be more complicated and time-consuming than envisaged. Southwest has also decided that its immediate priority is to implement the necessary technology to support international service. So, Southwest has deferred connecting the two brands and networks until 2013-2014.
Nevertheless, securing a single operating certificate (SOC) from the FAA in March was an important milestone, enabling the airlines to begin combining operations. Southwest is projecting $400m of annual synergies from the merger (excluding acquisition and integration expenses).
Another major strategic initiative is the all-new "Rapid Rewards" FFP, launched in March 2011. The programme has exceeded expectations in terms of attracting more members and generating revenue, and as it is further developed, should ultimately gener
Southwest hopes that these "transformative" strategic initiatives will kick-start its earnings growth and help it attain its 15% ROIC and other financial targets in the next couple of years, which would enable it to resume fleet growth. The projects will certainly mean many exciting network expansion opportunities.
It will be interesting to see if all of that will help Southwest's share price which, despite the carrier's success, has gone nowhere in the last decade.
Plans to go international
Southwest has long contemplated near-international service. Earlier plans to codeshare with WestJet to Canada and with Volaris to Mexico were supposed to be the first step in the process, but the WestJet plans fell through in 2009 (after the Canadian carrier forged a similar relationship with Delta) while cooperation with Volaris, which began in late 2010, has been described as an "international connect" service – somewhere between an interline agreement and a codeshare.
One of the key attractions of AirTran was that it brought to the union a modest near-international network covering key leisure destinations in the Caribbean and Mexico and with annual revenues of $74m in 2011. When the merger closed in May 2011, AirTran operated at least weekly, and in some cases daily, scheduled flights from Atlanta, Orlando or Baltimore/Washington to Aruba, Cancun, Montego Bay, San Juan, Nassau, Punta Cana and Bermuda. Over the past month, Mexico City and Cabo San Lucas have been added to the AirTran network, and the carrier has introduced international services from four additional US cities (San Antonio, Austin, Orange County and Fort Lauderdale).
But Southwest has not been able make the most of these developments – be it codeshares with Volaris and AirTran or taking over some of AirTran's services – because of its struggles to upgrade its reservations technology to handle such activities.
Southwest did realise early on that it needed a brand new reservations system to handle international bookings. In September 2010 the top executives disclosed that they had even narrowed the choice to two systems, but it then took another 19 months for the company to announce its choice.
Southwest is often asked why its technology projects move so slowly. First, Southwest was built very differently from either the legacies or the later-generation LCCs. It was built to do one thing and do it well: carry passengers from A to B domestically. The simplicity meant low costs, but as the times changed, Southwest did not have the flexibility in its systems to exploit other opportunities.
Second, Southwest likes to move at a slow, measured pace. It wants to make absolutely sure that it gets things right. It is a very conservative company.
Third, Southwest has been undertaking multiple demanding projects since mid-2007, when it decided that it needed to find new ways to compensate for the waning of its former advantageous fuel hedges. Before the current projects, there was a multi-year effort to develop technology to facilitate new revenue initiatives, ancillary products and network optimisation. Those efforts were hugely successful, which bodes well for the upcoming technology projects.
Furthermore, until very recently the AirTran integration was considered a priority over the replacement of the reservations system. This has now changed: Southwest has delayed key aspects of the merger integration and now regards the Amadeus project as a priority.
The plan is to get the Amadeus technology in place to allow Southwest to offer international flights by 2014. It seems likely that the initial international services will be those transitioned from AirTran – currently nine destinations in the Caribbean and Mexico.
At this stage Southwest is looking to keep Amadeus separate from its existing domestic reservations system (Sabre) and AirTran's system (Navitaire). However, in the next two years Southwest also has to decide on a single system for domestic operations. Ideally, if all goes well with the implementation of Amadeus for "Southwest International", Amadeus would also replace the domestic systems.
Prioritising international capabilities received further impetus in late May, when Houston City Council approved Southwest's plans to build an international terminal at Houston Hobby (HOU), its sixth busiest airport. This followed feasibility studies by Houston Airport System (HAS), public consultations and an intense "Free Hobby Airport" campaign by Southwest, which had initially proposed the idea in early 2012.
The $100m project is very attractive to the Houston authorities because, unusually, it is to be financed by Southwest at no cost to the city. There will be no debt issued by Houston and no general revenue funds will be used, meaning no passenger facility charges. The plan is to build five gates and a customs/immigration facility, all to be owned by the city. Southwest will have rent-free access to four gates and the fifth will be available for other airlines.
Southwest said in late May that the work would begin immediately and was expected to take a couple of years. The facility would be ready for international service "sometime in 2015". Southwest anticipates operating 20-25 daily flights from the terminal within eight years to destinations in Mexico, the Caribbean and Central and South America.
Securing approval for the project was an important victory over United Continental, which had lobbied fiercely against it. United is concerned about the impact on its major hub at IAH, which currently offers around 88 daily flights to 54 destinations in Latin America, one of United's fastest-growing markets. While Southwest would be a small player compared to United in those markets, an added concern for United is Southwest's ability to attract business traffic to HOU, which is closer to downtown than IAH. Since United controls 95% of the seats from IAH to Latin America, it would have been happy for Southwest to secure a few slots for international service at IAH, which could also have provided additional feed to United's services .
While the Hobby project was undoubtedly approved on its own merits (the city vote was 16 to 1), the decision may also have reflected United's reduced political clout in that city. Continental used to be considered Houston's hometown airline, but after the merger the combine's headquarters were established in Chicago.
Southwest has its roots and headquarters firmly in Texas. It has served Hobby since 1971, when it persuaded the city to reopen the airport after Continental and other airlines had relocated to newly opened IAH. Southwest currently operates 134-plus daily domestic flights from Hobby.
Houston, with its sizable Latin population and large local market, is probably the best available gateway to Latin America for Southwest, because the 1979 Wright Amendment prohibits nonstop international service from Southwest's home base at Dallas Love Field. In 2006 Congress passed a reform act that immediately relaxed and will fully abolish the Wright Amendment's domestic service restrictions from 2014. Southwest will then be able to fly to any US destination from Love Field. This means attractive longer-term domestic growth opportunities. Love Field is in the middle of its own major modernisation and expansion projects; just a few weeks ago the airport launched another $155m Southwest-backed municipal bond deal (following the issuance of $310m of special facilities revenue bonds in 2010) to help finance a new terminal building and other facilities.
It was a long, contentious and time-consuming battle to get the Wright Amendment's domestic restrictions abolished. CEO Gary Kelly commented recently that Southwest intends to honour the 2006 agreement and will not press for the relaxation of international restrictions from Love Field.
Perhaps that will be a battle for a later date. Eventually Southwest may feel disadvantaged for not being able to operate both domestic and international services from its home base. For the time being, it is still very much a point-to-point carrier, even though connecting traffic is a growing component of its total traffic.
It also makes sense for Southwest not to rock the boat too much at present, because there could be changes and new opportunities in Dallas resulting from AMR's Chapter 11 restructuring and potential merger with another carrier. Southwest's leadership has wisely not commented on this subject at all.
On the Houston developments, United disappointed many with its announcement of immediate cuts at IAH, even though Southwest's services would not begin until 2015. United said in a memo to employees that as a "direct result of the city's approval of the Hobby expansion", it would begin a 10% reduction in planned intercontinental capacity this autumn, which would lead to 1,300 job cuts. United also cancelled its original plans to deploy the 787 on the Houston-Auckland route; instead the first aircraft will now launch Denver-Tokyo services in March 2013. However, some industry observers have argued that those were overdue network changes that United needed to implement anyway.
Southwest has been widely commended for "attacking this market so boldly and so directly", as the website Motley Fool put it. Offering to build a new $100m terminal, and having control or much say over the details of the facilities, has to be a better strategy than trying to get a few slots at an airport that is also a major hub for United.
Southwest can certainly afford the $100m investment. It had $4.6bn in unrestricted liquidity at the end of March ($3.8bn of cash and an $800m undrawn revolving credit line). Its lease-adjusted debt-to-capital ratio is only 46%, down from just over 50% after the AirTran acquisition in May 2011. It remains the only investment-grade rated US airline.
Where might Southwest fly from the Hobby international terminal? No specific destinations have been mentioned by the airline at this stage, but a recent study commissioned by HAS envisaged Southwest adding service in two phases to 12 destinations. Most of those are in Mexico, but the list also includes San Jose and Liberia in Costa Rica, San Salvador (El Salvador), Bogotá (Colombia) and Caracas (Venezuela). Southwest is likely to initially focus on cities already served by AirTran, such Cancun, Mexico City and Cabo San Lucas. Although its 737s would be able to reach Peru and northern Brazil from Hobby, the airline may prefer to focus on the key leisure markets closer to home.
Southwest's position as the largest US carrier in terms of originating domestic passengers makes it well positioned to add international service. CEO Kelly noted at a recent conference: "One out of four customers in the US fly Southwest. They would love to fly us especially to some of the leisure destinations in the Caribbean and Mexico".
Kelly described the Hobby plans as a "classic opportunity for us to go into high-fare markets and stimulate the market and make some money". The HAS study estimated that average one-way fares would be lowered by as much as 50-80% in all 12 markets.
The HAS study suggested that the top three Mexican LCCs – VivaAerobus, Volaris and Interjet – would also be interested in operating to Hobby. The consultants calculated that, under the scenario of four LCCs operating 161 weekly frequencies on 12 routes, Southwest would capture 20% of Houston-Latin America short-haul market. The Mexican LCCs would have 7%, while United/Star's share would decline to 73%.
The AirTran integration
Even as the immediate priorities have shifted, the full integration of AirTran is still Southwest's most important strategic project in terms of the contribution to the bottom line over the next 2-3 years.
The goal is to achieve $400m in annual pretax synergies through schedule optimisation, revenue management, FFP integration, distribution and cargo. One-time acquisition and integration expenses are expected to total $500m. Officially the $400m target is still expected to be reached in 2013, but some analysts feel that may not be possible now that combining the brands and networks has been delayed until 2014. As of March 31, Southwest had incurred $155m of the $500m anticipated one-time costs.
Nevertheless, there has been much progress on integration since AirTran became Southwest's wholly-owned subsidiary in May 2011. The key labour groups – pilots and flight attendants – and all but a few smaller groups have successfully negotiated and ratified seniority list integration agreements – a crucial step in the integration process. Southwest has consolidated AirTran's headquarters and non-operational functions into Dallas and transitioned 400 employees. The executives said in late April that customers would "soon" be able to use their FFP miles for both airlines.
The single operating certificate allows Southwest to begin the transfer of AirTran aircraft, airports and employees. All of that will unfold in 2012, 2013 and 1024. The target is to be fully integrated "as of 2015".
Plans for this year are rather modest: just 11 of AirTran's 737s converted to Southwest livery and interiors. Many of the 737s will remain in the AirTran unit until 2014 because they are used in international operations. The process of transitioning AirTran's airport facilities and associated employees will begin this August.
It appears that Southwest tried to move faster with integration and ran into some difficulty earlier this year. Several flights that were converted from AirTran to Southwest in Atlanta had to be reverted back to AirTran, because Southwest was unable to coordinate the multiple changes. Commenting on this, CEO Kelly suggested that the Southwest-AirTran integration is especially difficult because the airlines are so different. AirTran has a business class; Southwest is all-coach. AirTran assigns seats and charges baggage and other fees; Southwest does not.
Add to that what one analyst described as Southwest's "archaic, customised computer reservation system", and it is easy to understand why Southwest wants to take it slower. Its initial intention was to "codeshare" with AirTran's network by mid-2012, but cross-selling will now not take place until 2013. However, Southwest believes that the profit effect is negligible, because it will be losing AirTran's fee income (worth $300m annually) once the products are harmonised.
In fact, because of that trade-off – AirTran's fee income versus Southwest's superior RASM performance – it makes sense financially to implement the transition in as short a period of time as possible. In other words, it may make sense to delay the transition until Southwest is completely ready for it in terms of technology etc. In Kelly's words: "The real value of the AirTran acquisition and the synergies of the networks will be when AirTran is fully integrated", when it is all-Southwest product and brand.
Needless to say, Southwest is not wavering on its decision to eventually eliminate AirTran's bag fees. Kelly called the evidence "undisputable" that the "no hidden fees" policy is a revenue-positive for Southwest. Even though AirTran seems so much more up-market with its business class and assigned seating, it has a much lower business passenger mix ("probably less than 25%") than Southwest ("no less than 35%, probably more than 40%").
Southwest has been optimising AirTran's standalone network, improving its revenue management and reducing its costs, with some great results. This year AirTran is withdrawing from 15 unprofitable small markets and redeploying the capacity in international markets.
In February Southwest took over some of AirTran's slots and began testing the Atlanta market with its own flights. By August this operation will grow to 26 daily flights to 11 destinations – paling in comparison with AirTran's 165 daily flights and 47 destinations from Atlanta. The routes have exceeded expectations for both traffic and revenue performance. Both the AirTran and Southwest brands appear to be successful at Atlanta. Southwest has already decided that it will not retain AirTran's hub-and-spoke model at Atlanta; it will be Southwest's typical point-to-point network.
The other interesting new opportunity this year is Washington National (DCA). Southwest is one of four new entrants that have been granted slots at DCA for new flights longer than 1,250 miles (a relaxation of a law from the 1960s). The airline will add a daily Austin-DCA service on July 8, its first to that airport. Southwest will gain what it describes as a "meaningful presence" at DCA when it takes over AirTran's dozen or so daily departures.
The late-May tentative deal to sublease AirTran's 88 717s to Delta hinges on the ratification of a pilot contract at Delta this summer. If all goes well, the aircraft will be delivered to Delta over three years, starting in the second half of 2013. Currently, Southwest plans to keep its total fleet count relatively flat in that period. All pilots would train and transition into the 737 fleet; AirTran's flight attendants and maintenance staff are already trained on both aircraft types.
Growth versus ROIC
Southwest may be an LCC with growth in its DNA, but it is also a very fiscally responsible company that takes financial targets and shareholder returns very seriously. As it encountered financial challenges and saw profit margins weaken in the late 2000s, Southwest stopped growing. In the three years up to and including 2010, its ASMs fell by 1.2%. The addition of AirTran boosted ASMs by 22.5% in 2011, but this year will again see flat capacity. Southwest's recent decision to defer 20 737-800 deliveries from 2013 and 10 from 2014 to 2017-2018, which will reduce 2012-2014 capital spending by about $1bn, indicated that 2013 will see at best minimal capacity growth.
Southwest does not intend to grow its fleet until it hits its profit and financial targets. In fact, it expects to end this year with seven fewer aircraft in the combined fleet, after retiring 40 older 737s and bringing in 33 737-800s. The larger size of the 737-800s and the additional seats on the retrofitted 737-700s will make up for the difference, resulting in flat ASMs.
The main aim is to achieve a 15% pretax ROIC, which would require ex-item net income of $1bn. Last year Southwest made $330m and achieved a 7% ROIC (including AirTran); its 5% operating margin was below the industry average. In 2010 Southwest had a 10% ROIC and a 10% operating margin.
The targets are unlikely to be achieved in 2012. Current analyst consensus estimates are in the $550-600m range, though much will obviously depend on fuel prices. 2013 is clearly a possibility, because the real benefits from many of the current strategic initiatives should begin to be felt next year. Southwest has flexibility with the retirement rate of the 737 classics to step up growth if desired.
SOUTHWEST'S 737 DELIVERY SCHEDULE
SOUTHWEST'S 737 DELIVERY SCHEDULE
Extra
Firm
Firm
Firm
737NG
(leased)
737
737MAX
Total
-700s
-800s
options
-800s
MAXs
options deliveries
2012
26
5
31
2013
41
41
2014
35
4
15
54
2015
36
12
48
2016
31
12
43
2017
15
25
4
44
2018
10
28
15
53
2019
33
33
2020
34
34
2021
34
18
52
2022
30
19
49
2023
23
23
2024
23
23
Thru' 2027
67
67
TOTAL
127*
71
92
5
150**
150
595